Garlic Brown Sugar Glazed Salmon has the most amazing garlic brown sugar soy glaze.  The flavor is out of this world and it will become a new family favorite!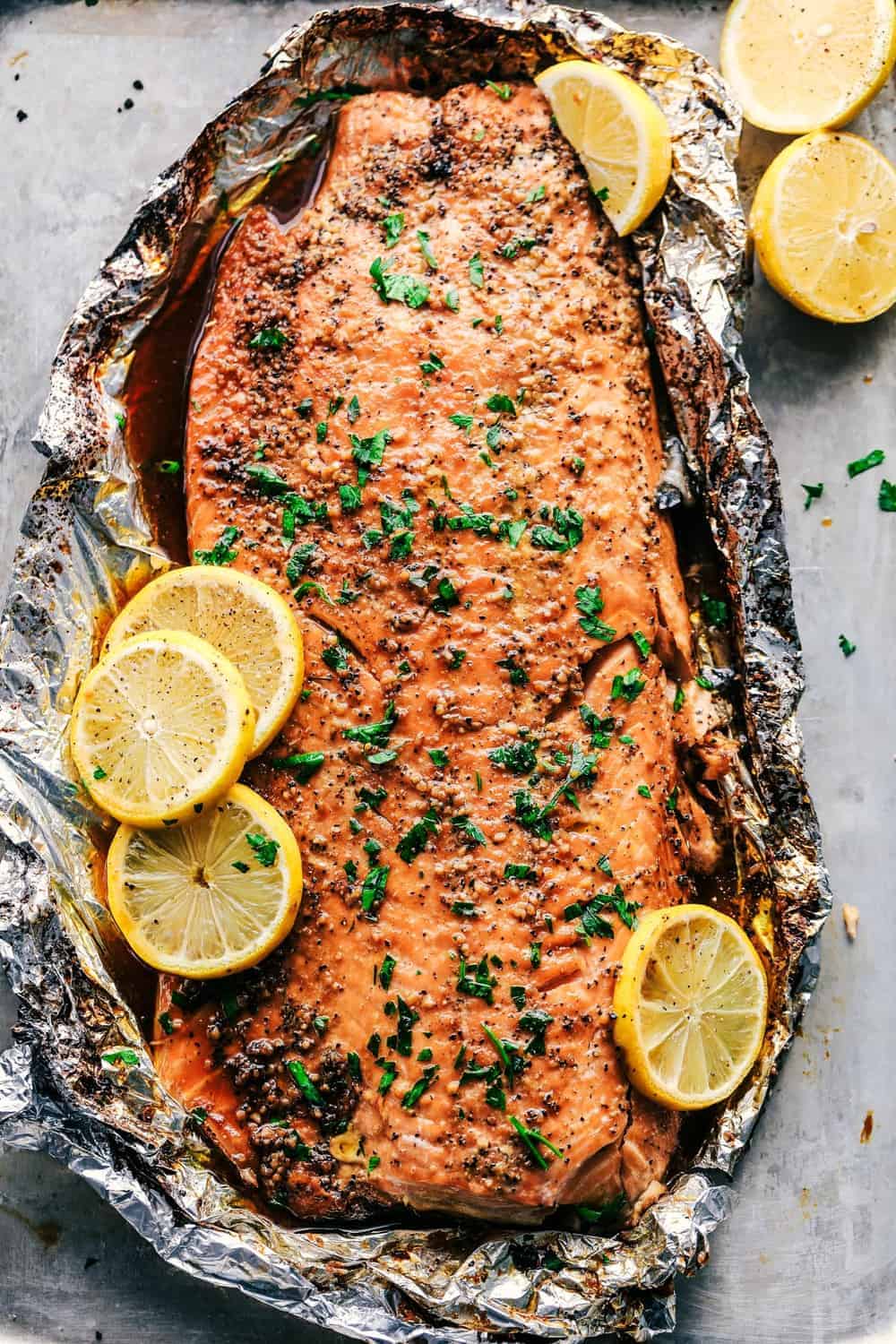 Garlic Brown Sugar Glazed Salmon
You all know by now that salmon is my absolute favorite.  I eat it all of the time because it is so good and good for you!  There are quite a few salmon recipes on here, and you could say that I am a little obsessed.  And this is coming from a former salmon hater.  But now I eat it all of the time because it is so good!  So if you think you don't like salmon, you have GOT to try this recipe!
This recipe soared to the number one spot of my favorite salmon recipes.  Now that is saying something for how uh-mazing this recipe is.  You can't go wrong with this glaze.  Brown sugar, garlic, soy sauce, lemon juice, and some salt and pepper come together to bring you some mind-blowing flavor.  Our family just couldn't seem to get enough of this delicious salmon!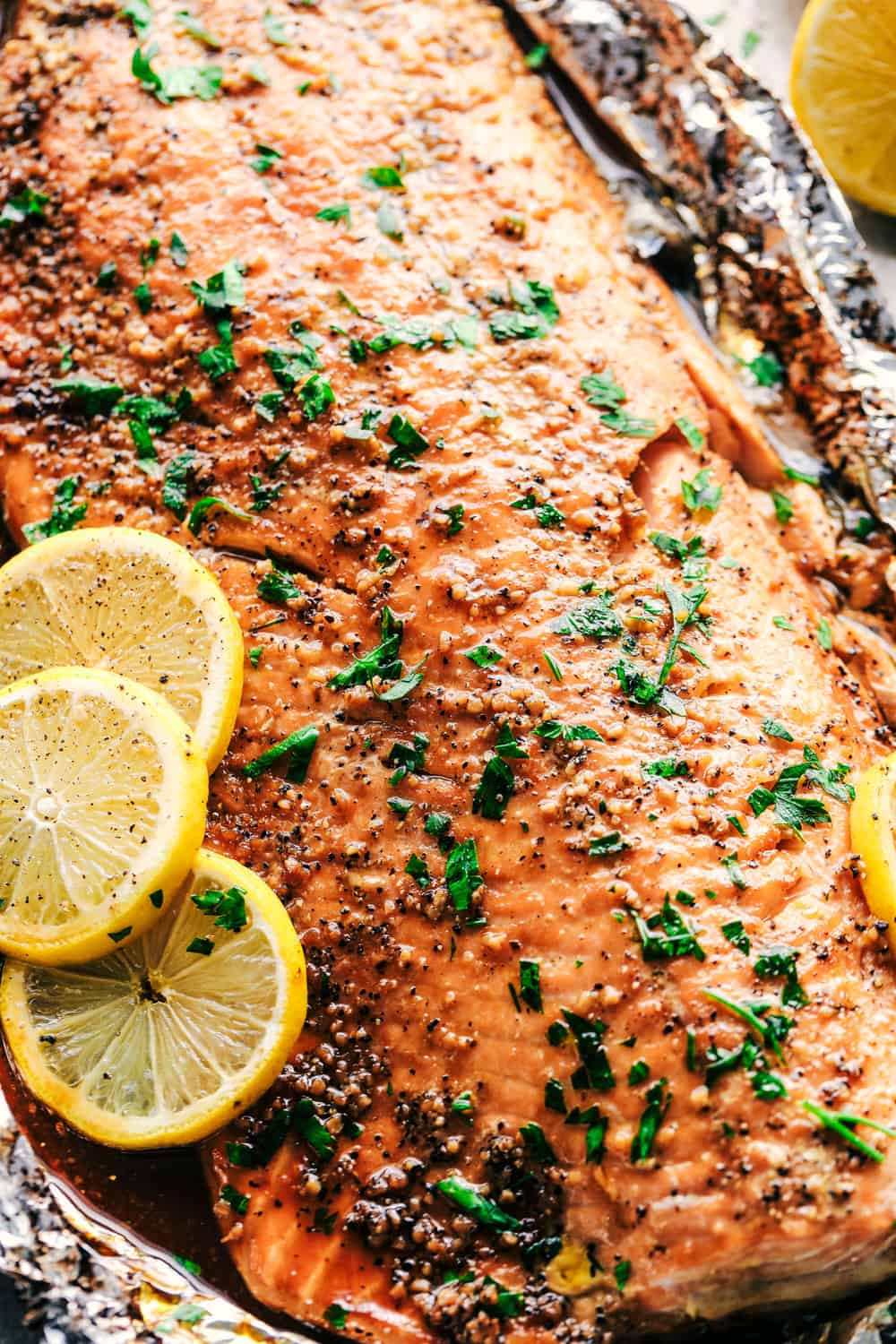 You start by preparing the salmon.  You lay your salmon out on the foil and salt and pepper it.  I like to bake mine in the oven.  This helps to seal in all of that amazing flavor as it cooks.
How long does it take to bake salmon in foil?
Preheat your oven to 350 degrees.  Seal the salmon in the foil and bake for 20-25 minutes.  Baste the glaze on the top and broil for another 3-5 minutes.
The flavor is incredible in this salmon.  Any sauce that involves brown sugar, garlic, and soy sauce, I know will become a favorite!  This meal is perfect for feeding your family an impressive meal.  And it makes a perfect holiday meal as well!
This is going to be a recipe that you make again and again!
Watch this video on how the salmon is made:
Garlic Brown Sugar Glazed Salmon (The Best Salmon Ever!)
Ingredients
2 pounds salmon, I used Atlantic salmon
2 Tablespoons olive oil
¼ cup brown sugar
¼ cup soy sauce
3 garlic cloves, minced
juice of one lemon
1 teaspoon salt
½ teaspoon pepper
garnish with sliced lemons and chopped parsley if desired
Instructions
Preheat oven to 350 degrees. Line a baking sheet with aluminum foil. Lay the salmon on top and sprinkle with salt and pepper. Fold up the sides of the aluminum foil around the salmon.
In a small bowl whisk together the olive oil, brown sugar, soy sauce, garlic, lemon juice, salt, and pepper. Pour the glaze over the salmon. Top the salmon with aluminum foil and seal.
Bake for 20-25 minutes or until salmon is cooked throughout. Take the foil off of the top and baste the salmon with the sauce in the foil. Broil for 3-5 minutes or until brown and caramelized. Garnish with lemon slices and chopped parsley if desired.
More delicious salmon recipes:
Pan Seared Salmon with a Creamy Lemon Dill Sauce
Baked Parmesan Garlic Herb Salmon