Lemon Garlic Chicken Asparagus Pasta – juicy chicken & tender asparagus, tossed in a delicious creamy lemon garlic sauce. Best of all, full of bright spring flavors and comes together easily in under 30 minutes!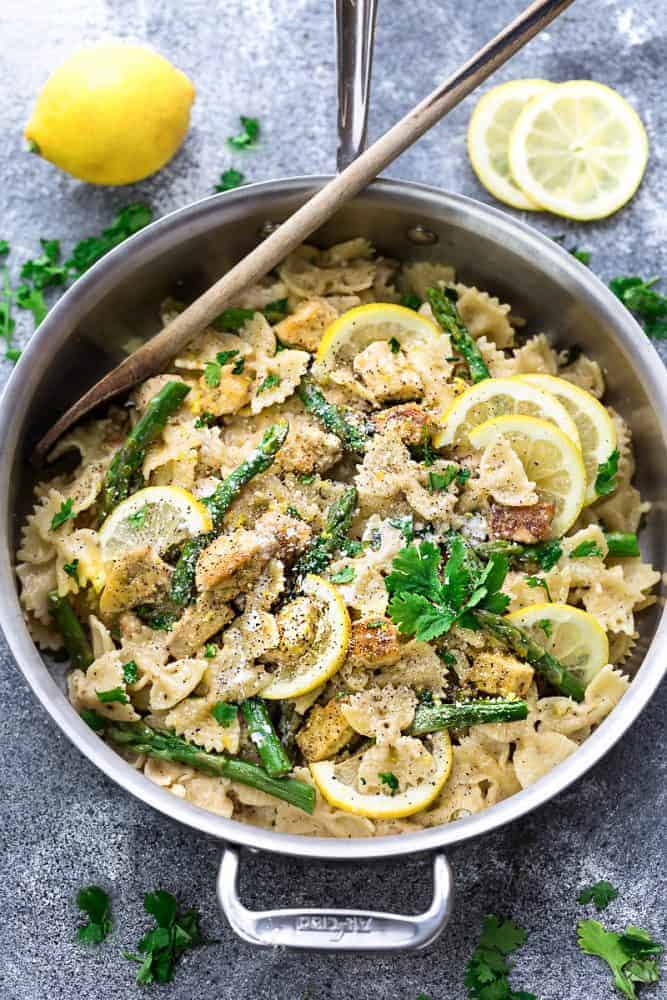 Hey everyone, it's Kelly from Life Made Sweeter back again today. With spring just around the corner, I can't get enough of all the fresh produce starting to show up everywhere.
Asparagus is by far my favorite spring vegetable and I love pairing it with lemon and garlic.
LATEST VIDEOS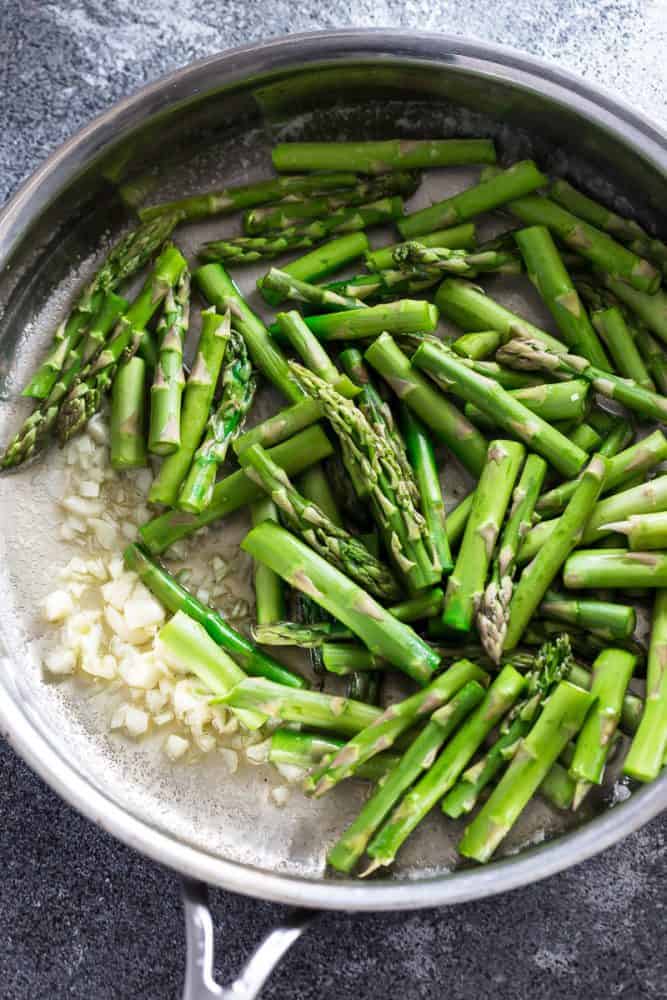 MY OTHER RECIPES
It's seriously my idea of heaven and when you toss them together with some tender chicken and creamy pasta, you've got one simple and amazing meal!
Something our family can use more of when life gets busy.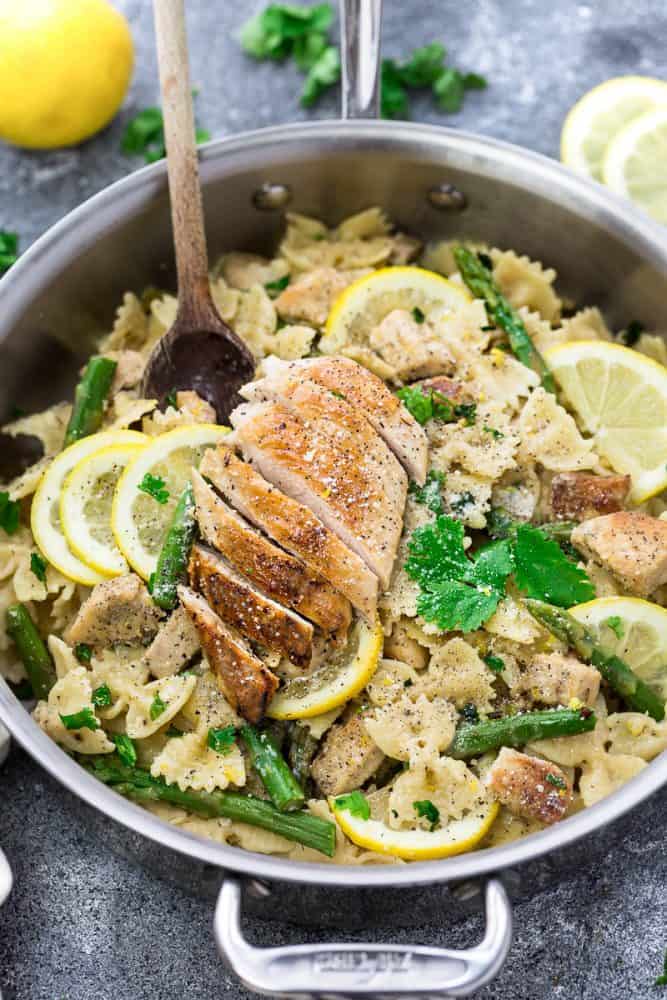 This Lemon Garlic Chicken Pasta is a quick and easy dish bursting with bright and fresh flavors. Best of all, it comes together with just a few ingredients in under 30 minutes.
Perfect for those crazy weeknights!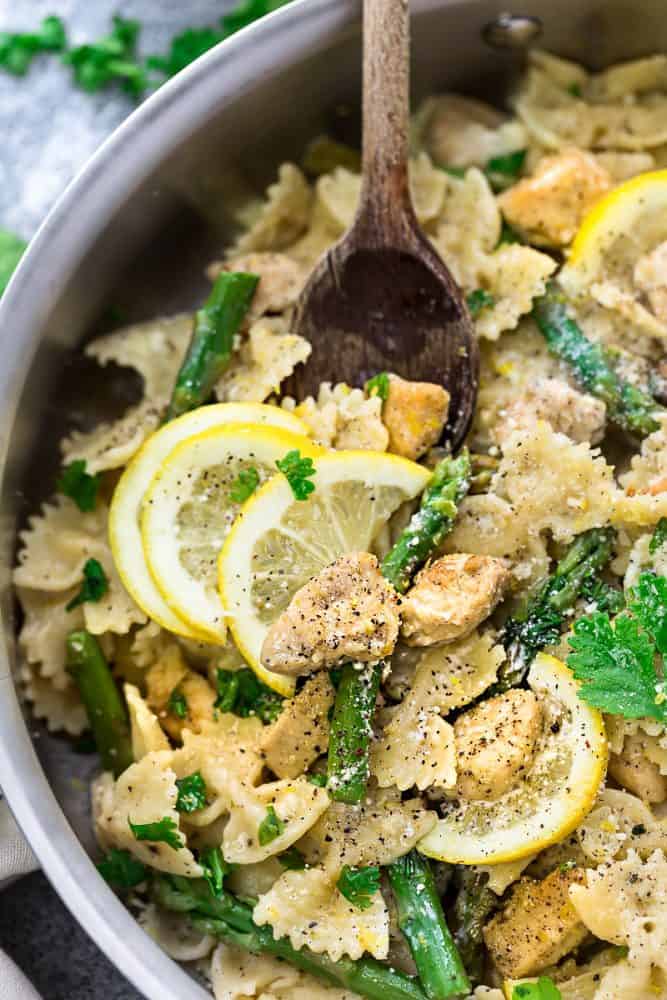 For this recipe, I used bow tie pasta, but penne or any other medium-length pasta you like would be delicious. The chicken, asparagus and creamy lemon garlic sauce cook up in the same skillet, soaking in all those incredible refreshing flavors.
Serve with some cheesy parmesan, fresh lemon slices and chopped parsley for an incredibly tasty family-friendly dinner!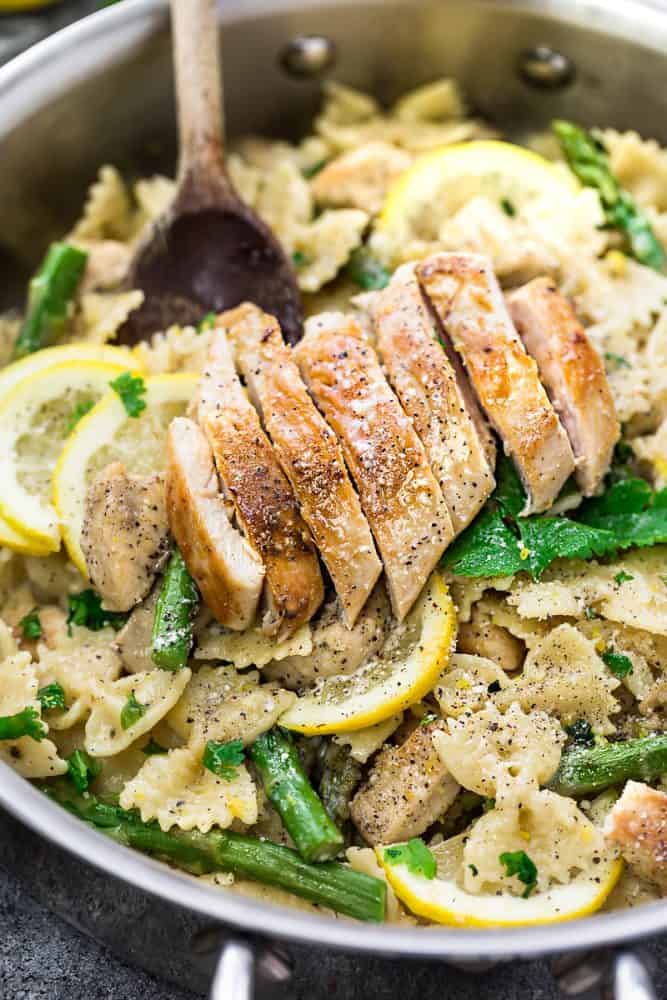 Lemon Garlic Chicken Asparagus Pasta
Lemon Garlic Chicken Asparagus Pasta - with sauteed chicken and tender asparagus, tossed in a delicious creamy lemon garlic sauce.
Ingredients
7 ounces dried pasta (I used bow tie)
1½ tablespoons olive oil
2 medium boneless skinless chicken breasts, cut into 1 inch chunks or strips
Salt and black pepper, to taste
½ teaspoon dried oregano
3 tablespoons butter, unsalted
1½ tablespoons minced garlic, divided
1 pound asparagus, ends trimmed and cut into 2-inch pieces
½ cup heavy cream
Juice and zest of one lemon
1 teaspoon garlic powder
½ teaspoon dried oregano
¼ teaspoon dried thyme
⅓ cup grated parmesan cheese, plus more for garnish
½ cup grated mozzarella cheese
Chopped fresh parsley and lemon slices for garnish, if desired
Instructions
In a large pot bring water to a boil and add the pasta. Cook according to package directions. Drain and set aside.
While the pasta cooks, heat olive oil in a large skillet over medium-high heat. Add the chicken and season with salt, black pepper and oregano. Cook for 5 minutes, stirring occasionally until browned and cooked through. Add 1 teaspoon minced garlic and cook for another minute, until fragrant. Transfer to plate and set aside.
Add butter to the same skillet and melt over medium high heat. Add remaining minced garlic and asparagus and saute for 1 minute, until just starting to turn bright green. Whisk in the cream, lemon juice, lemon zest, garlic powder, oregano, parmesan and mozarella cheese. Allow the sauce to thicken and cheese to melt. Add the drained pasta and chicken back into the skillet. Season with salt and black pepper to taste (I used about 1½ teaspoons salt + ½ teaspoon black pepper). Toss to coat well until everything is heated through.
Serve hot and sprinkle with more parmesan cheese, chopped parsley, and lemon slices, if desired.
More easy dinners:
One Pan Teriyaki Chicken Zoodles