This Orange Julius copycat has the chilled sweet and sour flavors we have all come to love in an Orange Julius. Only now you don't have to find a store selling them, because it is easy to make them in the comfort of your home!
A similar frozen drink that is packed with fresh, fruity, and tart flavors you will love is the Chic-fil-a Frosted Lemonade Copycat.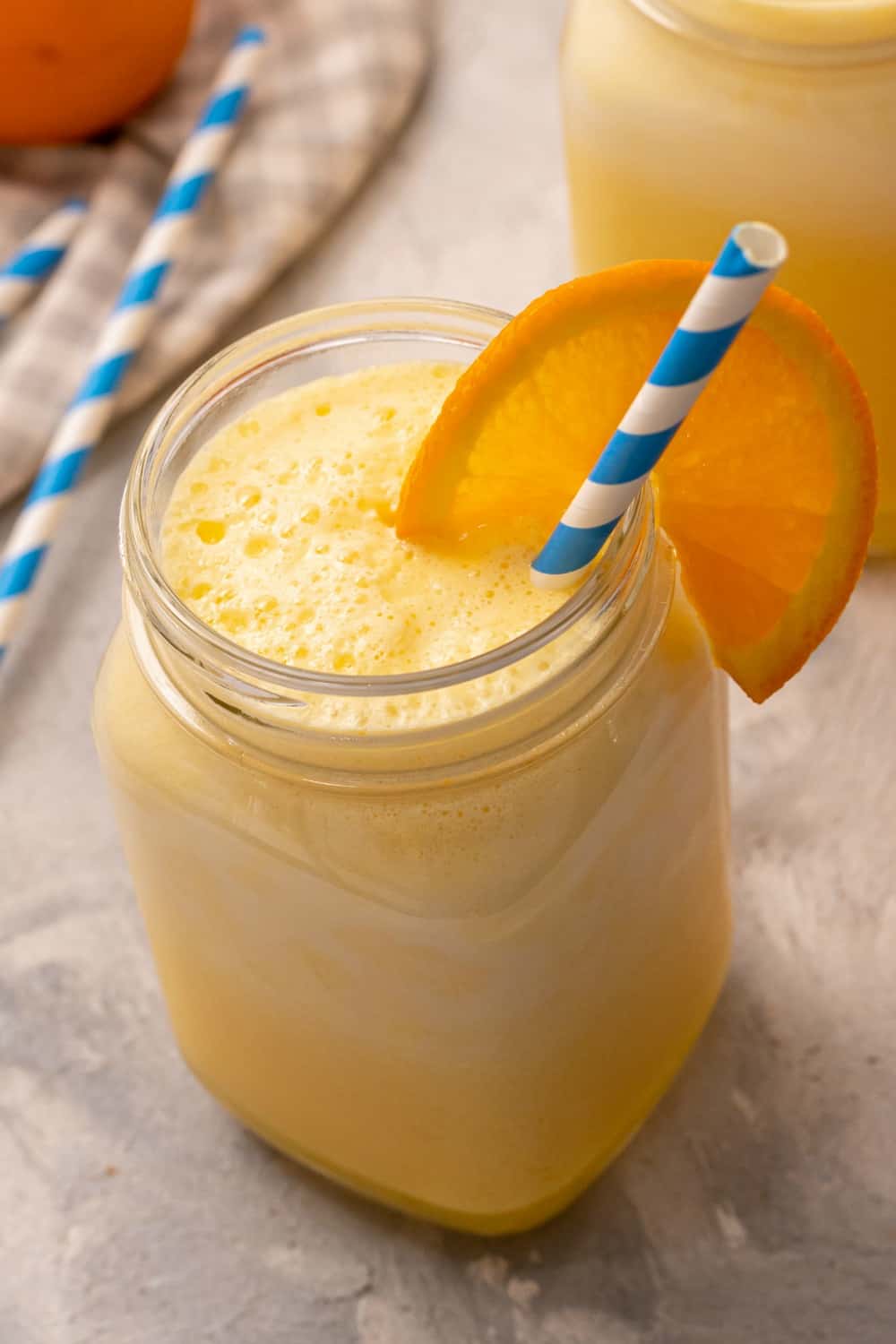 Orange Julius Copycat:
It is really starting to heat up around here and we are loving it! It is so nice to come out of winter hibernation and enjoy some sunshine. We had a lot of fun this afternoon just running in the sprinklers with our friends and splashing in the kiddie pool. I made everyone some of this amazing homemade Orange Julius and it is about as close to the real thing as you will get!
Orange Julius are one of my favorite things and I love that I know how to make this copycat recipe! It is so refreshing on a hot day and amazingly easy!  Now, what used to be a store bought treat can be enjoyed at home any day of the week!  I can tell we will be having this a lot this summer!
Orange Julius Ingredients:
In the warmer months I make sure I keep orange juice concentrate on hand.  Mostly because in the same amount of time it would take me to open a box of popsicles, we can all be enjoying a fresh homemade Orange Julius!
Frozen orange juice concentrate: Adjust the sugar depending on what concentrate you get.
Milk: Adds sweetness and thins out the concentrate.
Cold water: Adjust to your preference of thickness.
Sugar: Adjust according to how sweet your orange juice is.
Vanilla: To me this is the secret ingredient to an Orange Julius that gives it the recognizable rich flavor.
Ice cubes: Makes it cold and frosty!
How to Make a Copycat Orange Julius:
It really does not get any simpler than this recipe! First, throw everything in your blender and hit blend.  Then, in 2 minutes you are done! That's it! I can't believe I have not made this delicious drink sooner!
Combine Ingredients: Put ingredients into a blender.
Blend: Blend for about 2 minutes until desired consistency. You may not need the entire 1/2 cup of sugar depending on how sweet your orange juice is.
Variations of an Orange Julius:
As much as I love a classic Orange Julius, I also love playing around with the flavor and texture to make it my own.  There are an endless number of ways to make this a huge hit.  So, don't be afraid to mix up the ingredients with your favorite creative ideas too!
Ice cream: Let me just tell you, adding vanilla ice cream to this recipe takes this frosted drink to an out of this world amazing level!
Juice Concentrate: Use any flavor juice concentrate you love!
Fruit: Add either fresh or frozen fruit to the concentrate for more depth of flavor and color.
Make your own concentrate:  If you are craving one of these delicious frosty drinks but you don't have any juice concentrate on hand you can make your own! Combine orange juice (or any juice you have) with water and freeze in an ice tray to use in place of the concentrate.
Storing Orange Julius:
I don't recommend storing this drink.  It is best served fresh out of the blender to keep the frothy texture and fresh flavors true to the classic Orange Julius we love.

More Refreshing Drink Recipes:
Ingredients
6

ounces

frozen orange juice concentrate

1

cup

milk

1

cup

cold water

1/2

cup

sugar

1

teaspoon

vanilla

7-9

ice cubes
Instructions
Put ingredients into a blender and blend for about 2 minutes until desired consistency. You may not need the entire 1/2 cup of sugar depending on how sweet your orange juice is.