This website may contain affiliate links and advertising so that we can provide recipes to you. Read my disclosure policy.
Slow Cooker Honey Garlic Mustard Glazed Ham is the perfect merge of sweet, salty and a touch of spice. This super easy, gorgeously glazed ham will be the talk of the table, with a flavor so divine, it's sure to impress.
For a sensational meal serve this decadent ham with some of side dish winners such as; The Best Creamy Scalloped Potatoes of Your Life, Jiffy Corn Casserole (only 5 ingredients) and The World's Best Green Bean Casserole.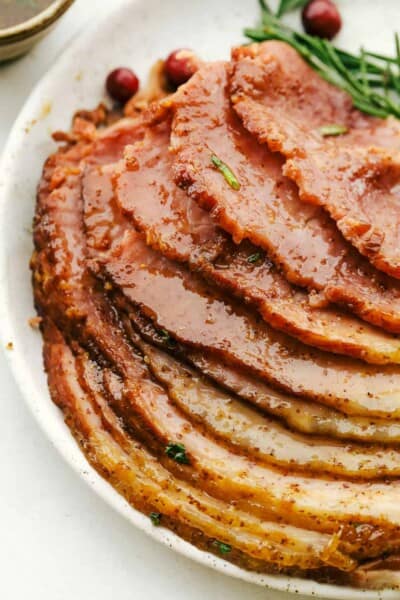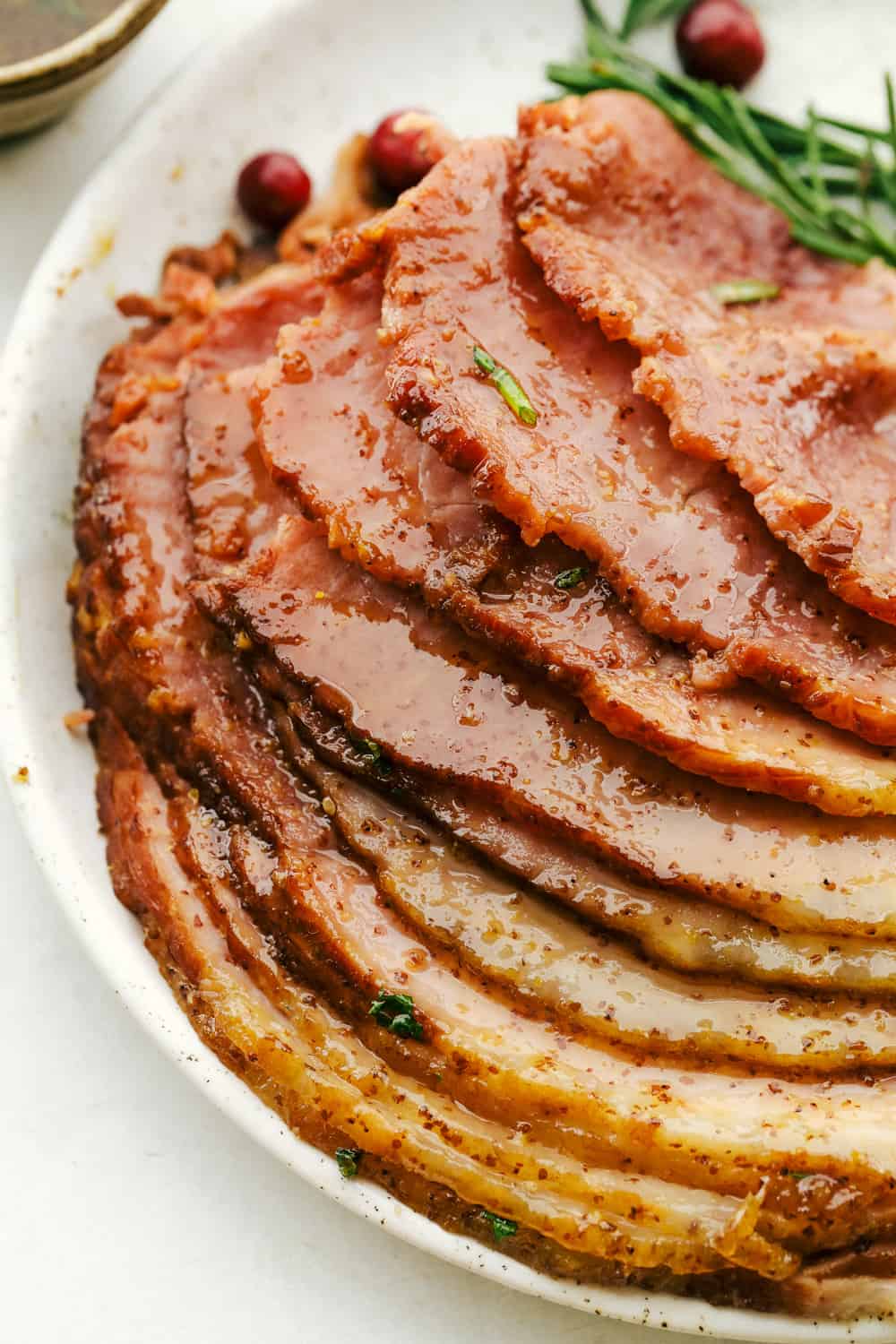 Honey Garlic Mustard Glazed Ham
Let's talk about this ham!  I am so excited to share it with you! I especially love an amazing ham at Christmas time, and this ham was the BEST ham that I have ever had. The flavor combination of honey, mustard and garlic is sensational. The sweet and a hint of zing match perfectly with the saltiness of the ham, creating mouthwatering flavor. You are going to love it!
The best part of this recipe is that it cooks right in the slow cooker. It's so easy. This will be perfect for a big family dinner, a party, a holiday or any special occasion. The fact that you can cook it in the slow cooker means it will free you up to do other things, and still be able to put a spectacular dinner on the table.
Glazed Ham Ingredients
This recipe couldn't be more simple, these ingredients are all easy to find if you don't have them in your pantry all ready to go. As a note I used stone ground Dijon mustard, some Dijon mustards can be pretty spicy. Use what you and your family likes best.
Pre-cut Spiral Sliced Ham: You can usually find these anytime of the year, but especially during holidays such as Christmas and Easter.
Honey: Pick your favorite honey, I like honey with a good strong flavor.
Dijon Mustard: This brings the spicy kick to the sauce.
Worcestershire Sauce: This helps with the savory flavor of the sauce.
Minced Garlic: Use fresh for the best flavor, but jarred garlic works in a pinch.
Garlic Salt: This will add an extra punch of garlic and the salt you'll want to help balance out the sweet.
Making Honey Ham in the Slow Cooker
The slow cooker does the work in this recipe which is perfect. It frees up my oven to make Copycat Texas Roadhouse Rolls to go with it. If you have leftover rolls you can make Ham and Cheese Sliders with the rolls. So yummy! Making this Ham can't get much easier, but it will taste like you slaved all day. It's truly mouthwatering.
Blend: In a blender combine the honey, Dijon mustard, Worcestershire sauce, garlic and garlic salt. Pulse till fully combined.
Reserve:  Reserve half a cup of the sauce to use after the ham is cooked.
Cook: Place the ham face down in the slow cooker and pour the glaze over the top. Cook on low for 3-4 hours till heated through. Pour the reserved sauce over the top right before serving.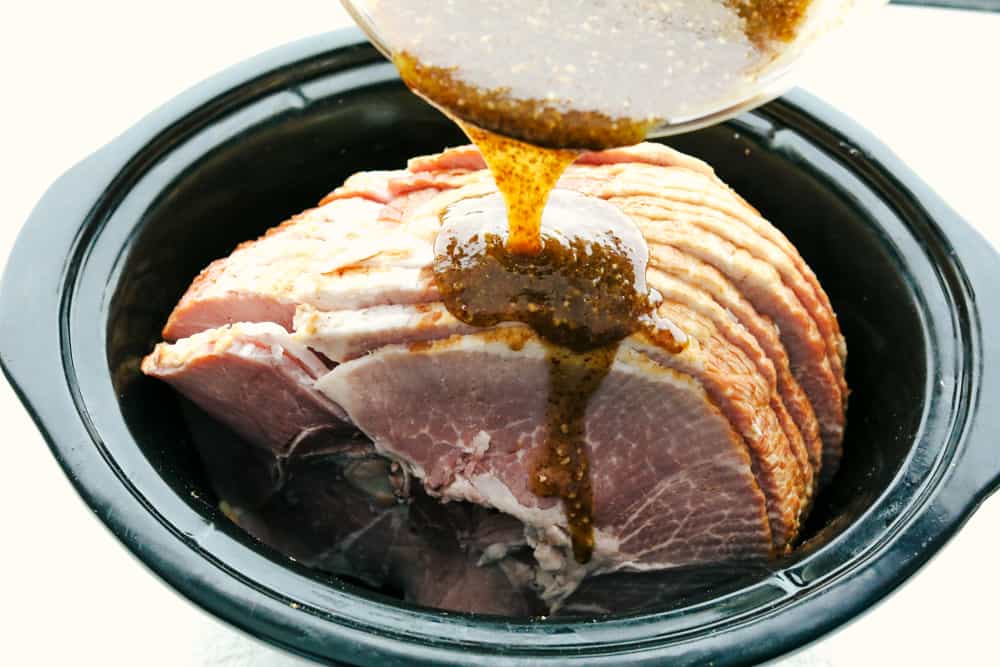 What Kind of Ham Should I Use?
There are many different kinds of cuts of ham out there and it can be confusing on what to buy. Most hams you'll find are pre-cooked. This means all you need to do is warm them through. There are such things as fresh hams, where they are uncooked and must be fully cooked before serving. They will usually have the word "fresh" in their name and have cooking instructions on them. They are required to have those instructions, so you will know how to cook it if you bought one.  Then there are cured or smoked hams. This is a reference to how they are prepared.  So with all that said here are a few tips to buying a ham when using this recipe.
Whole spiral cut: I used a whole spiral cut ham with the bone in for this recipe and they are probably the best hams to use. They are pre-cooked and can be found in just about every store. Having the bone in actually contributes to them being moist and tender.
Butt-end: These hams tend to fit in your slow cooker a little easier, but may not come spiral cut.
Spiral Cut: Having it already cut will allow the luscious sauce to seep in between the slices. If your ham isn't cut, don't worry. You can score your ham with deep cuts about an inch deep or so. Cut it lengthwise then again in the opposite direction to create a crisscross pattern on top. This will also allow the sauce to penetrate the ham.
Fit: I used an 8 pound ham, this was perfect for my slow cooker. You should think about the size of your slow cooker when buying your ham. You want it to fit.
Cook: No matter what kind of ham you buy, whether it's fresh or pre-cooked, cook your ham till the internal temperature to reaches 145 degrees F.
Tips and Tricks for The Most Delectable Slow Cooker Glazed Ham
You really can't go wrong with this recipe. It's so easy that even beginners can use it and put a nice ham on the table. Here are a few tips to help make sure it's a show stopper.
Do I need to Baste my Ham during Cooking? No, you don't have to baste with this recipe, but if you want to you certainly can.
Can I cook it on High? I have found cooking it on high tends to dry out the ham. Cooking it on low will ensure a tender moist ham.
What do I do with the extra sauce in the Slow Cooker? When the ham is done, let it rest on a platter or cutting board covered with foil. Meanwhile turn the slow cooker on high and bring the sauce to a boil, or transfer to a pot and bring to a boil on the stovetop. Let it reduce and thicken and serve along with the ham. YUM!
Can I cook this in the oven? Yes, absolutely! And it will taste just as good. Place the ham in a large roasting pan. Pour the glaze over the top. If the lid doesn't fit or you don't have one, simply cover with foil. Bake at 325 degrees F for 15-20 minutes per a pound till the temperature reads 140-145 degrees F. Baste the ham every hour or so if you desire. And for a nice golden crispy top remove the foil for the last 20 min.
How can I store the leftovers: Slow Cooker Honey Garlic Mustard Glazed Ham leftovers are the best, see below for some ideas on how to use up your extras. This ham will keep in the fridge for up to 4-5 days in an airtight container. It also freezes well and can be used at a later date. Freeze in an airtight freezer safe ziplock bag or even use a food-saver bag to seal it tight, and keep in the freezer for up to 3-4 months.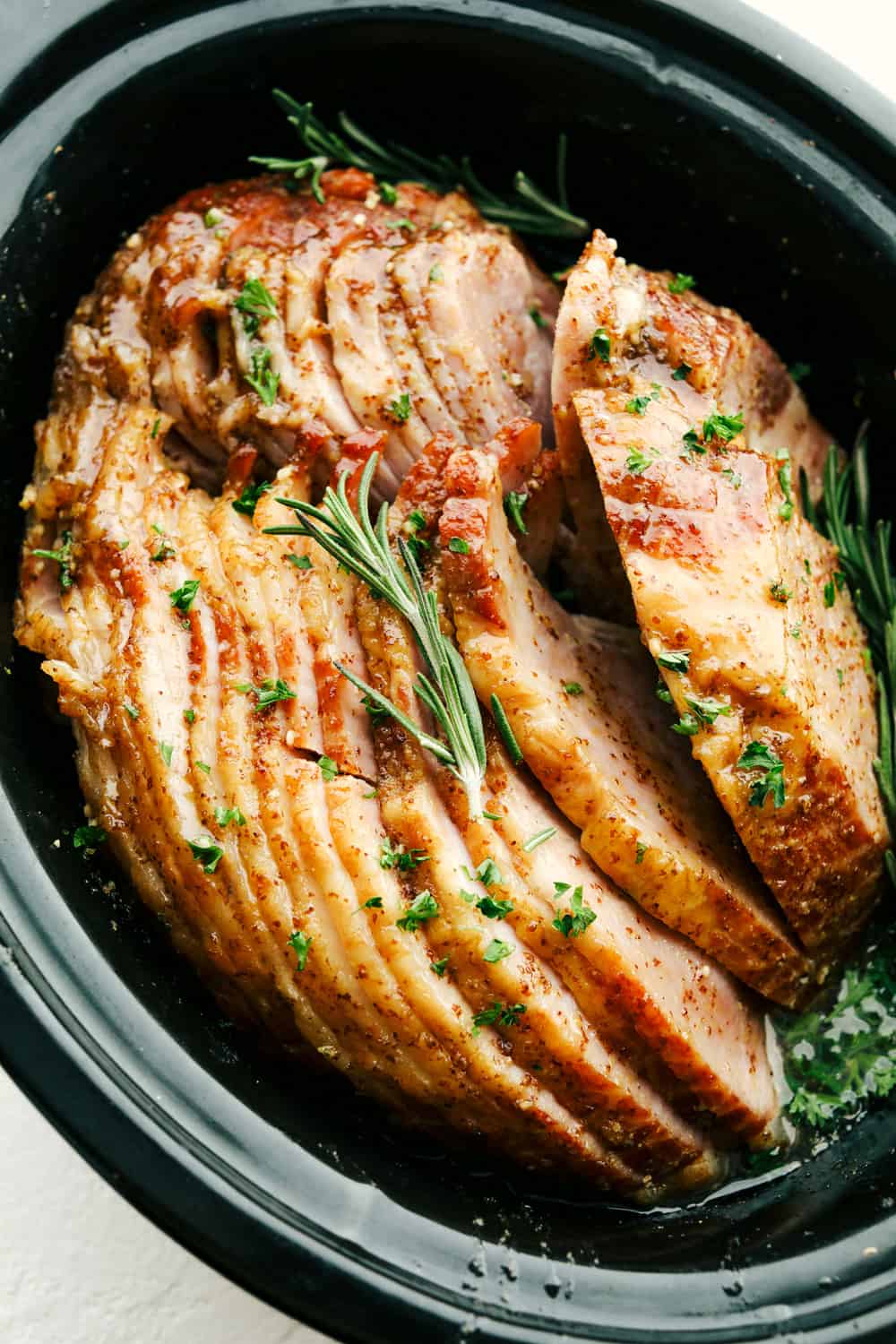 What To Make Out of Leftover Ham
One of the best things about cooking a ham is the leftovers. Ham is so good in so many things, take your pick from these winners.
Pin this now to find it later
Pin It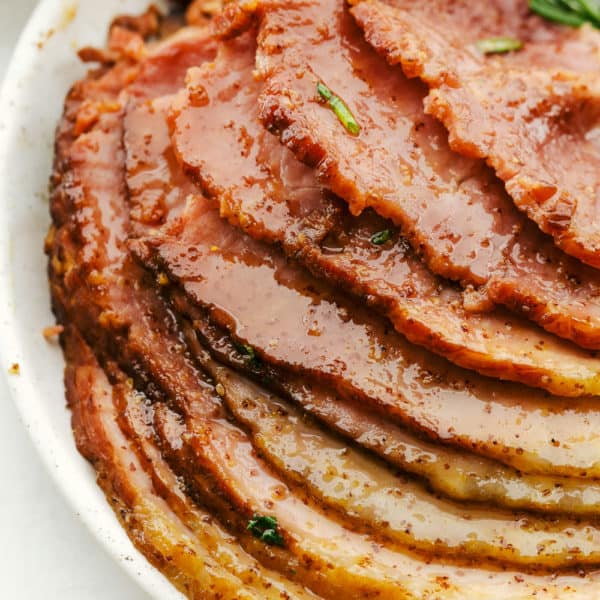 Slow Cooker Honey Garlic Mustard Glazed Ham
This ham was the BEST ham that I have ever had. I couldn't even believe the flavor and how incredible it was.
Ingredients
8

pound

precooked spiral cut ham

precooked spiral cut bone in

1

cup

honey

1/2

cup

Dijon mustard

I used stone ground dijon

3

Tablespoons

Worcestershire sauce

1

tablespoons

minced garlic

1

teaspoon

garlic salt
Instructions
Combine honey, dijon mustard, Worcestershire sauce, minced garlic and garlic salt in a blender and pulse until smooth. Reserve 1/2 cup of the sauce to pour on top at the end.

Place ham face down in the slow cooker and pour glaze on top. Cook on low for 3-4 hours or until heated through. Pour the reserved glaze on top right before serving.
Notes
Updated on December 13, 2020
Originally Posted on December 15, 2014
Nutrition
Calories:
625
kcal
Carbohydrates:
19
g
Protein:
49
g
Fat:
38
g
Saturated Fat:
14
g
Cholesterol:
141
mg
Sodium:
2958
mg
Potassium:
700
mg
Fiber:
1
g
Sugar:
18
g
Vitamin A:
6
IU
Vitamin C:
1
mg
Calcium:
27
mg
Iron:
2
mg
Nutrition information is automatically calculated, so should only be used as an approximation.