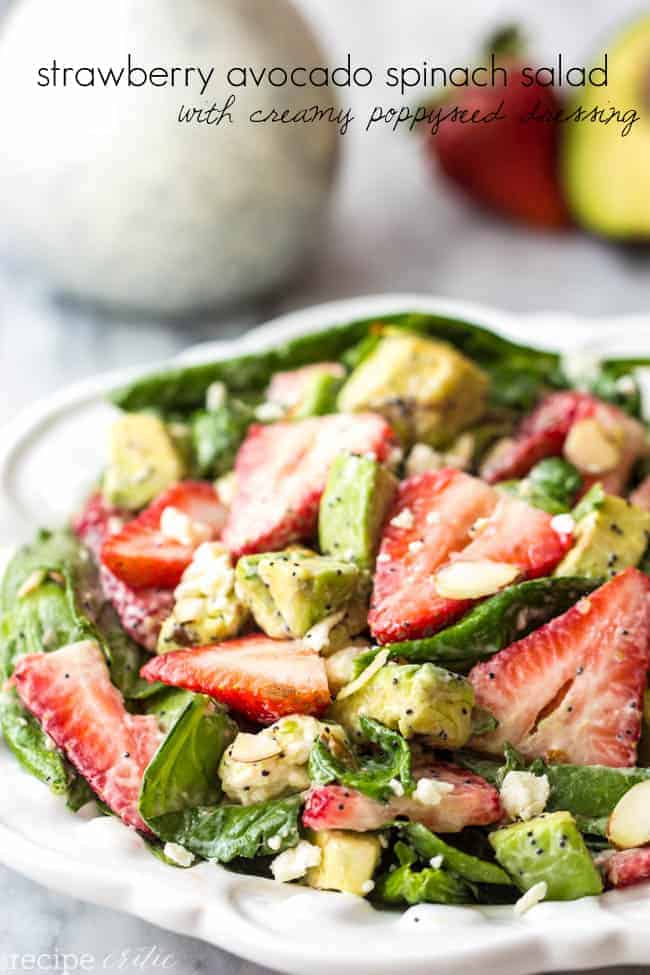 I am sharing with you today my favorite salad in the whole entire world.  Now that is saying a lot.   This is my go-to salad for any gathering and is requested every time!  The fresh strawberries and avocado help to make this salad delicious.  But it is the creamy poppyseed dressing on the top that is to die for!
I love that the delicious fresh strawberries are starting to come into season.  I saw at the store that the strawberries are starting to look amazing so I grabbed two cartons.   I was craving a fresh mouth watering salad, and I knew that I wanted to make this one for lunch.  I could hardly cut the avocado and strawberries fast enough before I ate them one by one.  I was able to toss everything into the bowl, and hurry and whisk up my favorite creamy poppyseed dressing.  This dressing is hands down one of the best ones out there.  It gives the salad such an amazing creamy and sweet flavor.  It completes the deliciousness of the strawberry, avocado spinach combo.  This salad will also become instantly a favorite!  You have to experience the amazingness of this salad and it is sure to impress your friends!
Strawberry Avocado Spinach Salad with Creamy Poppyseed Dressing
My all time favorite salad that is filled with fresh strawberries and avocado and has a creamy poppyseed dressing on top!
Ingredients
6 oz baby spinach
1 cup fresh strawberries, sliced
2 Large avocados, chopped
¼ cup sliced almonds
¼ cup feta cheese
Creamy Poppyseed dressing:
⅓ cup mayonnaise
¼ cup 2% milk
3 Tablespoons Sugar
4 teaspoons cider vinegar
2 teaspoons poppyseeds
Instructions
In a large salad bowl, combine spinach, strawberries, avocados, almonds, and feta cheese.
In a small bowl, whisk together the mayonnaise, milk, sugar, cider vinegar, and poppyseeds. Pour about half over the salad and toss to coat. Add more of the dressing if needed.
Serve salad immediately and garnish with more feta cheese and almonds if desired.