This website may contain affiliate links and advertising so that we can provide recipes to you. Read my disclosure policy.
A BBQ potluck in the summertime is my absolute favorite!! There really is nothing better than amazing grilled food on a hot summer day and these recipes are no exception!!
Hot Dogs and hamburgers are no longer the stars of the show at a BBQ! These recipes are going to blow your mind with the crazy variety of options and amazing tastes. Start by trying out some of my tried and true favorites like THEE BEST Grilled Shrimp, Amazing Grilled Vegetables, and Brown Sugar Grilled Peaches!
Summer BBQ Potluck
I don't know about you guys but I love a good BBQ in the summer! It is so fun to get family and friends together, relax outdoors and grill up some delicious food! Sometimes it is hard to know what to grill, or what to bring as a side to a family potluck. This is where I come in! I've taken the time to figure out what is perfect to bring to a BBQ potluck! There are so many amazing things to grill and sides to take! You will never have to wonder what to have at your summer BBQ again!
My absolute favorite thing about a potluck, and a (summer BBQ potluck nonetheless!) is that I get to try SO many different foods! I know that we host a potluck so that we don't have to do everything ourselves… But I really love to have them for the different recipes! I get giddy thinking of all the new stuff I go away wanting to try! These recipes that I have included in this round-up are the very best, tried, and true BBQ potluck recipes that you will ever try. There are sweet options, savory options, and some that are so juicy and delicious that you will be wishing that you could grill outside all year long!
Tips to Becoming Your Neighborhood Grill Master
We all know that person who is a wizard at grilling. Everything they cook on that grill turns to gold and you can't help but drool over the way they get the meat so juicy and the vegetables so tender. Read through these few tips to help you grill and before you know it, that person will be YOU and your BBQ potluck will be the new talk of the town!
Clean: You always want to start with a clean grill. Use that metal scrub brush and make sure there isn't a lingering of last nights meal!
Fewer flips: If you find that your food is sticking to the grill, don't try and move it around. It will break and you will let out all of the juices. It's best to flip less often. Your food will unstick itself when it's ready to be flipped!
Let it rest: Just like when you cook meat inside, when you are done on the BBQ, let it rest! Take your meat off the grill and give it a few minutes to soak in all of those juices before you chow down on it!
How to know when it's done: If you are unsure about whether or not your food is done, buy a meat thermometer! You can then just test your meat before you take it off the grill and be confident that it's safe to eat. Chicken is done at 165 degrees, salmon, steak and pork are done at 145 degrees.
Don't flatten the meat: I know that you want those perfectly shaped hamburgers but resist the temptation to flatten them out. It squeezes all of the juices out and makes them dry!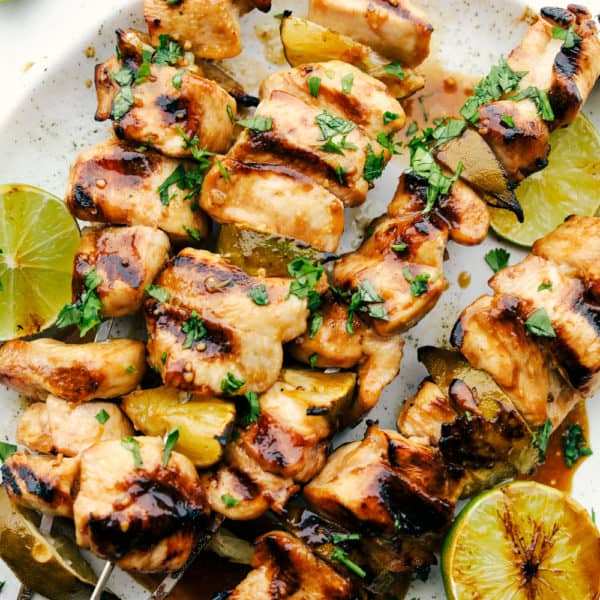 Grilled Key Lime Chicken
Grilled Key Lime Chicken is tender and juicy chicken marinated in key lime flavor and grilled to perfection on a skewer.  It is quick and easy to make and enjoy with your family on a warm summer night!
View Recipe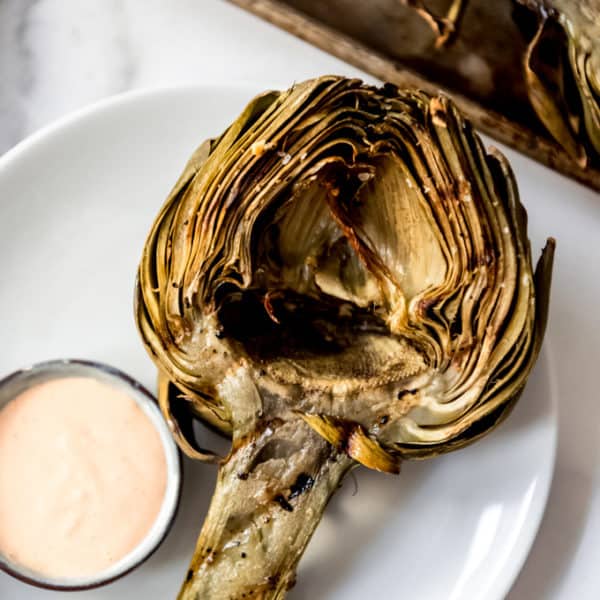 Grilled Artichokes
Grilled Artichokes are one of the best grilled summer side dishes or appetizers! Serve them with your favorite aioli, lemon garlic butter, or even just mayo as a dipping sauce!
View Recipe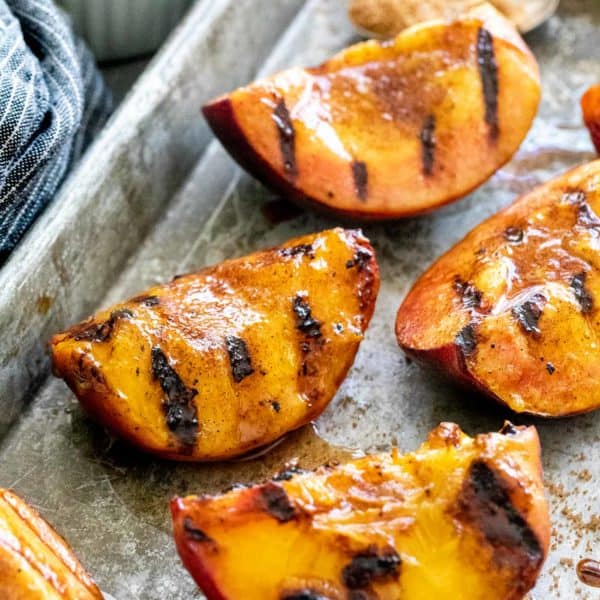 Brown Sugar Grilled Peaches
Brown sugar grilled peaches are a summertime delight. Ripe peaches are lightly charred on the barbecue then sprinkled with a sweet spiced topping that transforms into a glaze. Perfect as a quick dessert or add it to a fresh salad. 
View Recipe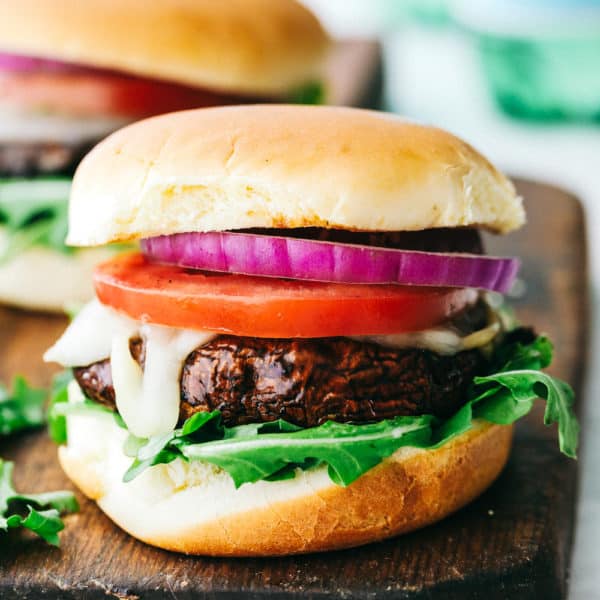 Grilled Portobello Burgers
Grilled Portobello Burgers are delicious, meaty and savory marinated portobello mushrooms, grilled to perfection and stacked in a soft toasted bun!  Quick and easy to grill, these mushrooms are so impressive and will become a new family favorite!
View Recipe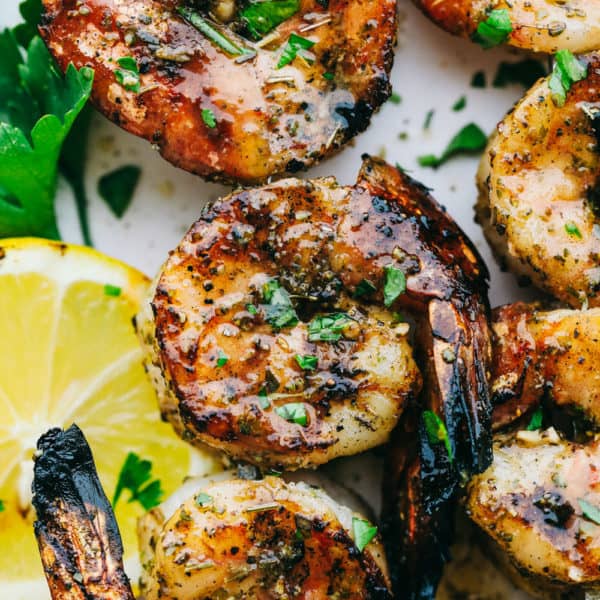 THEE BEST Grilled Shrimp
The BEST Grilled Shrimp is the perfect weeknight meal because it is super quick, full of flavor, and so easy to make!  Everyone will absolutely love and devour it!!
View Recipe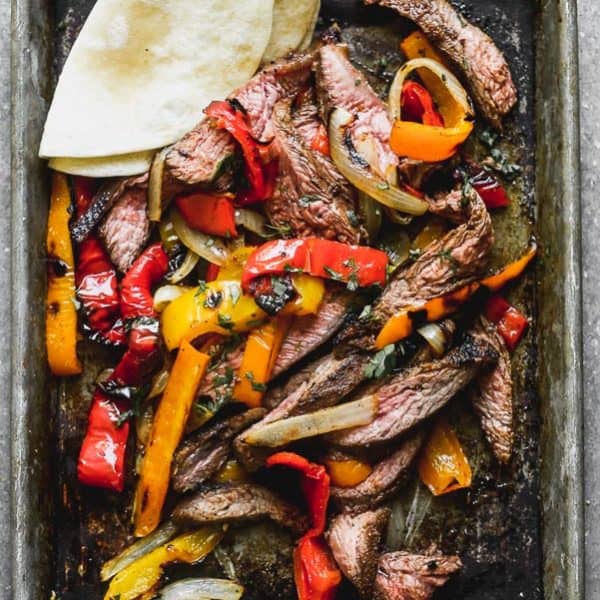 Grilled Steak Faijtas
These Grilled Steak Fajitas are the perfect departure from burgers and hot dogs for simmer grilling. Marinated in the morning, throw on the grill with a medley of bell peppers and onions, and serve in charred tortillas with all your favorite fixings.
View Recipe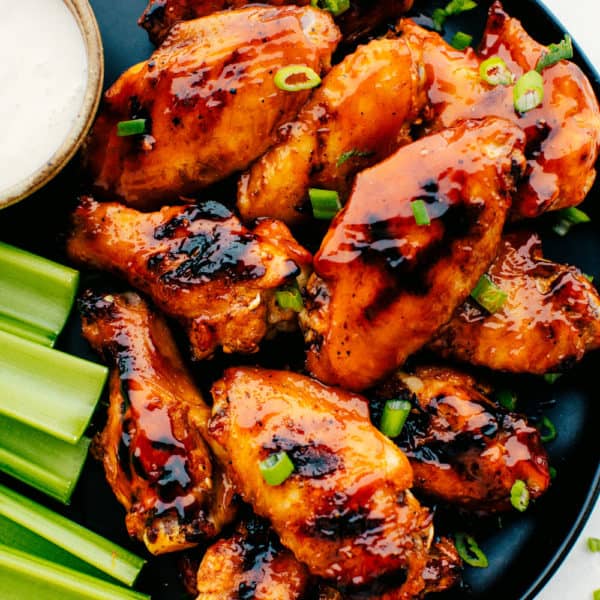 Grilled Honey Buffalo Chicken Wings
Grilled Honey Buffalo Chicken Wings are perfectly tender and juicy on the inside with a crispy skin on the outside that is drenched in a sweet and spicy honey buffalo sauce.  The flavors are so irresistible you will not be able to stop eating them!
View Recipe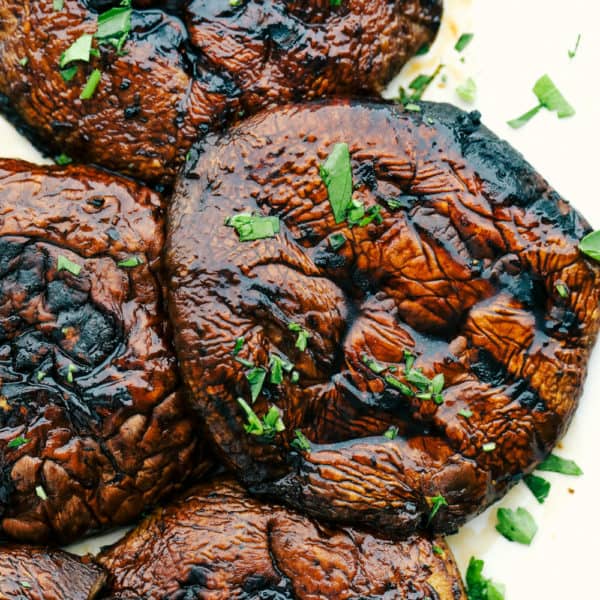 Grilled Honey Balsamic Portobello Mushrooms
Grilled Honey Balsamic Portobello Mushrooms have deep sweet and savory flavors and a substantial hearty texture that stands up perfectly to your grill!  Amazing as a grilled dinner or an appetizer, you will love the way this unique ingredient livens up your summer menu!
View Recipe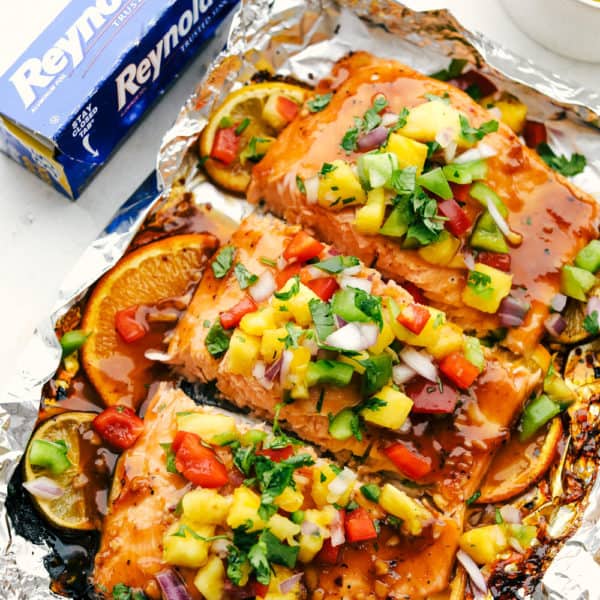 Grilled Citrus Salmon with Pineapple Salsa
This grilled citrus salmon is tender and flaky with a sweet and savory pineapple salsa garnished on top. Grilled to perfection in a delicious marinade that make this salmon tender and juicy with every bite! 
View Recipe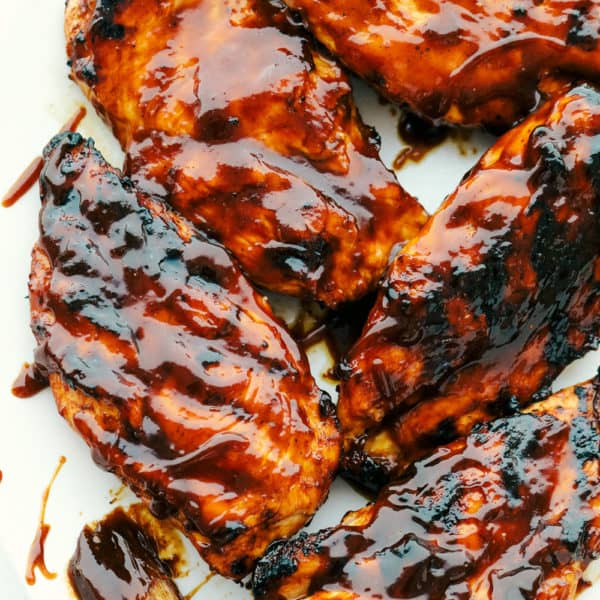 Grilled BBQ Chicken
This grilled BBQ chicken is simple to make tender chicken coated in sweet barbecue flavor that comes through in every bite!  You will be making this weekly after you see what a huge hit it is!
View Recipe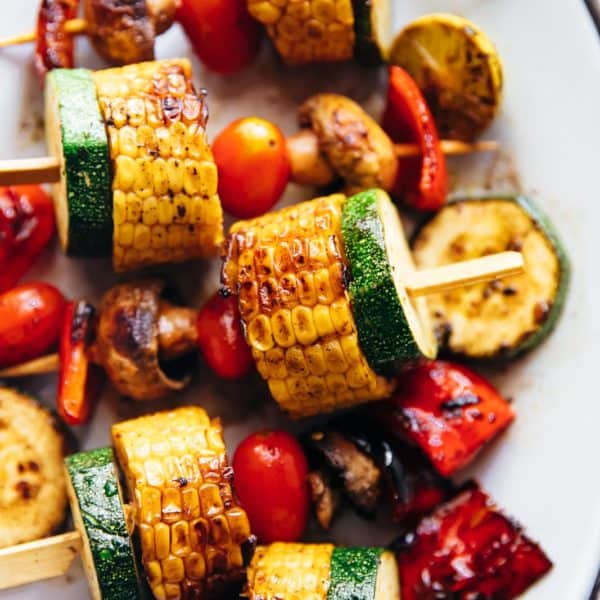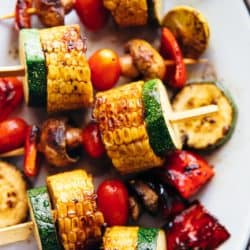 Grilled Vegetable Kabobs
Grilled Vegetable Kebobs take a few minutes to put together and are the perfect way to celebrate summer veggies!
View Recipe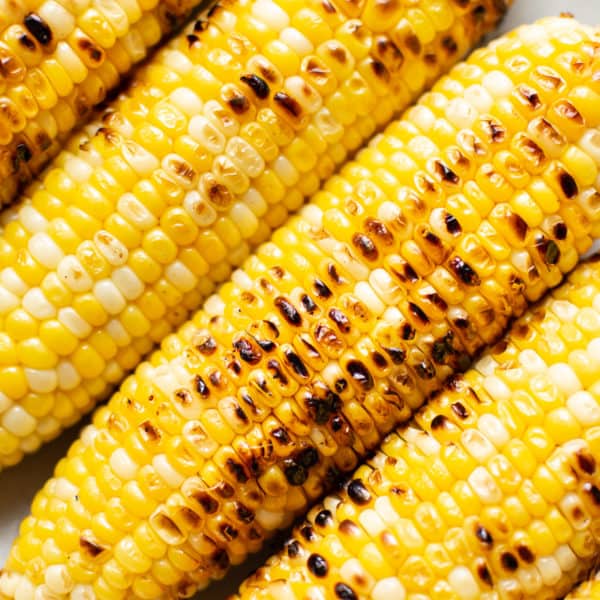 Easy Grilled Corn
Grilled Corn is a family favorite! It's so easy to make this incredibly delicious side dish that you'll have on repeat all summer long.
View Recipe
Grilled Honey Mustard Chicken
Grilled Honey Mustard chicken is tender and juicy grilled chicken covered in a sweet and tangy sauce with a punch of spice.  It is simple to prepare and so flavorful.  The fresh and perfectly balanced flavors of the honey mustard will be a staple in your summer BBQ plans!
View Recipe
Grilled Cod
This Grilled Cajun Garlic Butter Cod is the only recipe you will need this summer! The cod is tender and juicy and the flavor is spicy and buttery, it's insanely delicious!
View Recipe