Spring salads are fresh, colorful, and full of flavor! This amazing roundup of incredible recipes is perfect for springtime, barbecues, and potlucks. With how delicious they are, you'll forget you're getting your daily dose of fruits and veggies!
I love springtime because you start to see the fresh ingredients making their debut again for the year! They are so versatile and delicious. Start by trying these tried and true spring salads: melon salad, corn salad, and strawberry broccoli salad.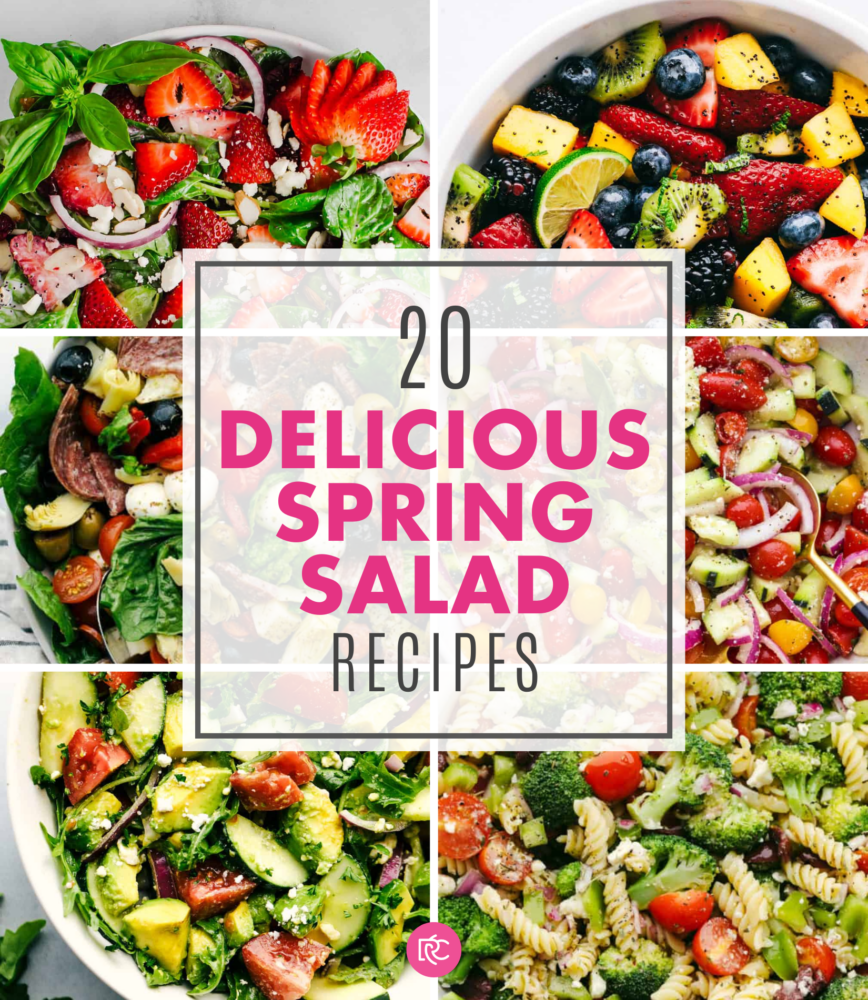 The Best Spring Salads
Spring salads are my absolute favorite way to incorporate fresh ingredients into my meals! There are so many different options and it can either be the best supporting role or the star of the show! The spring sunshine just makes me want to change up from fall and winter soups to fresh, chilled ingredients! Lighter meals that include lots of fruits and veggies really hit the spot! These recipes are absolutely divine. When you see the variety and how to mix some of these unusual flavors and ingredients together, you will be shocked at how tasty they are!
Spring salads have come a long way from plain greens and only a few types of dressing options. I wanted to round up some of my very favorite salad recipes for you to try- it's fun to switch things up! Especially when you're trying to eat clean. I made sure to include all different kinds of salads so that no matter what you are in the mood for, you will definitely find something that you love! Whether it's a fruit salad, a pasta salad, or a green salad, you really can't go wrong! Spring salads are not only tasty and delicious but they are gorgeous too. Full of amazing color and flavor, they're sure to be a hit at any meal or potluck!
Salad Tips and Tricks
I love that I can have a spring salad all on its own or I can add it to my meal. Here are a few tips for making the most of your salad and keeping the ingredients fresh and delicious!
Chopping: The fruits and some vegetables can brown and even lose their flavoring once sliced and added into the salad. Because of this, make sure that you don't cut things up too much before serving time! If you're making a salad ahead of time, add a squeeze of lemon juice to it. This will slow down the oxidization process.
Mixing: You want to be sure to add the dressing to the spring salad at the last minute. In a green salad, dressing can cause it to go soggy if the dressing is on it for too long. In a pasta salad, the pasta absorbs the dressing and you ill need to add more if you put it on too soon.
Substituting: The great thing about spring salads is how versatile you can make them. If you don't have some of the fruits and veggies that the recipe calls for, see what you have in your fridge or your garden! You can add and take away the ingredients that you prefer and really make it a salad just for you that you absolutely love!
Salad Mixing Bowl: When you are mixing your salad, don't underestimate that they get big and fast! Make sure you mix it in a large bowl! This way, you can avoid a mess of salad spilling over. When you use a large mixing bowl, none of your ingredients are left at the bottom, unmixed and without any dressing!! You can always transfer it to a smaller serving bowl later.