This website may contain affiliate links and advertising so that we can provide recipes to you. Read my privacy policy.
This teriyaki chicken will be the best that you ever make! The tender, juicy chicken is coated with the most amazingly flavored sauce. Once you eat this, it will become your new favorite!
This teriyaki chicken makes the best entree for any meal! Serve this up with some easy fried rice, some delicious vegetable lo mein, and these amazing egg rolls!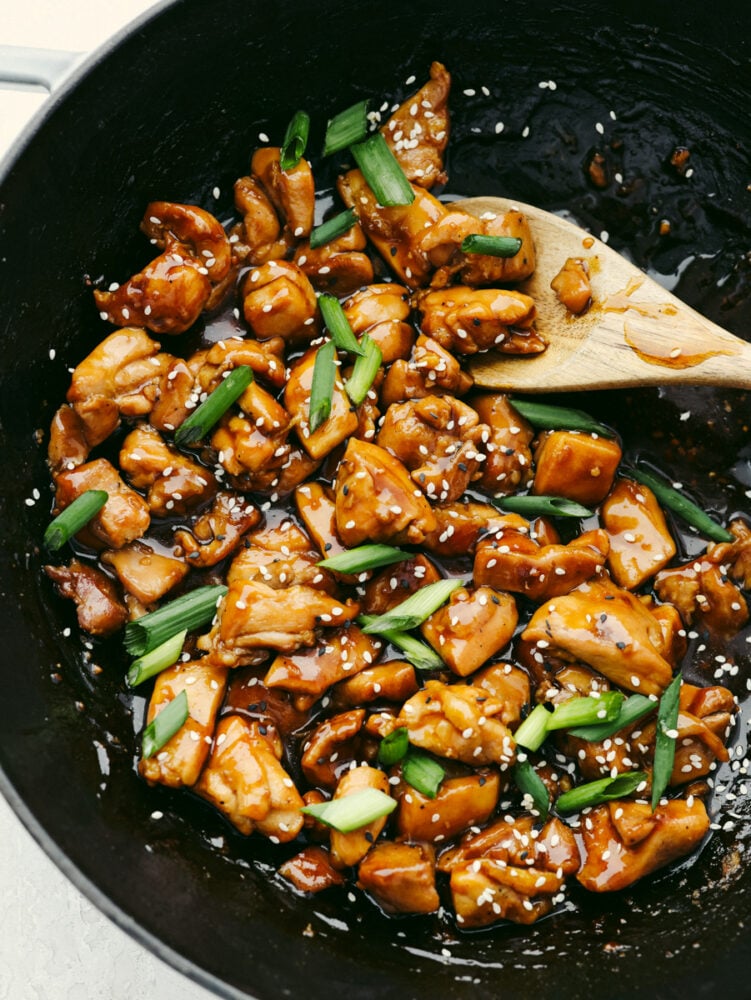 Teriyaki Chicken Recipe
Trust me when I tell you that this teriyaki chicken recipe is the best. Seriously, I love Asian food so much and have tried countless different recipes. This one takes the cake. Plus, it's simple. Recipes don't need to be complicated to be delicious! This teriyaki chicken is smothered with the best teriyaki sauce out there, and the chicken soaks it up, making it really flavorful.
I love chicken teriyaki cooked and eaten with rice and broccoli, but the beauty of this chicken is that you can serve it up with a ton of different sides and it will taste good every time. The flavor combination in the sauce is made with ginger, soy sauce, and garlic, and the aroma in the kitchen makes me so hungry every time. This recipe is simple and easy and tastes like it came straight from a restaurant.
Ingredients to Make Teriyaki Chicken at Home
This recipe is simple and easy to make from the comfort of your own home. No more need to dine out to get chicken this good. Now you can make it for yourself whenever you want! See the recipe card at the bottom of the post for exact measurements.
Chicken: You can use chicken thighs or breasts for this recipe. Whichever type you prefer will work great.
Salt and Pepper: Use these to your liking to season the chicken.
Olive Oil: You will use the olive oil to cook the chicken in before adding the sauce,
Soy Sauce: I like to use low sodium soy sauce to make this a little bit healthier.
Brown Sugar: You can use light or dark brown sugar.
Apple Cider Vinegar: You can use rice vinegar in a pinch!
Garlic Clove: If you don't have a fresh clove of garlic on hand then you can use minced garlic instead. ½ teaspoon equals about 1 clove of garlic.
Sesame Oil: This is essential to usingin a teriyaki sauce! My favorite one to use is this sesame oil.
Freshly Grated Ginger: Whenever you use fresh ingredients, the flavor is more potent.
Water and Cornstarch: This will be used to thicken up the sauce.
Sesame Seeds and Green Onions: These will be used to garnish the top of your chicken!
How to Make Chicken Teriyaki
This recipe is quick and easy! You can whip it up in no time and have a delicious meal on the table that your entire family will go crazy for! It's going to fly off of your table fast. If I were you, I would double the recipe.
Cook Chicken: Cut the chicken into one inch pieces and salt and pepper. Heat olive oil in a wok or skillet over medium high heat and add the chicken. Cook until no longer pink and remove and set aside on a plate.
Whisk: In a small bowl combine the soy sauce, brown sugar, apple cider vinegar, garlic, sesame oil, and ginger. Then, in a separate small bowl whisk the water and cornstarch to make a slurry. Add the cornstarch to the sauce mixture and whisk.
Thicken Sauce: Add the sauce to the skillet and bring to a boil. Reduce heat and then whisk until it starts to thicken.
Toss Chicken with Sauce: Add the chicken back to the skillet and toss until coated and heated through. Garnish with chopped green onions and sesame seeds. Serve over rice if desired.