This website may contain affiliate links and advertising so that we can provide recipes to you. Read my disclosure policy.
The 12 days of Christmas recipes are amazingly delicious and festive! These recipes are classics for the holidays! You will have a hard time choosing which one to make first!
On the first day of Christmas the Recipe Critic brought to you….. the 12 days of Christmas! I chose 12 amazing Christmas recipes and great ideas for you this holiday season! Some of my favorites are Homemade Thin Mints, Christmas Fruit Salad, and Almond Joy Macaroons!
Classic Christmas Recipes
Christmas is the best time of year to break out the classic recipes. Cookies, punch and desserts galore! It's not the holiday season if my counter is not overflowing with new and yummy treats! In fact, because I think that holiday food is the best, I rounded up all of my favorite recipes for the season! You can even try a new one each day to countdown to Christmas!
These tried and true recipes will ALWAYS be seen at our house! There are some sweet and savory options along with a few drinks that even the kids can enjoy! I don't know that I have one favorite recipe for the holidays but these cookies and this roast are definitely at the top of my list. All of these recipes are easy enough for anyone to cook and bake! In fact, try baking these cookies with your kids. They will love them and have a lot of fun decorating them! Try out all of these delicious Christmas recipes and then pick your favorite. Then, you'll have your own classic to come back to it year after year! Happy Holidays!
Holiday Baking Tips
I know that the holiday season means LOTS of cooking for people, myself included! Because it's so busy, I've come up with some of my easiest tips! Once you try these out, then making these Christmas recipes will be a bit easier!
Room temperature ingredients: I always like to read recipes ahead of time to make sure that everything is prepped. A lot of recipes call for room temperature ingredients. It helps so much if you know that ahead of time! Then, when you start baking, your ingredients are all ready to go!
Stock up: I like to stock up on all of the staple pantry ingredients before December. That way, I know that I don't have to go to the store to grab simple ingredients. I will already have them! Also, this help just in case ingredients sell out during the holidays! Everyone is cooking up Christmas recipes but you will be prepared!
Make your own spices: I love to make my own spices like Pumpkin Pie Spice and Italian Seasoning before Christmas and Thanksgiving so that I can check that off of my list. Then, they are ready to go when my Christmas recipes call for them. Homemade is always better!
Make your cookie dough early: Cookie dough is an easy thing to get a head start on! Make it a few days beforehand and keep it chilled in your fridge! This will save you so much time!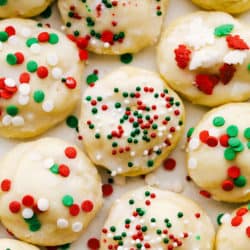 Italian Christmas Cookies
Italian Christmas Cookies are soft, buttery, fluffy and melt in your mouth delicious. Flavored with a hint of vanilla and a sweet glaze, these tasty treats are a perfect holiday treat. Take them to your next cookie exchange, party or just for fun occasion! 
View Recipe
4 Ingredient Christmas Punch
This easy Christmas punch is delicious and so festive! It's the perfect punch to serve at your next gathering… It's for all ages, young and old!
View Recipe
Double Chocolate Peppermint Cake
This Double Chocolate Peppermint Cake has two chocolate cake layers, white chocolate whipped cream and is finished off with crushed candy canes and chocolate shavings — this is the dessert you want to bring to the Christmas party!
View Recipe
Roasted Cranberry Orange Pork Loin with Green Beans
Roasted Cranberry Orange Pork Tenderloin with Green Beans is such a flavorful and easy meal. The cranberry orange glaze is perfect on top of the pork and green beans. This will be the star of your holiday dinner table!
View Recipe
Cranberry Apple Crisp
This Cranberry Apple Crisp have a sweet and tart fruit flavoring with a soft, buttery oat crumble overtop for the perfect combination. This is a sweet and savory dessert that will be a family favorite during the holidays! 
View Recipe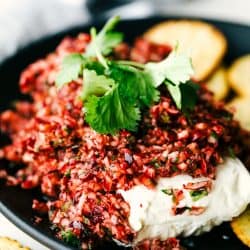 Cranberry Salsa (The Best Holiday Appetizer!)
Cranberry salsa is a fresh cranberry mixture of sweet and savory that is laid over the top of cream cheese. This makes for the BEST holiday appetizer!
View Recipe
Soft and Chewy Gingerbread Cookies
Soft and chewy gingerbread cookies are my favorite Christmas treat to decorate with my kids. They're just as delicious to eat as they are cute to look at!
View Recipe
Christmas Cornflake Wreaths
Christmas Cornflake Wreaths are a classic, beautiful wreath that is always made with love.
View Recipe
Gingerbread Sugar Cookie Bars
Theses soft and chewy spiced cookie bars topped with smooth cream cheese frosting is divine!
View Recipe
Non-Alcoholic Eggnog
Nonalcoholic eggnog is incredibly easy to make and such a delight for the entire family for the holiday season. If you have milk, cream, sugar, and eggs then you can have this eggnog ready in 20 minutes!
View Recipe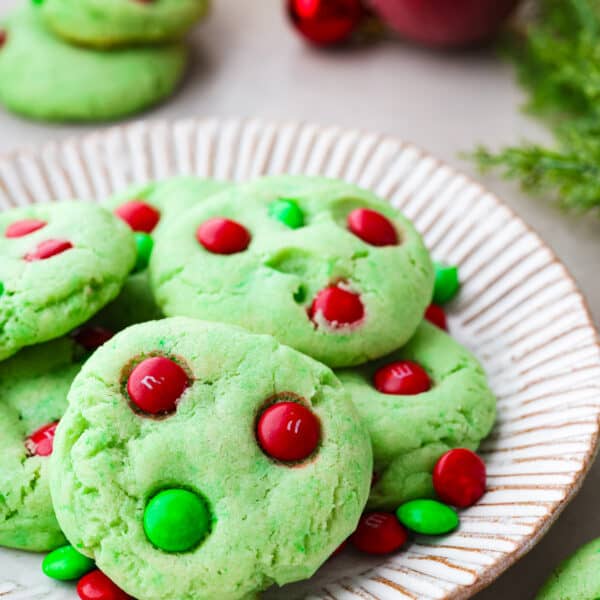 Grinch Cookies
Grinch Cookies are a fun and festive twist on a classic chocolate chip cookie! Inspired by the popular Christmas movie, these soft and chewy cookies are colored Grinch-green and decorated with green and red M&Ms.
View Recipe
Linzer Cookies
Linzer cookies are a combination of buttery orange infused shortbread and jam, as pleasing to look at as they are to eat. These festive treats are perfect for any holiday or special occasion.
View Recipe