Crazy moist Poke Turtle Brownies seeping with pockets of caramel, infused with pecans and chocolate chips, smothered in the BEST chocolate frosting and topped with more caramel.  AKA heaven.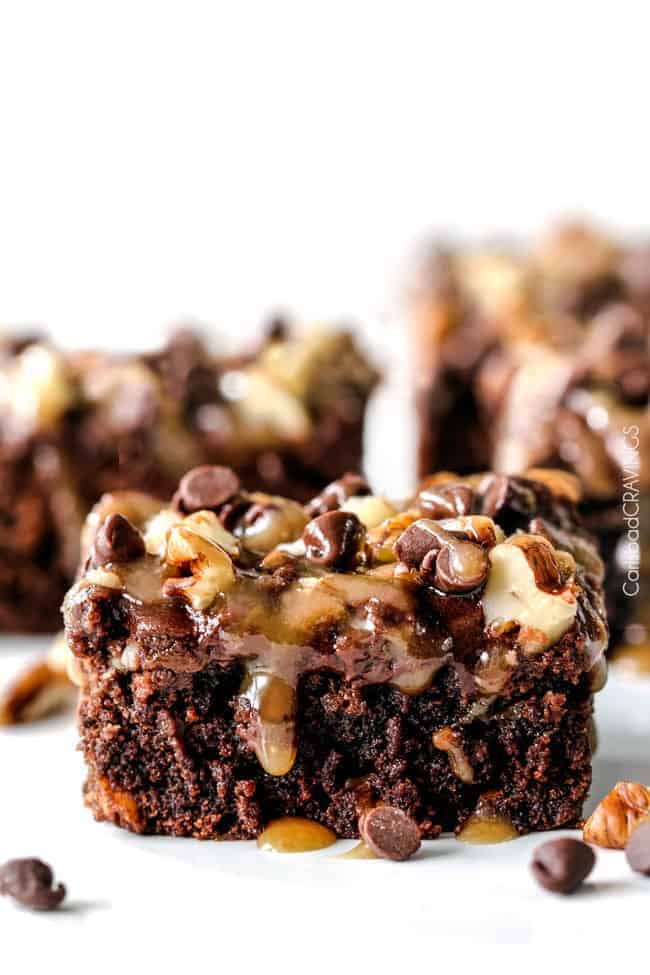 One of the very first times my husband and I hung out, I casually invited him to see the new movie Pride and Prejudice (2005).  When he showed up to the theater, he was met by my best friend, two of my roommates, my sister, my best friend's mom, and my mom.  As the lights dimmed and Jane Austin's classic came to life, he sunk deep into his chair and wondered what he had gotten himself into…until all was made right with a simple offering of "turtle?"  (aka a chocolate covered pecan caramel cluster)  Although Patrick didn't know what a turtle was, he bravely accepted.  We were married 4 months later.
Thank you magical "turtle."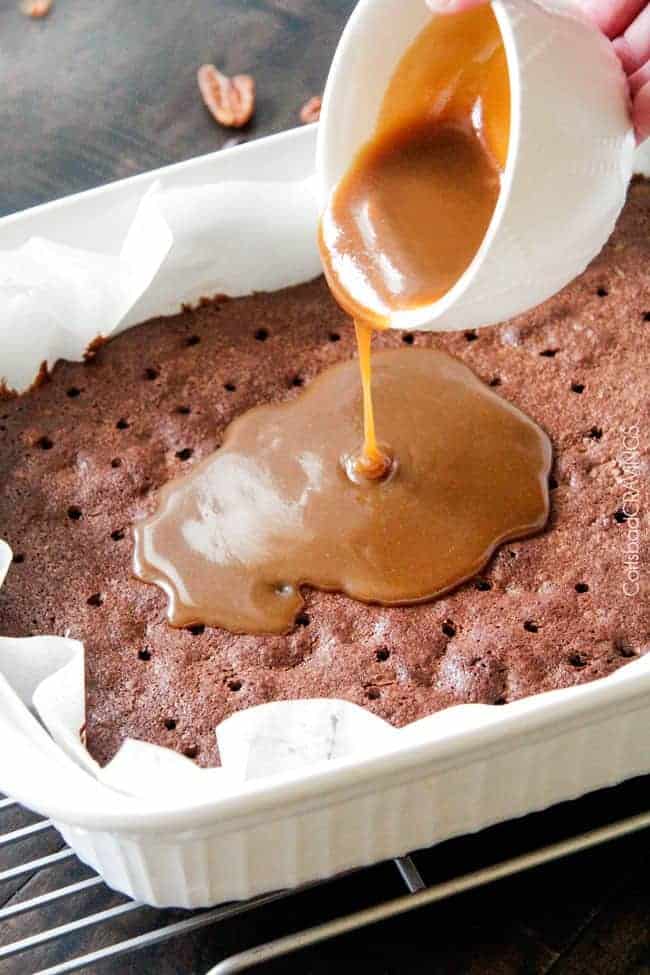 If you, like Patrick, aren't familiar with "turtles," let me tell you that turtle anything are amazing and these Turtle Brownies are beyond amazing!  They are so good that although I had a list of people to deliver the leftovers brownies to, they didn't make it.   I embarrassingly will admit that Patrick and I ate the entire pan of brownies by ourselves.  The entire pan.  They are just so intoxicatingly delicious and stay so moist for forever, that my selfish sweet tooth would not take no for an answer.  So just a fair warning, with one bite, you won't be able to say no unless you have the will power of steel.
Turtle?
Poke Turtle Brownies
Author:
Jen@CarlsbadCravings.com
Ingredients
Brownies
1 cup butter (2 sticks), melted
2 cups granulated sugar
¾ cup unsweetened cocoa powder
4 large eggs
2 teaspoons vanilla extract
1 cup flour
½ teaspoon baking powder
½ teaspoon salt
½ teaspoon cinnamon
1 cup semi-sweet chocolate chips
1¼ cup pecans, roughly chopped, divided
¾ cup Easy Caramel Sauce (click HERE) or store bought, divided
¼ cup mini semi-sweet chocolate chips (may sub regular size)

Chocolate Frosting
6 tablespoons butter, softened
¼ cup + 2 tablespoons cocoa powder
2 tablespoons light corn syrup (may substitute honey)
1 teaspoon vanilla extract
1½ cups powdered sugar, sifted
2-3 tablespoons milk
Instructions
Preheat oven to 350 degrees F. Line a 9×13 pan with parchment paper and lightly spray with nonstick cooking spray. Set aside.
Brownies: Add butter, sugar and cocoa powder to stand or hand mixer and beat at medium speed for 2 minutes. Add eggs to the batter one at a time, beating after each addition just until incorporated. Beat in vanilla.
In a separate bowl, mix together flour, baking powder, salt and cinnamon then beat into batter just until combined. Add 1 cup semi-sweet chocolate chips and ¾ cups chopped pecans to batter and stir until just combined. Pour batter evenly into pan.
Bake at 350 degrees for 30-35 minutes. Let pan cool on a wire rack for 5 minutes then poke holes all over with the back of a wooden spoon. Pour ½ cup caramel over brownies and spread into holes with a spatula. Refrigerate brownies for one hour or freeze for 30 minutes to let the caramel set. Meanwhile, prepare the Chocolate Frosting.
Chocolate Frosting: Beat butter, cocoa, corn syrup and vanilla in small bowl until blended. Add powdered sugar and 2 tablespoons milk and beat until smooth, adding additional milk if needed to reach spreading consistency.
Once caramel has set, frost brownies with Chocolate Frosting (you don't have to use all of it but I highly recommend it!). Sprinkle evenly with ½ cup chopped pecans, ¼ cup mini chocolate chips and drizzle with ¼ cup caramel.
You can serve immediately or refrigerate to allow frosting to set and make cutting easier. I LOVE to microwave my brownie serving for 15 seconds or so before devouring.
Carlsbad Cravings Original with plain brownie recipe adapted from
Hersheys