This website may contain affiliate links and advertising so that we can provide recipes to you. Read my disclosure policy.
Watermelon salad is bursting with flavors from the juicy watermelon and salty feta cheese, then topped off with hints of lime and mint.  It is the perfect fresh sweet and savory mix of flavors that just scream summer!
Summertime has the best flavorful watermelon and perfect for enjoying during the warmer months! For more fresh watermelon ideas try Watermelon Peach Cooler or Watermelon Lemonade.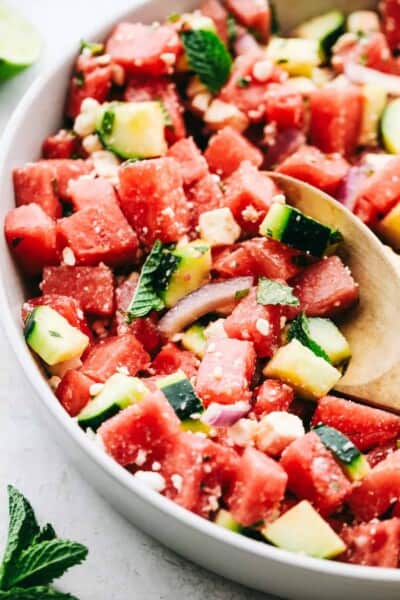 Watermelon Salad
Every year as the weather warms up, I find myself ordering more salads when I'm at a restaurant.  The other day when my kids and I were out shopping, we stopped at a favorite restaurant for lunch.  I ordered a watermelon mint salad and was in heaven!  I immediately started thinking about how easy this would be to re-create at home.  It is the perfect summer barbecue food.  The freshness of the salad is the perfect side for any grilled food.  The sweetness of the ingredients gives such a perfect balance to the smoky flavors of the grill. I know I will be making this all summer long now!
I have always loved ripe watermelon.  It is so juicy and refreshing.  This watermelon salad is packed with flavor enhancing ingredients that are unexpected and unbelievably good!  It is such a simple yet so impressive salad.  Perfect for entertaining since it is so crowd-pleasing. Your guests will be asking, why didn't I think to make this?
Salad Ingredients:
Great ingredients are the key to any delicious meal! So be sure to choose fresh, flavorful watermelon, great quality cheese, and fresh mint for this salad.  Trust me, it will make a huge difference!
Watermelon: Juicy, freshly diced watermelon is the star of this salad!
Cucumber: Adds Clean crisp flavor.
Red Onion: Love the bite of flavor and crispy texture these add.
Mint: Fresh cool and sweet herb that balances the watermelon perfectly.
Feta Cheese: Both creamy, and tangy
Olive Oil: Choose high quality extra-virgin olive oil.
Juice of one lime: Fresh citrus flavor. (Tip: A little goes a long way)
Honey: Adds sweetness
Whip up a Watermelon Salad:
Making this fresh salad is so quick and easy.  You will be amazed that you haven't made it a thousand times before! It's as easy as whisking a few ingredients together then tossing to coat the watermelon.
Combine Ingredients: In a large combine watermelon, cucumber, red onion, mint, and feta cheese.
Whisk together dressing: In a small bowl whisk together the olive oil, lime, honey.
Toss: Pour dressing on top of the watermelon and toss to coat.
How to Choose a Juicy Watermelon:
First of all I recommend buying your watermelon from a farmers market.  Farmers know their crop and will harvest and sell it at just the right time.  They often give samples and are available to help you choose one to take home if needed. However, choosing a great watermelon at the store can be done as well.  Here are things to look for:
Weight: Big or small, the watermelon should feel heavy for its size.
Color: Look for a yellow spot: Watermelons develop a splotch where they rest on the ground. When this splotch is creamy yellow, it's ripe.
Sound: Tap the underbelly of the watermelon it should make a hollow sound if it is ripe.  If it is over or under ripe the sound will be more dull.
How to Slice a Watermelon:
I don't know about you but watermelons can be intimidating.  Like most people, I love how they taste but I have talked myself out of buying them so many times because I didn't want to go through the trouble of cutting it.  However, now I have figured out a quick easy way to cut my watermelon at home that takes all the frustration out of it.
Cut the ends: Lay the watermelon on a cutting board and cut off the ends with a sharp knife.
Remove the Rind: Stand the watermelon up on the flat ends you just created and run your knife down the inside of the rind to remove it. (Curve the knife as you go so that you don't cut off the good part!)
Slice it up:  Start by slicing it in half.  Then make a grid pattern to create slices which you can continue to cut into smaller squares.
Variations and Tips to Make the Best Watermelon Salad!
Go Nuts: Adding nuts into this salad gives it a great crunch to match the softness of the watermelon.  I suggest trying walnuts, cashews, almonds, or pistachios.
Avocado: Adding in avocado gives a little bit more creaminess to the salad.  Also the flavor of the avocado with the lime and watermelon is amazing!
Heat: Add Serrano peppers if you like to have a little spice in your food.
Lettuce: To turn this into a full blown salad put it on top of a bed of arugula or quinoa.
Drizzle: Balsamic Vinaigrette drizzled over the top of this watermelon salad is just simply delicious!
Fruit: An option would be to swap out the watermelon for another fruit like strawberry, however, I honestly think the watermelon is unbelievable and cannot be beat!
Presentation: Use a melon-baller to cut the watermelon to give this salad a more unique look!
More Fresh Salad Ideas:
Pin this now to find it later
Pin It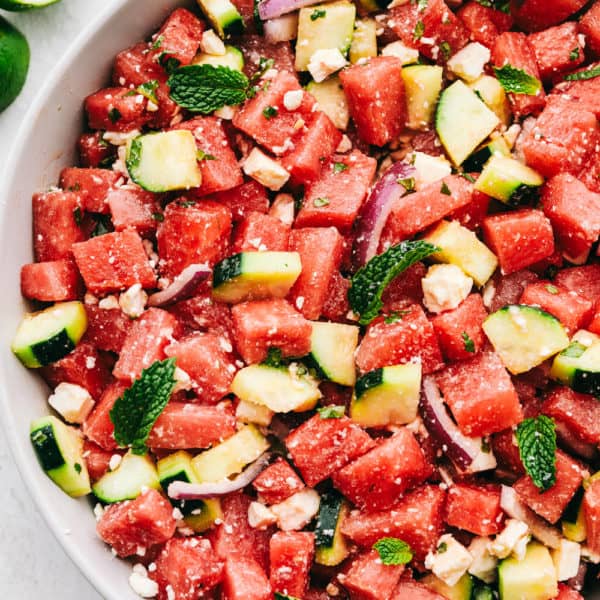 Mouthwatering Watermelon Salad with Feta
Watermelon Salad is bursting with flavors from the juicy watermelon and salty feta cheese, then topped off with hints of lime and mint.  It is the perfect fresh sweet and savory mix of flavors that just scream summer!!
Ingredients
3

cups

diced watermelon

1

medium cucumber

sliced

1/4

cup

red onion

sliced

2

Tablespoon

mint

chopped

1

cup

feta cheese

crumbled

2

Tablespoons

olive oil

Juice of one lime

1

Tablespoon

honey
Instructions
Nutrition
Calories:
91
kcal
Carbohydrates:
4
g
Protein:
3
g
Fat:
8
g
Saturated Fat:
3
g
Cholesterol:
17
mg
Sodium:
210
mg
Potassium:
26
mg
Fiber:
1
g
Sugar:
3
g
Vitamin A:
132
IU
Vitamin C:
1
mg
Calcium:
95
mg
Iron:
1
mg
Nutrition information is automatically calculated, so should only be used as an approximation.