Hey guys it's Tiffany from Creme de la Crumb! As you know, I like my dinners EASY and DELICIOUS. At the end of a long Tuesday, Wednesday, Anyday…the last thing I want to do is slave away over a hot stove for hours to make what will hopefully be something edible. Here are a ton of my go-to meals that I can trust to be tasty, simple, and ready in just 30 minutes! Take a gander, you're gonna like what you see…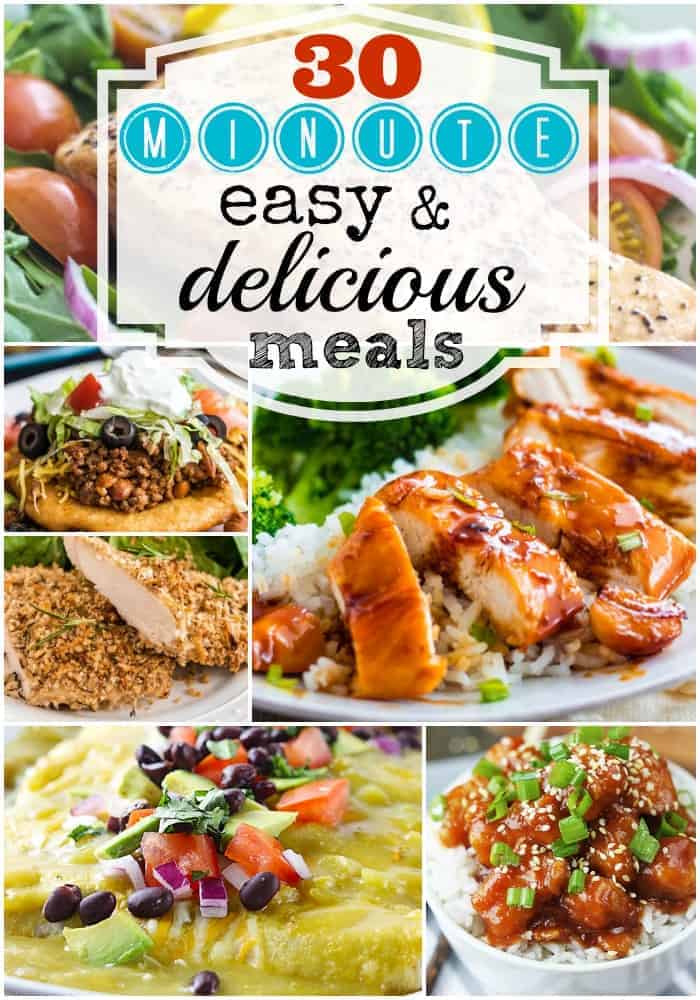 Caramel Chicken
Avocado Black Bean Enchiladas
Easy Navajo Tacos
Strawberry Poppyseed & Bacon Chopped Salad
Hawaiian Hamburger Steaks
Chickpea Curry
Taco Stroganoff
Classic Philly Cheesesteaks
Chicken Enchilada Puffs
Pepperjack Bacon Mac n' Cheese
Cider Glazed Chicken
Greek Chopped Salad
Walnut and Rosemary Oven Fried Chicken
Spicy Parmesan Shrimp Pasta
Stuffed Pizza Bites
Baked Cheesy Chicken Taquitos
Brown Sugar Glazed Pork Chops
Hawaiian Hula Chicken
Pan Seared Lemon Pepper Salmon
Thai Chicken Chopped Salad
Honey Glazed Salmon with Browned Butter Lime Sauce
Santa Monica Street Tacos
Garlic Parmesan Chicken
Shrimp Pad Thai
Sticky Sesame Chicken
Bowtie Skillet Lasagna
Sloppy Joes
Chicken Ranch Tacos
Pizza Noodle Dish
French Bread Pizza
Chicken Cordon Bleu Pasta
Chicken Pillows
Panko Crusted chicken with Lemon Cream Sauce
Baked Sesame Chicken
Bean & Cheese Smothered Enchiladas
Crispy Chicken Nuggets
Ramen Vegetable Beef Skillet
Creamy Cilantro Chile Chicken Tacos
General Tso's Chicken
One Pot Chicken Enchilada Pasta
Stay connected with  Creme de la Crumb:
Facebook | Twitter | Pinterest | Instagram
Subscribe to the Recipe Critic Blog and get family friendly recipes via e-mail.
I am Alyssa and the blogger behind The Recipe Critic. I started my blog in June of 2012 as a place to share my passion for cooking. I love trying new things and testing them out with my family.
Latest posts by Alyssa Rivers (see all)