This website may contain affiliate links and advertising so that we can provide recipes to you. Read my privacy policy.
Hey guys it's Tiffany from Creme de la Crumb! As you know, I like my dinners EASY and DELICIOUS. At the end of a long Tuesday, Wednesday, Anyday…the last thing I want to do is slave away over a hot stove for hours to make what will hopefully be something edible. Here are a ton of my go-to meals that I can trust to be tasty, simple, and ready in just 30 minutes! Take a gander, you're gonna like what you see…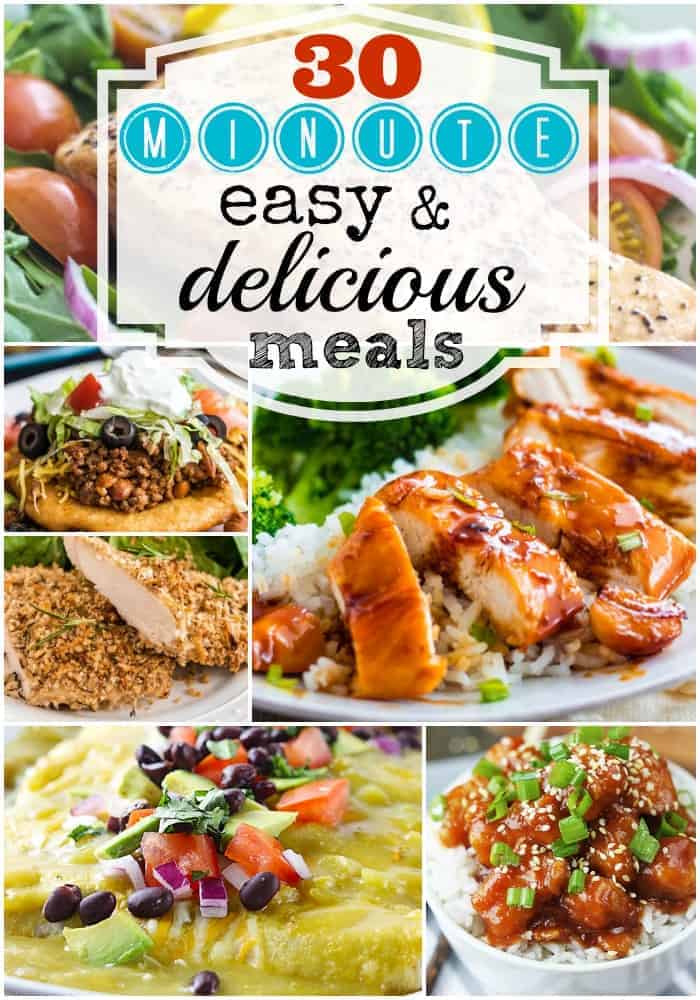 Caramel Chicken is an amazing 30 minute meal that you won't be able to get enough of! The chicken is glazed in the best sweet and tangy asian sauce and is even picky eater approved!
Healthy and tasty enchiladas filled with seasoned black beans and creamy avocado slices, all covered in green chile enchilada sauce! Ready in 30 minutes!
A delicious family friendly meal that you can add with all of your favorite toppings! Prep time is only 30 minutes, making it a simple recipe to prepare.
Strawberry Poppyseed and Bacon Chopped Salad – A quick and tasty chopped salad topped with a creamy strawberry poppyseed dressing and crumbled feta!
"This salad is SO good! I chopped everything and made the dressing on Friday for dinner at the lake on Saturday. We served it with grilled ribeye steak and baked potatoes. I saved half of the salad and dressing and we ate the rest tonight. Thanks for sharing!" – Ashley
Delicious Hawaiian inspired award winning Hamburger Steaks that are a one skillet amazing family friendly meal!
A quick and simple creamy curry dish with chickpeas, veggies, and a hint of coconut! So easy – it's ready in just twenty minutes, plus it's healthy!
An amazing one dish meal that is cheesy and delicious. It tastes like nacho dip over noodles and beef and the flavor is amazing. It is sure to become a family favorite!
Pepperjack Cheesesteaks – Thinly sliced sautéed beef with melty pepperjack cheese, served with grilled onions and peppers on a toasty hoagie roll!
Delicious enchiladas wrapped in a puff making an easy dinner! Rating: 5 stars
Pepperjack Bacon Mac n' Cheese – Cheesy macaroni noodles with melty pepperjack cheese, peppers, and crispy bacon! Ready in just 30 minutes!
So I absolutely love when I find a fantastic meal that is ready within 30 minutes or less. And let me tell you. This is one of the best chicken recipes that we have had! Don't let the cider make you think it is too sweet either. The dijon gives it the perfect balance creating an amazing glaze!
Greek Chopped Salad – A fresh chopped salad with a gorgeous assortment of veggies and a Greek dressing so delicious you could drink it straight!
Get the crispy taste of fried chicken for less than 300 calories with this amazing walnut rosemary crusted chicken!
Creamy Parmesan Garlic Shrimp Pasta is the perfect quick and easy meal that is on the dinner table in less than 20 minutes! Shrimp get coated in the very best creamy parmesan garlic sauce and is wonderful tossed with fresh pasta.
I loved how this switched up our normal pizza night. We all devoured these because they tasted so good! This is a recipe everyone should have!
A delicious baked taquito with a cream cheese chicken inside that the entire family will love! And the best part, this meal only takes 30 minutes total to make.
I love quick and easy meals that turn out fantastic. It tasted as great as ordering it from a restaurant. The brown sugar glaze over these pork chops gave it such amazing flavor. It has a little sweet too it but the spices in it helped to balance it to give it the perfect flavor. This meal was definitely a win for our family and so easy to put together!
I have a huge obsession with Hawaiian haystacks. You've all heard of them right? Some form of shredded meat on top of rice with a variety of different toppings to chose from? Otherwise known as: the best food ever. I've adapted a traditional Hawaiian haystack dish into a cook-in-your oven, all-in-one-place kind of dish. And so not only is it super easy, it's also super delicious! I hope you enjoy!
A delicious and light lemon pepper salmon that is ready in a matter of minutes!
Thai Chicken Chopped Salad – Healthy chopped salad with veggies, seasoned chicken, a sweet and tangy dressing and spicy peanut sauce!
This my friends, was fantastic! The best part about it was that it was so easy and packed with flavor! Seriously. It is only four ingredients. I was able to throw this together in 5 minutes and serve it with a side of rice and veggies and my family thought they had a gourmet meal. I loved how the parmesan cheese gave it a delicious crust and the chicken was full of flavor and so tender. A great easy meal that everyone loved!
This was the BEST salmon I think that I have had. It tasted like I was at a 5 star restaurant eating this. And I love that it was pan seared and had a crust to it and it was so tender and melted in my mouth! And holy cow. Have you tried brown butter? It is like crack! I have made brown butter frosting before but this brown butter lime sauce to top the salmon was perfection!
Have you had street tacos? Street tacos are the best, most authentic (in my opinion) tacos you can get anywhere. They're sold on little street carts and they are my absolute favorite. I grew up getting them pretty often with my family and I'm telling you, I could put away three, four, five of those tacos on any given day. I crave them regularly. As in, all the time.
This Garlic Parmesan Chicken is so good! It's perfect for a quick weeknight fix to get you past that wednesday slump, or you can dress it up for a fancy weekend treat! I love the flavors of this juicy chicken… savory garlic and parmesan! The house smelled so yummy when I made this chicken, I'm thinking of inventing the first ever garlic parmesan scented candle just so I can enjoy it every single day.
Shrimp Pad Thai is a colorful veggie-filled restaurant favorite that can be thrown together in just 30 minutes. No need to pay to go out when you can make this classic for a fraction of the price.
Delicious sesame orange chicken makes a fast and easy meal!
Bowtie Skillet Lasagna will become your family's favorite way to enjoy a delicious lasagna meal. From start to finish you can have dinner on the table in under 30 minutes!
A delicious Hawaiian twist on sloppy joes! An amazing sweet taste that the family will love!
These delicious Ranch Tacos are my new fave. I know I always say that, but it's true. We absolutely loved them and I've already made them twice now. They are so flavorful and are a pleasant change from ordinary chicken tacos. We go through a lot of Ranch dressing at our house. My kid's love it and we use it with a lot of meals, so I knew these would be a hit!
It's a great meal for busy nights and the kids will love it. If you have time to make spaghetti, you have time to make this Pizza Noodle Dish.
This homemade pizza is one that your family will enjoy in the kitchen bringing so many memories baking it together. Let the machine do the work, play a quick game in-between dough raising and make a memory that your family will cherish. This will become a weekly favorite and one of the meals that will carry on through traditions.
I am always trying to think of new recipes to create. Being a food blogger, you are always thinking about food. I was sitting in a blog conference and since we LOVED the Alfredo Roll Ups so much, I thought a chicken cordon bleu version of them sounded amazing! So after experimenting a couple of times I created an amazing cordon bleu roll up! This is combined with chicken, ham, and bacon with a creamy chicken sauce and is topped with swiss cheese. I felt like it represented chicken cordon bleu exactly the way that I wanted it to!
I loved it because it was so easy to throw together! Within 20 minutes this was already in the oven. It was absolutely delicious. Perfect taco flavor and I loved the crunch from the tortilla chips. Everyone loved it and they were able to put their favorite toppings on. It was a fun way to mix up a taco night!
My initial thought was, "What on earth are Chicken Pillows?!" Once I tried them and bit into this "pillow" of joy and deliciousness, they soon became a favorite of mine, too!They are really, REALLY, good!
Panko crusted chicken with lemon cream sauce is one of our favorite recipes to make for when guests come to dinner. It's super each to make the breaded chicken and the sauce is only a couple of ingredients and turns out similar to that Chicken Costoletta from The Cheesecake Factory.
There are recipes that I make that I hope that everyone tries. This is one of those recipes. It all began with my sweet and sour chicken that changed my life. It is actually possible to make the same quality chinese food as P.F. Chang's at home. Then came a spicy version of this delicious chicken, my firecracker chicken. I had died and gone to chinese food heaven with these recipes. I didn't think that it could get any better than this. Since I love chinese food so much my life was complete. But then I created honey sesame chicken. Let me tell you this. This is the best of them all!
Easy Mini Burritos are packed with ground chicken, pinto beans, Pico de Gallo and flavorful Mexican rice. A classic burrito that is ready to show your tastebuds the next level. These Mini Burritos will leave you wanting more!
Whenever I make these Baked Parmesan Chicken Nuggets, I just know they'll be devoured in minutes. I always make a double batch and there's never any for leftovers. There's something comforting about easy and flavorful cheesy chicken nuggets that are secretly healthy(er) (baked and not fried!) and oh so crispy! You will LOVE the crunch, unique flavor, and ease of this beloved family favorite as much as we do. No more drive through nuggets for us!
Green chiles and cilantro are combined in a delicious sauce to make a taco the whole family will love.
Make your own take out at home with this homemade General Tso's Chicken recipe. Chicken is coated in a sweet and spicy sauce – this easy recipe is better than the Chinese take out!
An easy one skillet chicken enchilada pasta dish that comes together in less than thirty minutes. A meal the whole family will love!
Stay connected with  Creme de la Crumb:
Facebook | Twitter | Pinterest | Instagram