This website may contain affiliate links and advertising so that we can provide recipes to you. Read my disclosure policy.
I want to introduce you to Air Fryer Grilled Cheese, the best I have ever had! Perfectly grilled to a crunchy golden brown on the outside and melty goodness on the inside. It's life changing.
Grilled cheese pairs exquisitely with tomato soup. There is just something about the combination that is homey and comforting. Pick from these favorites to go with your sandwich: Tomato Basil Soup, Fire Roasted Tomato Soup, or Creamy Tomato Tortellini Soup. Yummy!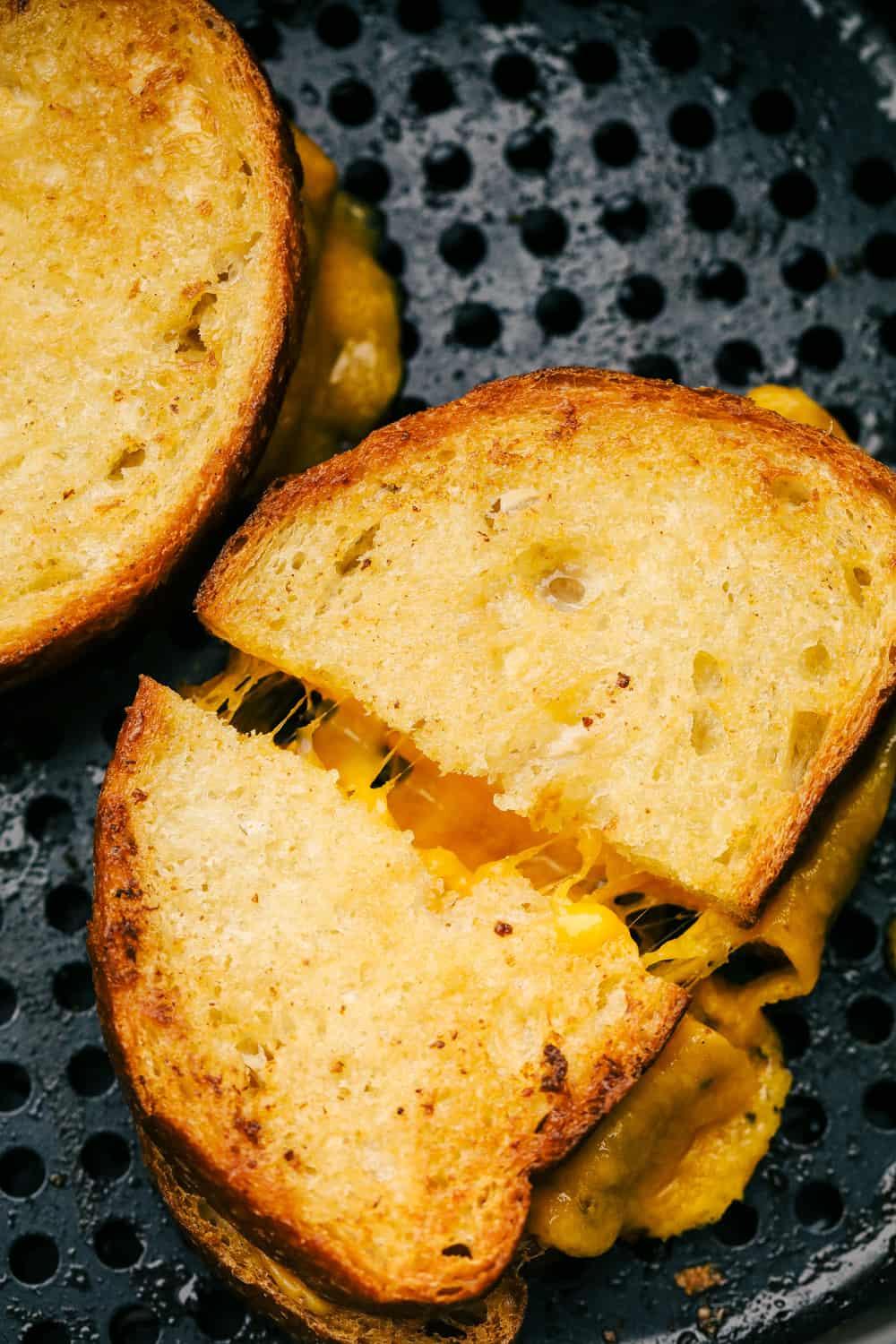 Amazing Air Fryer Grilled Cheese
One of the best grilled cheese sandwiches that I have ever had was in Boston.  They used gouda cheese and told us the secret was using a mixture of mayonnaise and butter on the outside of the grilled cheese.  Since then I have always made my grilled cheese using mayonnaise and I can promise you that it will change your grilled cheese sandwiches.
Now, Air Fryer Grilled Cheese?  This grilled cheese is the absolute best grilled cheese that I have ever had.  It cooks it perfectly crisp and melts the cheese just right.
Air Fryer Grilled Cheese Ingredients
This air fryer grilled cheese couldn't be any easier. All of the ingredients are probably in your pantry right now. So what are you waiting for?
Sourdough Bread: I prefer sourdough bread, but you can use your favorite bread.
Cheese: Use any good melty cheese, American, gouda, cheddar or gruyere.
Mayo: Don't confuse this with miracle whip.
Butter: Adds flavor and helps to brown the bread.
Making Incredible Grilled Cheese
This takes the same amount of time as your regular grilled cheese but will taste 5 times better.
Assemble: Lay two slices of cheese between two pieces of bread.
Combine: In a small bowl combine the mayo and butter.
Spread: Spread the butter mixture on the outside of the bread.
Fry: Place in the basket of an air fryer and 360 degrees and fry for 5 min. Flip and fry for another 5 minutes.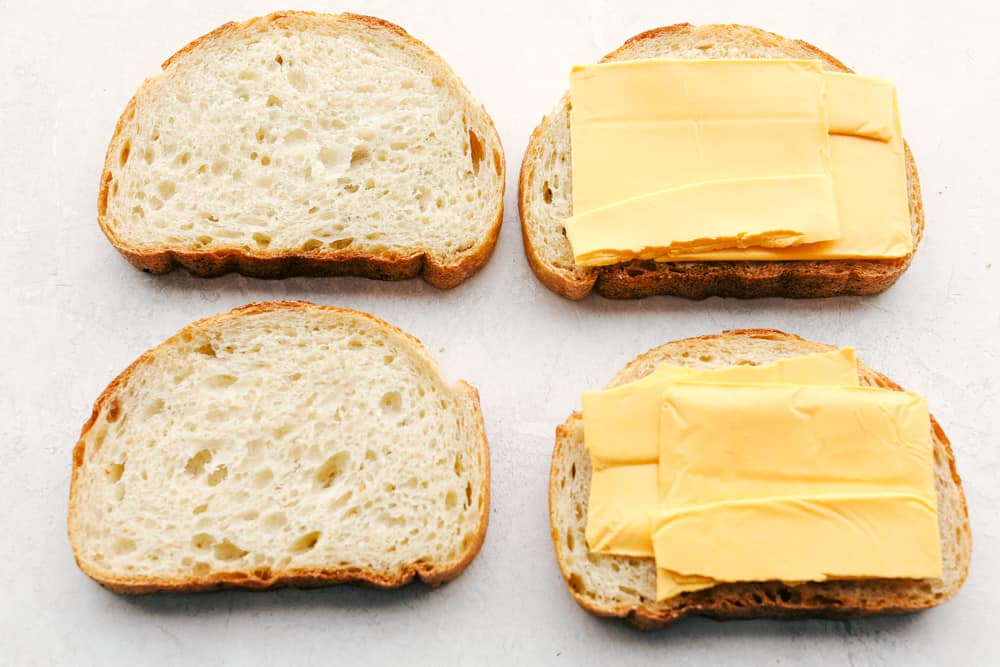 Why use Mayo with the Butter?
Crazy as it may sound, but mayonnaise mixed with butter spread on your bread is absolutely divine. If you have never tried it, it's a MUST. And this is the perfect recipe to try it on.  So why should you use mayo on your grilled cheese?
Store bought mayo has a higher smoke point than butter. This means that it takes longer for the bread to get that golden crispy outside. And since it takes longer, the cheese has more time to melt and get all ooey-gooey. So it creates a perfect golden crunchy exterior and fluffy melty interior.
Mayo is obviously easier to spread. Butter from the fridge can be hard and while trying to spread it on the bread it can tear the bread. That just ruins the whole sandwich. So mixing the butter and mayo creates a perfect spreadable topping.
Butter gives it the best flavor. That's why we use a combination. The butter creates the flavor and the mayo creates a golden crust that spreads evenly.
Crispy Air Frying Grilled Cheese Tips
Air frying is the newest and greatest thing in cooking. If you haven't gotten into the air frying business then the time is now. It's the healthier, it creates uncompromising flavor, taste and texture.  With this grilled cheese there are only a few things you need to keep in mind.
Know your Air Fryer: Every air fryer is different, check our cooking instructions to make the best decision on cooking temperature and time. My suggestions for cooking are just that, suggestions. To get the crispiest sandwich and the most melty cheese.
Anchor the Bread: Air fryers work by circulating air, much like a convection oven. If you use a light weight bread you'll want to secure the sandwich together with a toothpick so that the bread doesn't go flying off the sandwich.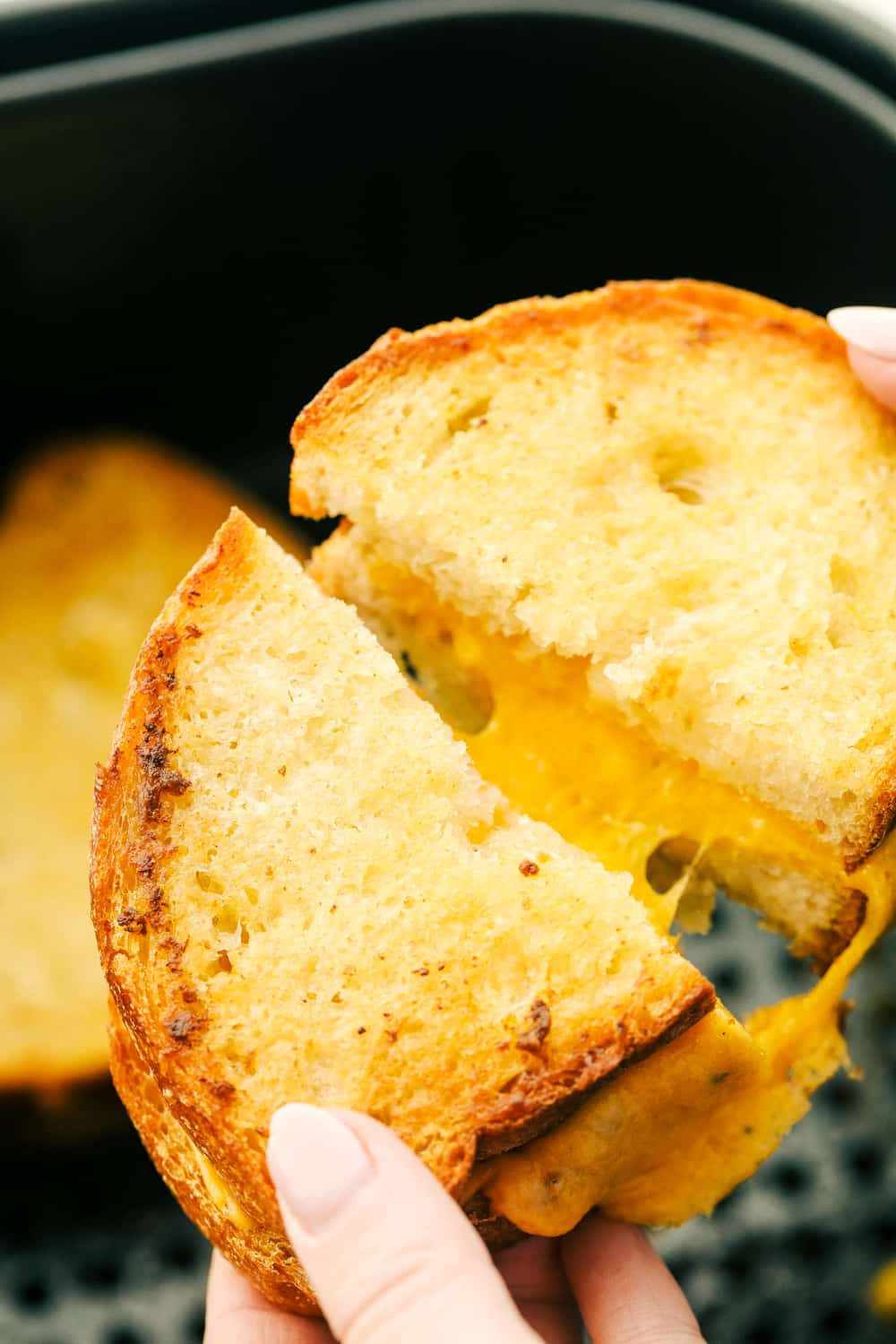 Variations for the Best Grilled Cheese
Grilled cheese is one of the best foods ever. It is the most ultimate comfort foods ever. It's cheesy, it's buttery, it's so luscious. One of the most wonderful things about these is the fact that they are so easy to customize. You can mix and match the breads and fillings to your hearts content.
Bread: I love sourdough, but any bread you love will work, rye, ciabatta, whole wheat, white, or whatever you desire most. Remember if you use a light weight bread be sure to secure the sandwich with a toothpick.
Cheese: A good melty cheese works best but any cheese that you love will work. Use a good strong flavored cheese. Try Colby, provolone, swiss, pepper jack, or Monterey jack. Any cheese will work.
Add Ins:  Add fillings to make the sandwich even better. Try tomatoes, caramelized onions, mushrooms, cucumbers, avocados, sliced sandwich meat, pepperoni, even thinly sliced apples.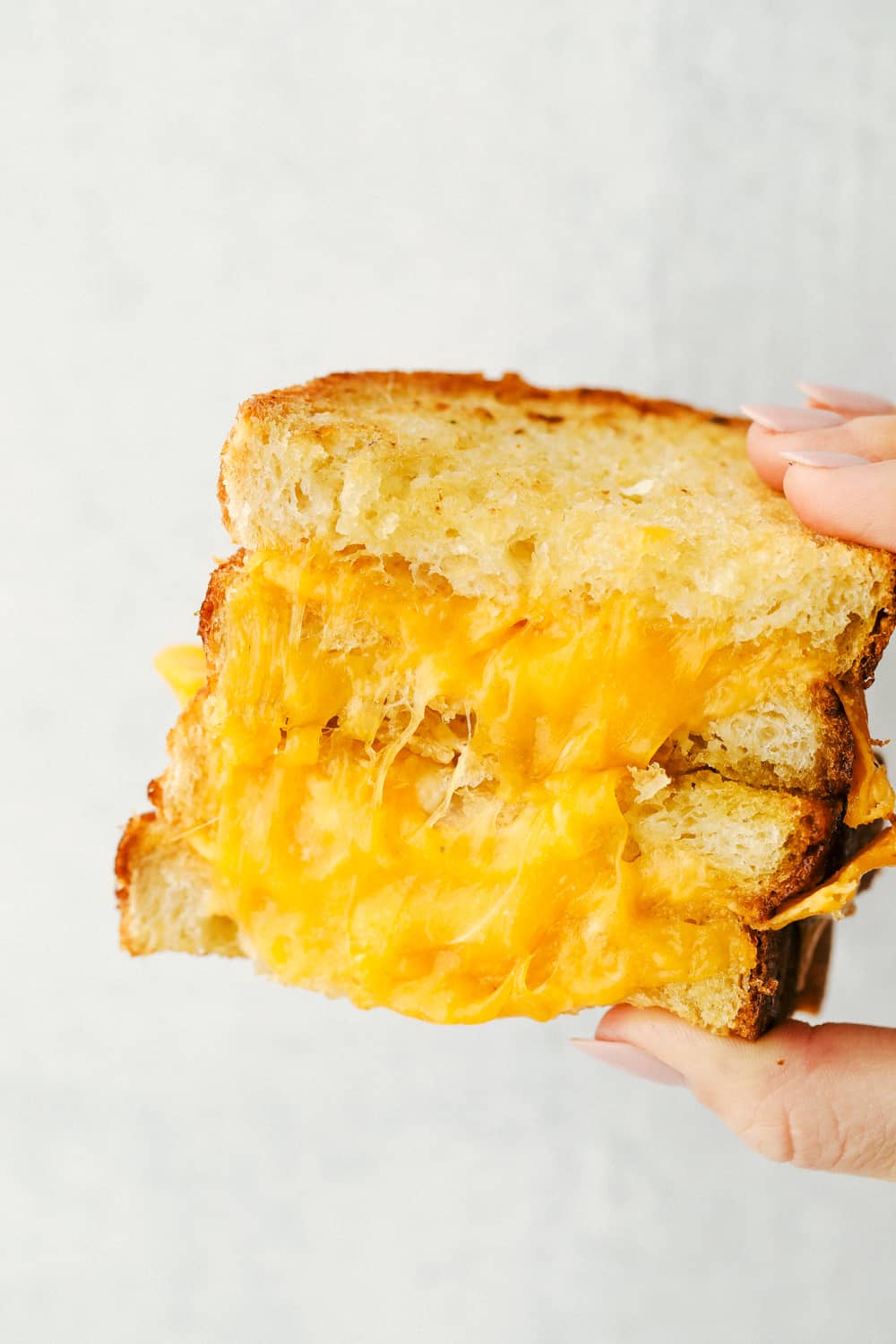 More Sandwich Loving Recipes
Sometimes you just want a good sandwich. Not a sandwich that you put in your child's lunch box, but a really great grown up, hearty and tasty sandwich. All of these are exactly just that. Ultimate sandwiches for the whole family to enjoy. These are definitely favorites.
Pin this now to find it later
Pin It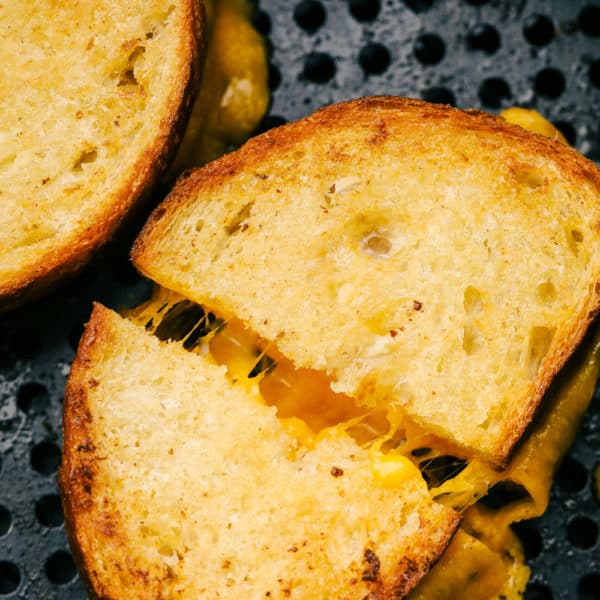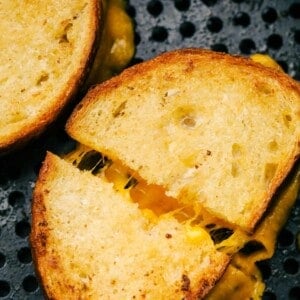 Air Fryer Grilled Cheese
This Air Fryer Grilled Cheese is the best I have ever had! Perfectly grilled to a crunchy golden brown on the outside and melty goodness on the inside. It's life changing.
Instructions
Lay two slices of cheese between two pieces of bread. In a small bowl combine the mayonnaise and butter and spread on the outside of the bread.

Place in basket of air fryer and cook at 360 degrees for 5 minutes, flip and cook and additional 5 minutes or until toasted.
Notes
*can use favorite bread of choice. If using a thin bread, secure with a toothpick.
Nutrition information is automatically calculated, so should only be used as an approximation.