Crispy baked coconut shrimp is super easy to make and is a perfect healthy appetizer. 

Hey guys, It's Layla here from GimmeDelicious.com and today I have a super easy and healthy recipe for you today. Its crispy coconut shrimp they're its baked! I love making baked versions of my favorite fried foods because you get all the flavor without all the added calories.
This baked coconut shrimp is super super easy to make and even easier to eat! The shrimp is crispy and crunchy on the outside and tender on the inside. I like to use a mixture of panko breadcrumbs and coconut to coat the shrimp so you get different textures and flavors on there.
To get started simply combine the panko and shredded coconut in a bowl and set aside. In another bowl season some flour with salt, pepper, garlic powder, and paprika and set aside. and lastly, crack eggs in a small bowl. Then you simply dip the shrimp in the flour, egg, and coconut mixture.
Lay evenly on a greased baking sheet and drizzle or spray with a light layer of oil. Bake for 12 minutes and that's pretty much it! The shrimp is simply irresistible and makes the perfect appetizer or side dish!!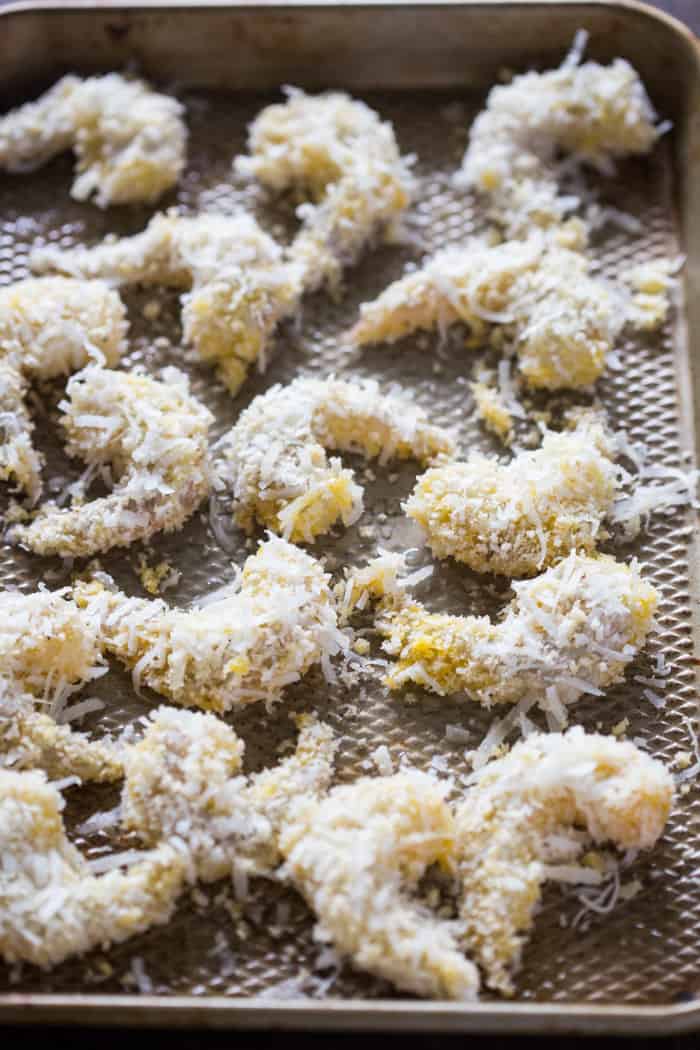 Baked Coconut Shrimp
Ingredients
1 pound large shrimp (about 25), peeled (tails left on), deveined
2 large eggs
1 cup flaked unsweetened coconut
½ cup panko breadcrumbs
½ cup all-purpose flour
½ teaspoon garlic powder
½ teaspoon paprkia (optional)
Salt and freshly ground black pepper
Instructions
Pre-heat oven to 425F. Grease a cookie sheet with oil and set aside.


Beat eggs in a small bowl and set aside. Combine breadcrumbs and coconut in another bowl and set aside. Lastly, combine flour and spices in a 3rd bowl.


Dip shrimp in small batches in the flour mixture then the egg mixture (letting the excess drip off the shrimp) and then coat in the coconut/breadcrumb mixture, pressing to adhere.


Place the shrimp on the baking sheet in a single layer. Lightly spray with nonstick spray or drizzle with oil. Bake until the shrimp are golden on the outside and opaque in the center, about 10 minutes.