Perfectly moist and chocolatey brownies filled with chocolate chips and topped with chocolate frosting.  Simple and delicious and you won't even be able to tell that 2 cups of zucchini is hidden inside!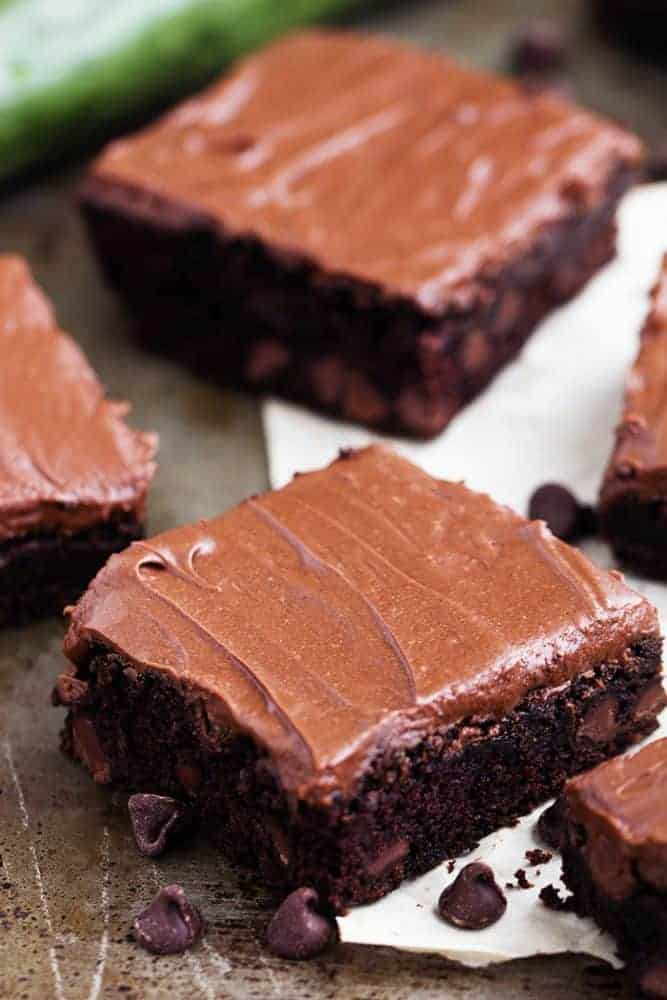 Yep.  I made another chocolate zucchini dessert.  I need to use up all of the zucchini in my garden and I have to get my kids to eat their veggies somehow. 🙂
We celebrated Pioneer Day here in Utah yesterday with a barbecue and fireworks.  I love getting together with the family for some good food and fun.  I made these brownies yesterday and they turned out perfect!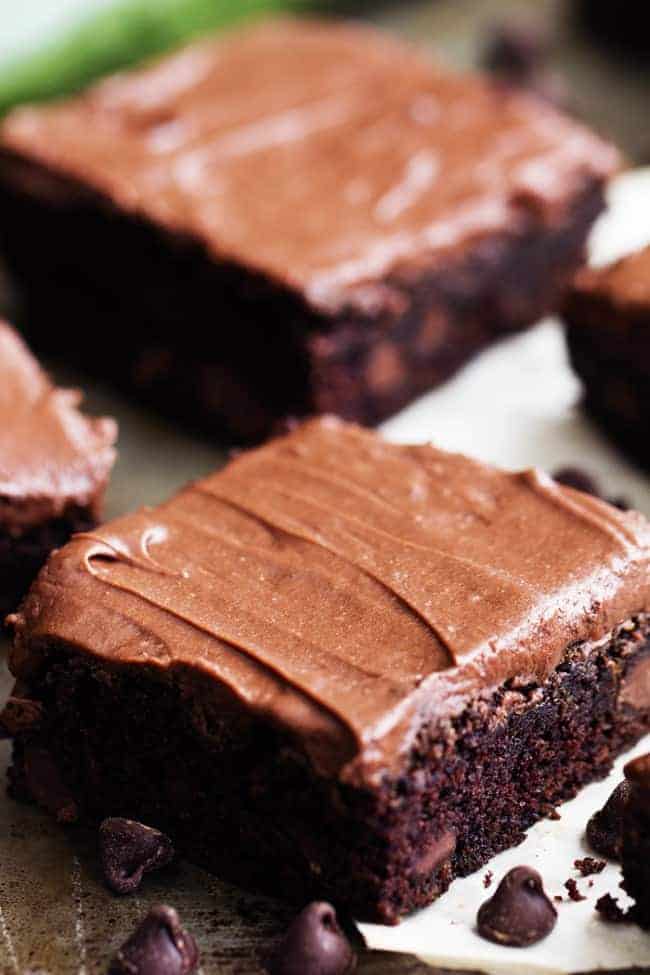 I love watching my boys eat these and tell me that they are the best brownies that they have ever had.  Little do they know that there is 2 cups of zucchini hidden inside.  Muah ha ha!
The zucchini makes these brownies so moist.  And because you can never have enough chocolate I added some chocolate chips inside!   It was so delicious with the chocolate chips hidden inside.
But the chocolate frosting… it is a MUST!
 These brownies are so rich and are a total chocolate lovers heaven!  The best way to use up that zucchini and are especially good with a cold glass of milk.  You are going to love them!
Double Chocolate Zucchini Brownies
Ingredients
½ cup canola oil
1½ cups sugar
2 teaspoons vanilla extract
2 cup unbleached all-purpose flour
½ cup unsweetened cocoa
1½ teaspoons baking soda
1 teaspoon salt
2 cups shredded zucchini
1 cup chocolate chips
Chocolate Frosting:
¼ cup cocoa powder
2 cups powdered sugar
¼ cup butter, melted
¼ cup milk
1 tablespoon vanilla extract
Instructions
Preheat oven to 350 degrees. Line a 9x13 inch pan with aluminum foil and lightly spray with cooking spray. This allows for easier removal.
In a medium sized bowl add oil, sugar, and vanilla extract in a bowl until combined and crumbly.
In another bowl combine flour, cocoa, baking soda and salt. Add the sugar mixture to the flour mixture.
Stir the zucchini shreds into the batter until thoroughly incorporated. At this point it may seem ver dry and thick. Keep mixing and the zucchini will moisten the batter. Add in the chocolate chips.
Spread the batter into the bottom of your 9x13 inch pan. Bake for 25 minutes or until the brownies are fairly firm and begin to pull from the sides of the pan. Allow brownies to cool.
To make the frosting: Add cocoa powder, powdered sugar and butter to a small bowl and whisk. Add in milk and vanilla and continue to whisk until smooth. Spread over brownies.
 Recipe adapted from Dinner Mom