This website may contain affiliate links and advertising so that we can provide recipes to you. Read my privacy policy.
These foil french bread pizzas made with Reynolds Wrap® Non-Stick are perfect for any family dinner! Crispy, cheesy, and delicious, your family won't be able to resist coming back for seconds!
If you love homemade pizza, then you must try these sliders, these pepperoni rolls, or even this fantastic dessert pizza. Try them all out, and you will realize that the most challenging part is picking your favorite!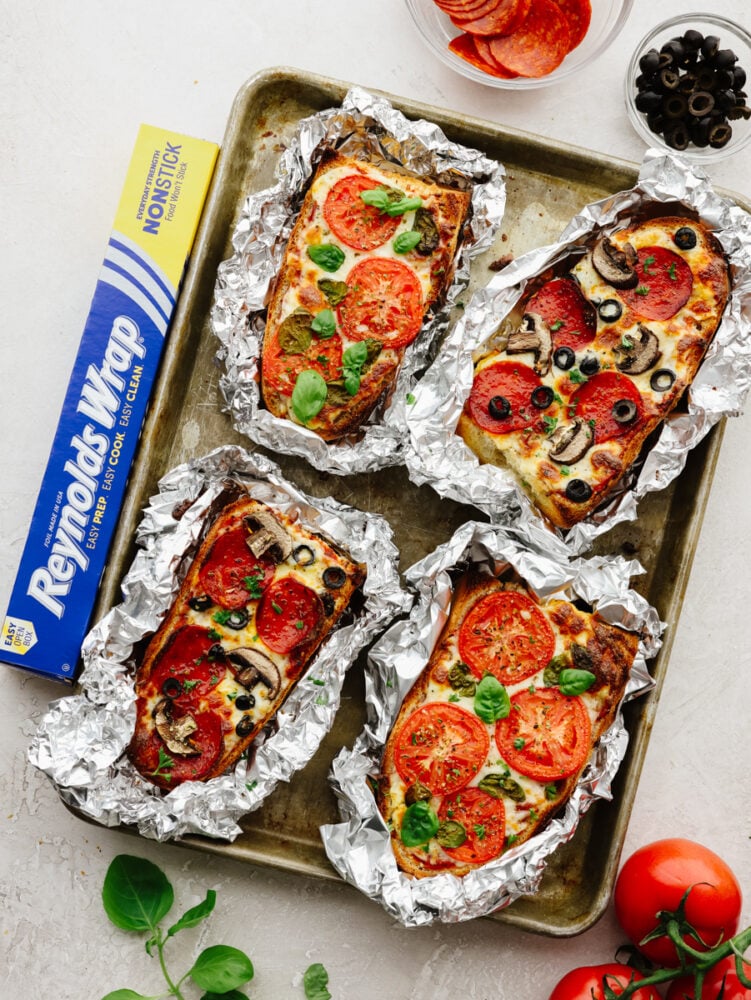 Reynolds Wrap® Foil French Bread Pizzas
I am excited to partner with Reynolds Wrap® for this past. You all know how much I love an easy and delicious dinner recipe! These Reynolds Wrap® Non-Stick Foil French bread pizzas are the absolute best! When you place the foil around the bread, it makes the outside so crispy! Plus, the cheese and toppings are so flavorful that you will savor every bite. This pizza is convenient because you make it and freeze it ahead of time, so no more store-bought frozen pizzas for you! You can just pop them in the oven when you are ready to eat. In less than 15 minutes, you have a kid-friendly meal on your table! The Reynolds Wrap® Non-Stick Foil won't stick to your food, so it is my go-to for all of my foil meals. It also makes clean up a breeze!
Not only are these so delicious, but they are super easy to make! My kids love helping me make these, and the best part about them is that they can add whatever toppings they want and make their pizza perfect for them! This pizza is a family favorite and if you want another meal that your kids can help make, then you must try these chicken skewers. They will love helping you mix and match all of the food!
Ingredients to Make Foil French Bread Pizzas
It makes my mouth water just thinking about them. To make these foil french bread pizzas, I use Reynolds Wrap® Non-Stick Foil, which helps the pizzas turn out perfectly crispy. See the recipe card at the bottom of the post for exact measurements.
French bread: French bread is my favorite because it is just thr right texture and makes the perfect simple and easy pizza crust.
Pizza sauce: You can use homemade pizza sauce or take this recipe to the next level using my homemade pizza sauce.
Mozzarella cheese: Mozzarella is the classic cheese used on pizzas because it brings such a great taste!
Toppings: Pepperoni, mushrooms, tomato, sliced olives, fresh basil.
Reynolds Wrap® Non-Stick Foil: The foil is my favorite to use because it helps my food cook perfectly without sticking and makes clean-up so easy!
Let's Make Some Homemade Pizza!
This pizza recipe is quick and easy. It's a go-to meal at our house, and I absolutely love that the clean-up is so much easier than pizza made from scratch. Keep this recipe on hand for those busy, activity-filled weeknights!
Slice, add sauce and toppings: Slice the French bread length wise and then into three sections. Spread on pizza sauce. Top with shredded cheese and desired toppings.
Wrap in foil and freeze: Tear 4 pieces of Reynolds Wrap® Non-Stick Foil. Place the bread in the center of the foil and wrap in the foil. Freeze for 1-2 hours.
Preheat oven and bake: When ready to bake, preheat oven to 425 degrees. Open up the top of the foil packs and bake for 12-14 minutes or until cheese is bubbly.