This website may contain affiliate links and advertising so that we can provide recipes to you. Read my privacy policy.
Using homemade Greek seasoning is the best way to add Mediterranean flair to your cooking! It mixes up in minutes and is perfect for adding delicious zesty flavor to all of your favorite meals.
Homemade seasonings are so fresh and tasty! They add the best boost of flavor to everything you cook, minus the preservatives and artificial flavors! You'll have to try this fajita seasoning, taco seasoning, and blackened seasoning next!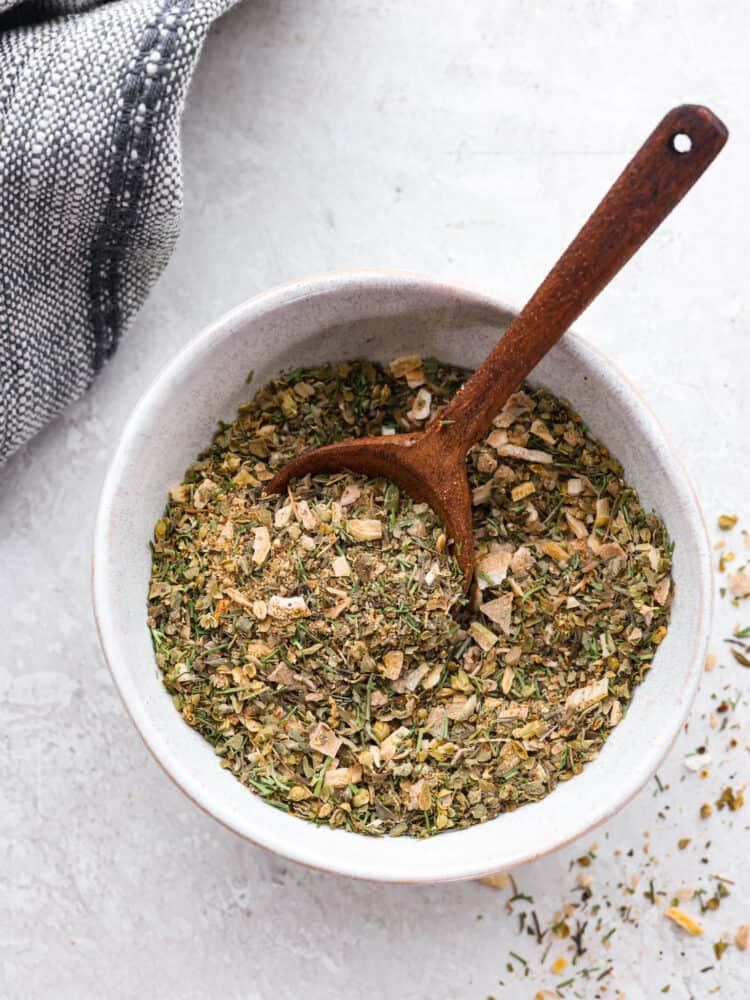 Homemade Greek Seasoning Recipe
You all probably know by now that I love my homemade seasonings. I use them in just about everything I cook! Today's addition is a delicious one and perfect for those of you that love Meditteranean cuisine! This Greek seasoning mixes up in just minutes and is the perfect blend of spices you probably already have in your pantry. It's savory, zesty, peppery, and will enhance any dish you add it to!
I love using this as a rub for meat and fish, but it works great for seasoning vegetables, too! You're going to be surprised at how just a pinch of this stuff can really bring a dish to life. It's so delicious! It's super easy to customize, too, so you can alter the flavor to your liking. Let's make some!
What is Greek Seasoning Made Of?
This Greek seasoning is the best combination of savory and aromatic! You can find the measurements I used for each of these ingredients below in the recipe card, but feel free to add more or less to your liking! Customizing your blend is the best part of this recipe.
Dried Onion Flakes: Add sharp, savory flavor.
Garlic Powder: Adding garlic is a must for a pop of savory flavor.
Dried Oregano: Has the best sweet, peppery flavor. It also adds great texture!
Dried Basil: Basil is perfectly bright and minty.
Dried Dill Weed: Dill weed gives this seasoning the perfect zesty flavor.
Dried Marjoram: Marjoram has delicate flavor and is nice and aromatic.
Dried Thyme: Thyme is earthy and minty, perfect for Greek dishes!
Salt and Cracked Black Pepper: Enhances the overall flavor of the seasoning.
Ground Cinnamon and Nutmeg: (Optional) You can add these in if you want your seasoning to have a hint of warm spice.
How to Make Homemade Greek Seasoning
It only takes minutes to mix up this delicious seasoning! Once you have it on hand, you're going to want to put it on everything!
Mix: In a small bowl, whisk together all of the spice ingredients until well blended.
Store: Store in an airtight container for up to 3 months. Enjoy this seasoning as a dry rub on chicken, fish, vegetables, or in dips.