Jalapeño Bacon Cheeseball is loaded with cheese, bacon, and jalapeños.  This is always the biggest hit at any party!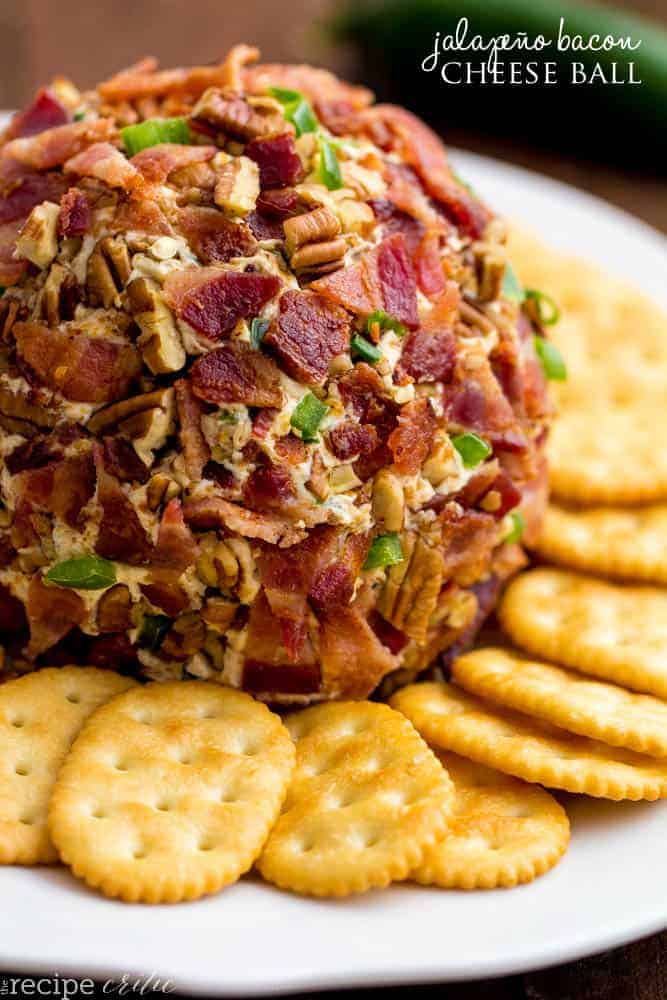 We continue to have amazing weather here in Utah.  I was born and raised in Utah and I never have remembered a December with such amazing weather.  Like close to the 60's!  It has been so nice not to bundle up every time we go out but I kind of miss the snow.  I never thought that I would say that.  But I do!  I love the way a freshly fallen snow looks on our streets with the big sycamore trees.  And it feels like Christmas with the snow.  I know that I need to enjoy this weather but I secretly can't wait for it to snow!
I have had this secret obsession lately with jalapeño and cream cheese since I made this Jalapeño Popper Dip.  I have always been a wuss when it comes to things that are spicy, so I have been afraid to always give anything with jalapeños a try.  Boy have I been missing out!  The cream cheese helps to cool down the jalapeños and gives it just enough of a kick to give it amazing flavor.
This Jalapeño Bacon Cheese Ball was hands down one of the best cheese balls I have ever had!!  All of the the things that I loved about that dip were packed inside and out of this cheeseball.   Cream cheese, cheddar cheese, jalapeños, all came together to make this yummy cheese ball that you won't be able to get enough of.   Oh but lets not forget the bacon!  Everything is better with bacon and this cheese ball not only had them inside, but it is rolled in bacon!  This is the ultimate cheese ball and I know it will be a hit wherever you take it!
Watch a video on how to make Jalapeño Bacon Cheeseball here:

Jalapeño Bacon Cheeseball
A delicious cheeseball packed with bacon and jalapeños. The cream cheese cools down the jalapeño combining it all into one amazing cheese ball!
Ingredients
2 (8 ounce) packages cream cheese, softened
3 jalapeños, seeded and finely chopped, divided
1 cup shredded cheddar cheese
8 slices of bacon, cooked and chopped, divided
¼ cup green onions, chopped
1 teaspoon seasoning salt
1 teaspoon minced garlic
1 teaspoon Worcestershire sauce
¼ teaspoon cumin
½ cup pecans, coarsely chopped
Instructions
In a medium sized bowl, stir together cream cheese, half of the jalapeños, shredded cheddar cheese, half of the bacon, green onions, seasoning salt, minced garlic, Worcestershire sauce, and cumin until fully incorporated.
On a large plate combine other half of the bacon, jalapeños, and pecans. Shape the cream cheese mixture into a ball and roll it onto the plate to coat well.
Cover with seran wrap and chill for an hour before serving. Store leftovers in the fridge for up to 3 days.