This Waldorf Chicken Salad is a refreshing and filling dish loaded with fruit, veggies, and nuts. It comes together quickly and packs up well for taking to work or even a picnic.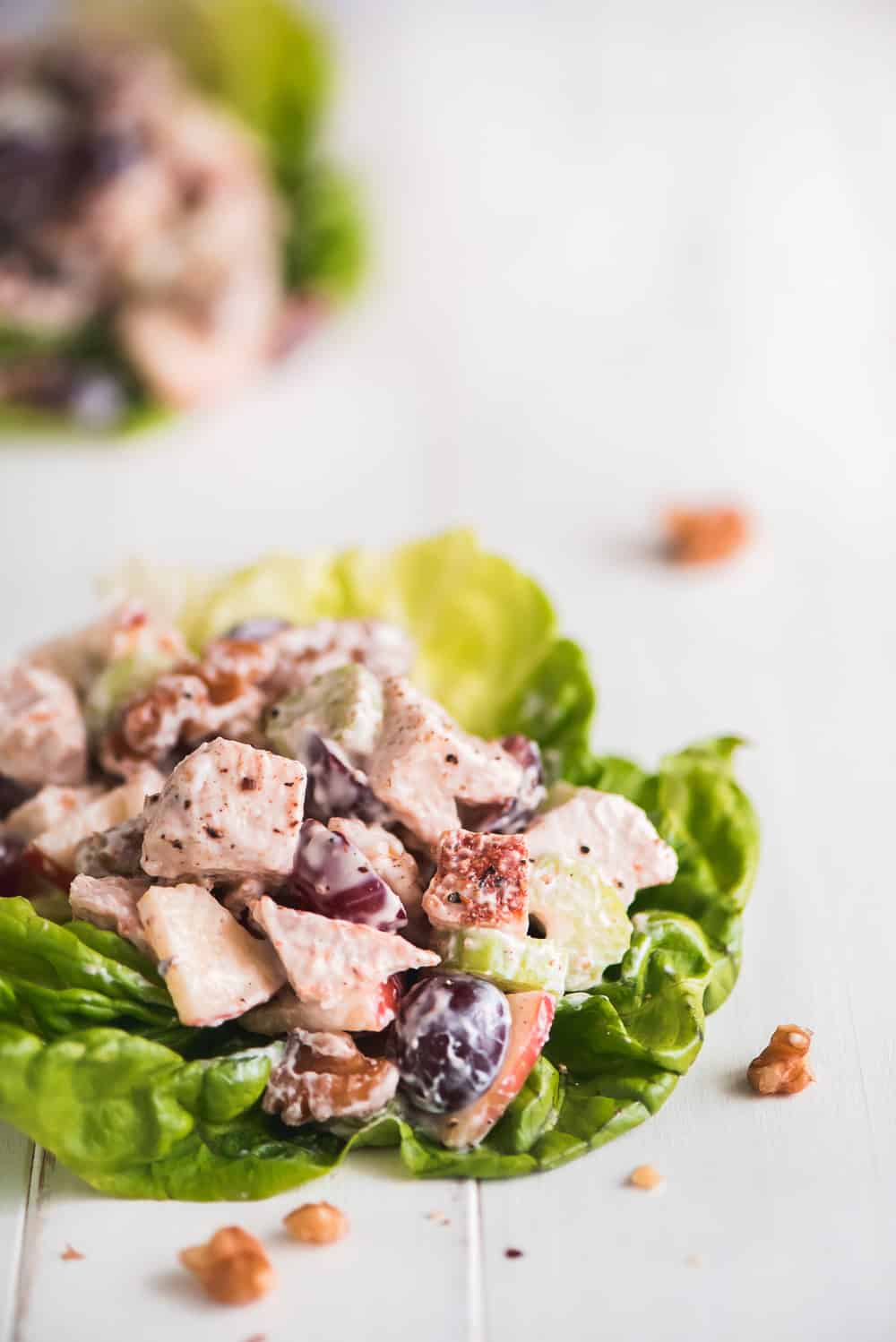 Hi friends! Melanie here again from Garnish & Glaze bringing you a delicious, healthy, and fresh lunch. I LOVE chicken salad. It's yummy, filling, easy to make, and can be made ahead of time.
Waldorf Salad is a classic. It was first served in NYC in the late 1800's. It usually doesn't have chicken but I am obsessed with Chicken Salad so I decided to turn it into a filling meal by simply throwing some in. You can use leftover rotisserie chicken or cook your own.
I've found that the easiest and fastest way to perfectly cook chicken is in the Instant Pot. Toss the chicken breast in, sprinkle on whatever seasonings you want and then cook on high pressure for 10 minutes with a 5 minute natural release. So quick and perfectly tender and juicy. Of course, you can also just bake, grill, or even slow cook your chicken too.
Now, chicken salad is usually loaded with lots of mayonnaise but I like to lighten things up a bit. You can fully swap out the mayo for plain Greek yogurt but I think that changes the flavor too much so I like to go halfsies. I also have found that the mayonnaise made with canola oil has half the calories as regular but still the same great flavor and texture.
This meal is awesome because it comes together in  just 15 minutes and you can make it ahead of time for when you know you're going to have a busy schedule. I love making meals like this Waldorf Chicken Salad or Instant Pot Greek Chicken Quinoa Bowls at the beginning of the week so I can have it for a quick lunch the following days. My husband especially loves taking it to work because it's filling and he doesn't have to waste time waiting to use the microwave.
You are going to love this Waldorf Salad! Enjoy!

Waldorf Chicken Salad
Ingredients
¼ cup plain Greek yogurt
¼ cup mayonnaise (I prefer canola oil Mayo)
1 tablespoon lemon juice
½ teaspoon salt
Fresh ground black pepper
1 cooked chicken breast, diced*
2 stalks celery, chopped
1 apple, chopped
1 cup grapes, halved
1 cup toasted walnuts, chopped
6 leaves Boston lettuce
Instructions
Place walnuts on a baking sheet and bake at 350 degrees for 5 minutes. Cool.
In a small mixing bowl, mix yogurt, mayonnaise, lemon juice, salt, and pepper together.
In a large bowl, toss together chicken celery, apple, grapes, walnuts, and the dressing. Spoon into lettuce cups and serve immediately.
Notes
*Use leftover rotisserie chicken or you can bake, grill, or cook it in the Instant Pot. Place a (8-10 ounce) chicken breast in the bottom of the slow cooker with ¼ cup water. Sprinkle with some onion salt, paprika, and pepper. Cook on high pressure for 10 minutes with a 5 minutes slow release followed by a quick release.