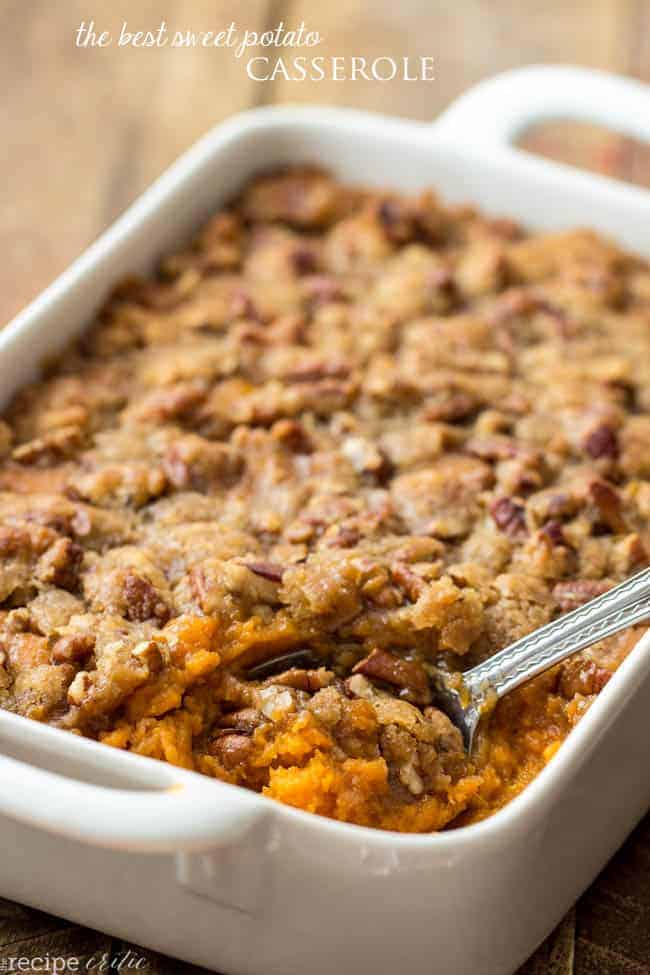 I have a small confession.   I do not like sweet potatoes.  I have tried to like them but they just aren't my thing.  My family loves them and Thanksgiving isn't complete without a Sweet Potato Casserole.
Let me tell you why this is the best sweet potato casserole in town.  It turns a sweet potato hater into a lover.  I honestly couldn't believe how incredible this casserole was.  And that I was actually eating sweet potatoes and loving it!  It is the perfect consistency and not too mushy and the combined flavors are incredible.  The topping was my favorite part.  A pecan brown sugar topping that gives it a little crunch and great texture.  This was the best.  My hubby ate half of the pan himself.  I know that if you make these, you will agree that they truly are the BEST!

The Best Sweet Potato Casserole
The best sweet potato casserole that has amazing flavor and is perfect for Thanksgiving!
Ingredients
3 cups mashed sweet potatoes
1 cup brown sugar
2 eggs, lightly beaten
1 teaspoon vanilla
½ cup milk
½ cup melted butter
Topping:
½ cup brown sugar
⅓ cup flour
⅓ cup melted butter
1 cup chopped pecans
Instructions
Prepare a 1½ to 2 quart casserole dish with cooking spray and set aside. In a large mixing bowl, combine mashed sweet potatoes, brown sugar, eggs, vanilla, milk, and melted butter. Pour into prepared casserole dish.
To make the topping: Combine brown sugar, flour, melted butter and chopped pecans. Sprinkle over the top.
Bake at 350 degrees for 30-40 minutes until cooked throughout and the top is lightly brown.
Recipe Source
Southern Food