This website may contain affiliate links and advertising so that we can provide recipes to you. Read my disclosure policy.
Cookie dough is the best and if you love it as much as I do then you are in good company because I LOVE it! Take a look – caution: you'll be drooling in about two seconds!
Seriously, is there anything better than cookie dough? Eat it plain, as a topping or as the main ingredient in any treat and you've got yourself a winner! Some of my favorite cookie dough recipes are Almond Joy Cookie Dough Bars, Cookie Dough Cupcakes and Cookie Dough Brownies.
Why Cookie Dough is the BEST
So, cookie dough is THAT ingredient. You know, the one that you can put into basically any dessert and it just makes it so much better? I absolutely love how versatile it is and it really does make my world go round! I love to use it (and eat it) any chance that I get. You'll use it so much that it will be a go-to flavor for all of your events!
Cookie dough at its best (plain) is my favorite. There are so many recipes that have it in them, I'm not sure that I could pick which one that I like best! I love using it as a topping on ice cream or cakes or cupcakes. I also really love to use it in unexpected ways. Like in frosting or mixed together to make a totally new dessert. Basically, it's completely versatile and you can use it in just about everything. Trust me, I've tried! But don't take my word for it, give these recipes a try for yourself!
Quick Tips
As I said, cookie dough is absolutely delicious and I have a couple of ways to make sure that you are getting the most out of your cookie dough! Follow these quick tips and you will find that having cookie dough as a constant treat in your fridge is a normal occurrence!
Dry or crumbly: If you have dough that seems dry and is falling apart its becuase you have overmixed it or added too much of any one ingredient. If yours is doing this, just add up to 2 tablespoons of liquid (milk or water) to the dough and it will fix it!
Sticky: If your cookie dough is sticky and you can't roll it into balls, it's too soft or runny. Add some flour, mixing it one tablespoon at a time! DO this until it is no longer sticky to the touch.
Use an ice cream scoop: To get the perfectly sized dough proportions, use an ice cream scoop on hand to scoop the dough out! Then, they will all be evenly sized!
How to Store Cookie Dough
We all love to eat it but making sure that we don't keep an old batch for too long is a key to keeping it safe to eat and delicious! Here are a few tips on how to store your dough so that it can last longer!
Refrigerator: Place the dough in and airtight container. You can store it in the fridge for up to 4 days!
Freezer: Roll your cookie dough up into balls and place them on a pan lined with parchment paper. Freeze the dough for 1-2 hours. Then, take it out and place the balls into a sealed, airtight container. It can last in your freezer for up to 3 months. (eating the dough frozen is exeptionally delicious! )
Thaw: To thaw your dough, Take it out of the freezer and move it to your fridge. Let it thaw for 24-38 hours to bring it back to its soft, doughy consistency.
Irresistible Edible Cookie Dough
A fun and tasty treat that doesn't involve baking! This edible cookie dough will definitely hit the spot. No need to steal those risky bites of cookie dough anymore, make an entire bowl of this safe to eat cookie dough! 
View Recipe
Chocolate Cupcakes with Cream Cheese Cookie Dough Frosting
So not only are we celebrating with cupcakes, but we are celebrating with super moist and fluffy chocolate cupcakes topped with none other than the most amazing cream cheese chocolate chip cookie dough frosting! That's right. Cookie dough…. as a frosting
View Recipe
Pumpkin Chocolate Chip Cookie Dough Dip
A delicious and creamy dip that tastes like pumpkin chocolate chip cookie dough! You won't be able to get enough!
View Recipe
Almond Joy Cookie Dough Bars
Amazing NO BAKE almond joy cookie dough bars that are packed with delicious flavors!
View Recipe
Cookie Dough Brownies
You can't go wrong with these fantastic brownies. They were a hit!
View Recipe
Monster Cookie Dough Cupcakes
Amazing peanut butter chocolate chip cupcakes topped with cookie dough frosting loaded with M&M's and chocolate chips!Ingredients for the cupcakes:
View Recipe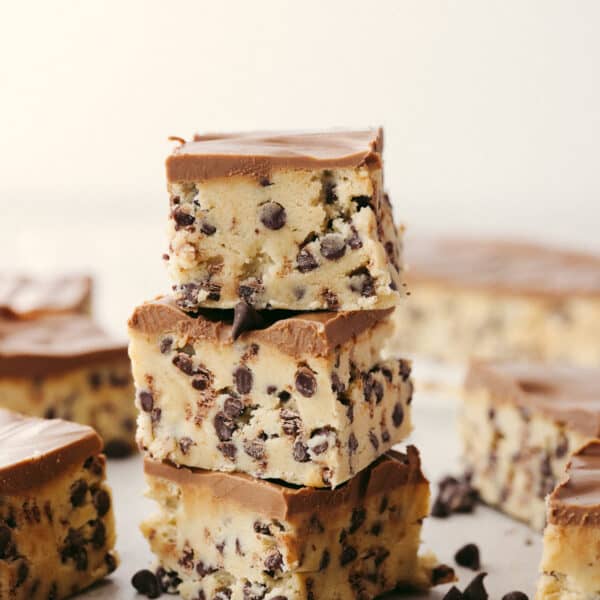 Chocolate Chip Cookie Dough Bars
Get ready for these chocolate chip cookie dough bars to become a favorite you make all the time! Perfectly creamy and delicious (and with no raw egg), these bars will get devoured by anyone lucky enough to eat them!
View Recipe
Chocolate Chip Cookie Cheesecake Bars
These Chocolate Chip Cookie Cheesecake Bars are made with a soft chocolate chip cookie crust, filled with a real cheesecake filling, and topped off with even more chocolate chip cookie dough! A rich, unique treat!
View Recipe