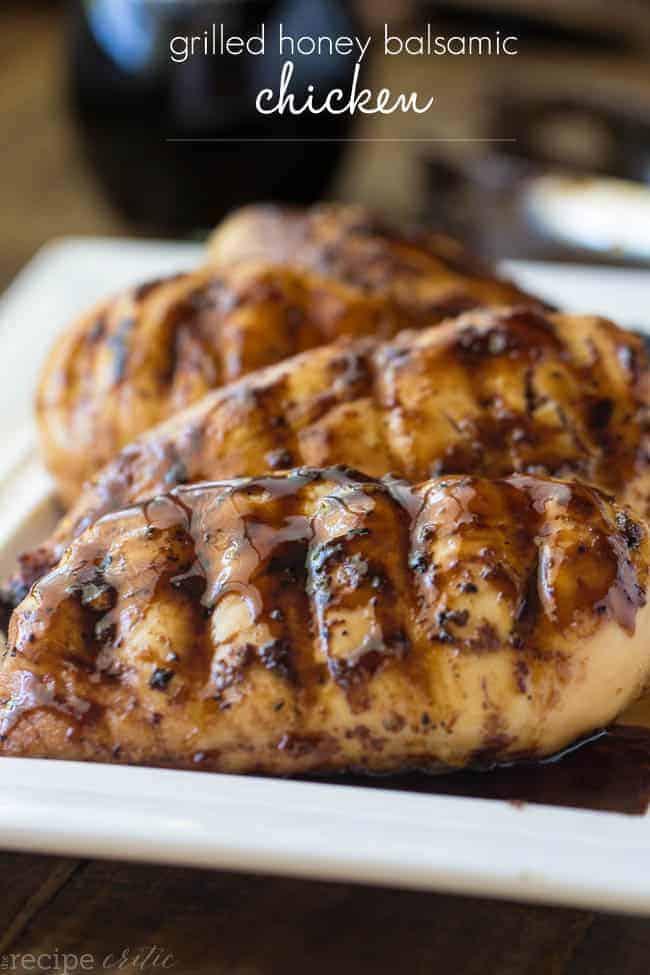 Just four more days.  I only have four more to go until this little girl gets here.  The last part seems the longest!  I have spent the day nesting and I am trying to get everything ready as much as I can in these last few days.  I still feel like I have so much to do and get our hospital bags packed.  But you can only so much when you are this close to the end.  So I think I will sit down with my feet up and write this post.  With some Dove chocolates of course. 😉
I love easy to grill recipes with great flavor.  I wanted to make something that would taste amazing and that my kids would also enjoy.  I have made a similar honey balsamic pork recipe that is hands down my favorite.  So I decided to marinade the sauce in some chicken and throw it on the BBQ!    The chicken was cooked to tender perfection, and the glaze was to die for.  This recipe was a huge success!

Grilled Honey Balsamic Chicken
A delicious honey balsamic chicken that is grilled to perfection!
Ingredients
4 boneless skinless chicken breasts
1 teaspoon olive oil
½ teaspoon kosher salt
¼ teaspoon ground black pepper
½ teaspoon paprika
¾ teaspoon onion powder
Honey Balsamic Sauce:
2 tablespoons honey
2 tablespoons balsamic vinegar
2 tablespoons ketchup
2 teaspoons minced garlic
Instructions
In a ziplock bag, add chicken, olive oil, salt, pepper, paprika, and onion powder. Make sure the chicken is completely coated in the seasonings.
In a small mixing bowl, whisk together honey, balsamic vinegar, ketchup, and garlic. Pour half of the sauce into the bag and let marinate for at least 30 minutes.
Grill your chicken on each side about 3-4 minutes or until no longer pink. Once chicken is cooked, brush the remaining sauce on top of the chicken.
Recipe inspired by
Our Best Bites