This website may contain affiliate links and advertising so that we can provide recipes to you. Read my privacy policy.
Spring is here and so are some amazing and fresh recipes! From yummy salads to delicious and festive treats, this round-up has it all!
I love spring recipes because they are just such a change from the heavy, winter ingredients that we've been using for the past few months! As we transition into sunnier skies, try out these Spring Flower Cupcakes, this light, and easy Greek Lemon Chicken, or this fresh Avocado Egg Salad!
Delicious Spring Recipes
Springtime is one of my favorite times of year because the food transforms! You are suddenly seeing everyone steer away from the meats, potatoes, and hot drinks. That's because everyone is starting into salads, cookies, recipes with eggs, and fresh ingredients. It's so fun to watch all of the new spring recipes come into play! And you will want to have them on hand all season long.
I have rounded up some of my very favorite Spring recipes! Whether they are tied to a holiday, the weather, or the beautiful flowers, there are SO many good ones. You will be able to find plenty of them that you and your family love! I love spring salads and especially spring desserts! Go ahead and get started on all of these recipes because there are a lot! You won't want to miss any of them!
Tips for Springtime Baking
There are so many spring recipes out there! Here are a few tips on how you can make the most of them!
Stock Up: If you and your family love things treats with pastel m&m's, cadbury eggs or anything like that then make sure to stock up on them at the beginning of the season. Keep a few bags in your pantry. That way, if you have any holiday potlucks, you won't have to worry about the stores being all out! And trust me, those things go fast!
Cook for the season: It's easy to cook seasonally because the grocery stores usually have entire aisles dedicated to the season! Spring is all about egg recipes, vegetables (especially peas!) and also bringing back fresh fruit into all of your salads!
Host a potluck: To get the most out of your recipes (and to try new ones!) then host a potluck at your house! Assign people a type of spring dish to bring. You can bring your favorites too and then you will have an entire list of new things to try!
Food coloring: The best way to make any dish feel like spring, especially to kids, is to use food coloring! Have some of this on hand and you can make anything those beautiful, pastel spring colors!
Funfetti Popcorn or Bunny Bait is a fun springtime treat that is sure to satisfy! This is a sweet salty colorful treat perfect for Easter or any other special occasion!
Ingredients: popped plain popcorn, pretzel sticks, M&M's, white chocolate chips, pink colored candy melts, optional: sprinkles
Empty Tomb Rolls are the perfect treat for Easter. Whether you have them for breakfast, brunch or dessert, they will be a huge hit!
Ingredients: sugar, cinnamon, Rhodes Rolls, jumbo marshmallows, butter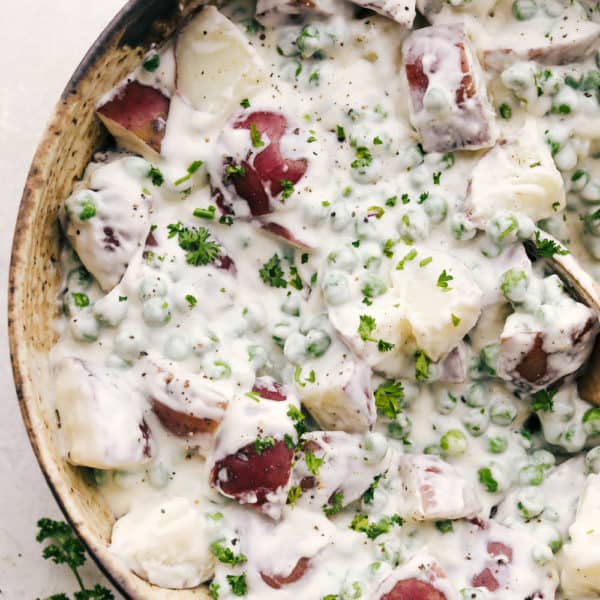 Creamed Peas and Potatoes are a classic side dish that is absolutely delish! Super creamy and full of flavor it's a side dish that is hearty and comforting!
Ingredients: red potatoes, peas, butter, flour, salt, pepper, milk, heavy cream, parmesan
The Best Egg Salad is made with simple ingredients and is so creamy delicious! So easy to put together with the best flavor and is perfect on top of a sandwich! You will make this recipe again and again!
Ingredients: eggs , mayonnaise, dill, chives, dijon mustard , salt , pepper
These homemade Reese's eggs are the perfect combination of creamy peanut butter center with a thick, rich chocolate covering making these the best Easter dessert! With only a handful of ingredients these chocolate eggs can be made quickly and easily even with the help of kids! 
Ingredients: powdered sugar, creamy peanut butter, butter or margarine melted, milk, milk chocolate chips, shortening
Classic Deviled Eggs are a favorite appetizer for parties and holiday celebrations. This traditional deviled egg recipe is simple and perfect.
Ingredients: eggs, mayonnaise, dijon mustard, kosher salt, paprika
These Baked Carrot Cake Donuts with Cream Cheese Frosting are a real treat! They are healthier than traditional donuts and perfect for a Spring brunch or Easter dessert. Incredibly moist and flavourful!
Ingredients: unsalted butter, oil, sugar, milk, large eggs, vanilla extract, large carrots, all purpose flour, baking powder, ground cinnamon, salt, baking soda, of nutmeg, ½ package cream cheese, room temperature, unsalted butter, vanilla extract, powdered sugar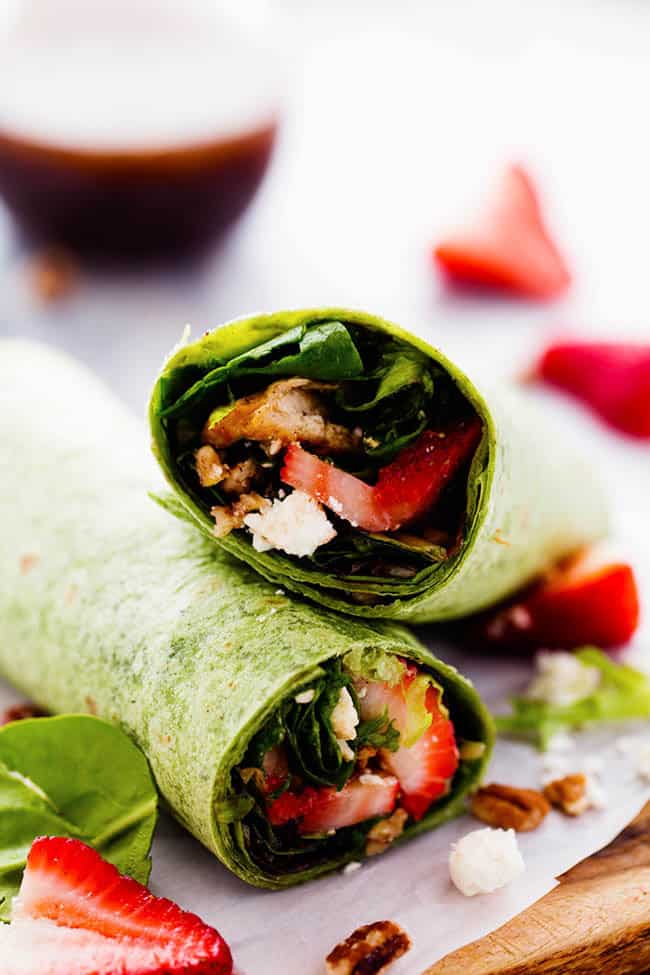 Fresh Spring greens, strawberries, crunchy pecans, chicken, and feta cheese come together in this delicious and healthy wrap. It is drizzled in balsamic dressing and the flavor is amazing!
Ingredients: large tortilla wraps, chicken, fresh spring greens, strawberries, coarsely chopped pecans, crumbled feta cheese, balsamic dressing
 I have some incredibly simple Easter cupcakes in case you need a last minute dessert for this weekend!
Ingredients: Betty Crocker Chocolate Fudge Cake Mix, chocolate fudge pudding mix, large eggs, vegetable oil, sour cream, vanilla Greek yogurt, buttermilk, and ½ tsp. vanilla extract, cream cheese frosting, Green food dye, sweetened coconut, spring-colored peanut M&M's
Fresh spring greens get tossed with crisp apples, chicken, tomatoes, dried cranberries, crunchy pecans and feta cheese. This makes one incredible mouthwatering salad!
Ingredients: Chicken Breasts, 8 ounce bag spring greens, cherry tomatoes, ½ red onion, toasted pecan halves, 2 ½ ounce bag apple chips, or you can make your own with this recipe, feta cheese, ½ cup dried cranberries, ⅓ cup olive oil, white balsamic vinegar, apple cider vinegar, garlic cloves, Dijon mustard, honey
Reese's Eggs have always been my FAVORITE Easter treat. But then they came out with white chocolate Reese's Eggs. I was in heaven!
Ingredients: powdered sugar, creamy peanut butter, butter, milk, white chocolate chips, shortening, colored candy melts for drizzling on top
Avocado egg salad is a twist on egg salad adding in the avocado for the color and delicious flavor! Add this to any sandwich or eat it straight from the bowl, it will be a new favorite!
Ingredients: large eggs, large avocado, mayonnaise, dill minced, chives minced, dijon mustard, salt, pepper
Easter is one of my favorite holidays and I have been getting pretty excited to make all kinds of Easter treats. Egg-shaped chocolate candies are my favorite!
Ingredients: sugar cookie dough, cream cheese frosting, sweetened coconut, M&M's Peanut Butter Speckled Easter Eggs Candy