This website may contain affiliate links and advertising so that we can provide recipes to you. Read my disclosure policy.
Perfect Roasted Beets are tender, flavorful and vibrant in color. These beets are the perfect companion to most any dish and are delish add ins to salads! Try these today!
There's just something about roasting that brings out the best in vegetables. Take these recipes for instance, Parmesan Garlic Roasted Potatoes, Roasted Brown Butter Honey Garlic Carrots and Parmesan Garlic Roasted Tomatoes! They are all life changing dishes, just like these roasted beets!
Easy Oven Roasted Beets
Beets get a bad rap most of the time. These earthy vegetables are literally transformed when you roast them. They become tender, sweet, nuggets of goodness. Don't let anyone tell you different. If you have an unbeliever in the household, let them try these. It'll convert them into believers. And now for my secret to make sure that they are absolutely luscious every time.  My secret to the perfect roasted beets is to seal the beats into a pouch while they are roasting.  This helps to make them perfectly tender and to keep the bright red vibrant color. It also helps to caramelize the sugars so these roasted beets are irresistibly sweet!
Roasted Beets are the perfect side dish to any meal. Their vibrant hue makes for a spectacular splash of color on your plate. They're so pretty you almost won't want to eat them…almost! These roasted beets are candied flavor which makes them even more tempting. Serve them alongside cauliflower, Brussels sprouts, butternut squash or asparagus for a colorful plate of vegetables. Beets go with everything, chicken, pork, or beef.  You just can't go wrong with these. These are definitely not the beets your mother grew up. They're so much better! You've got to try these tonight!
What You Need for Perfect Roasted Beets
These roasted beets are pretty straight forward and you can find all the ingredients usually at your local store. When looking for beets at your store, avoid ones that are soft, moist spots or shriveled flabby skin. If the beets still have their greens attached look for slender stems, and small, crisp, dark green leaves.
Beets: Keep them uniform in size so they cook evenly.
Olive Oil: To coat the beets.
Salt and Pepper: To taste, can add more after roasting
How to Roast Beets the Simple Way
This is where my secret to the perfect roasted beets comes in. These are super easy to prepare, but do take note they can stain so be sure to cover clothing and wash your hands or wear gloves. There is a reason they use dehydrated beets for coloring in foods!
Prep: Preheat your oven to 400 degrees F. Wash your beets thoroughly and cut off the stems. Peel the beets.
Cut: Cut the beets into 1/2 inch cubes
Place: Place on an aluminum lined baking dish.
Season: Drizzle with olive oil and salt and pepper to taste.
Fold: Fold up the edges of the foil and seal
Roast: Place in the oven and roast for 40-45 min or till fork tender.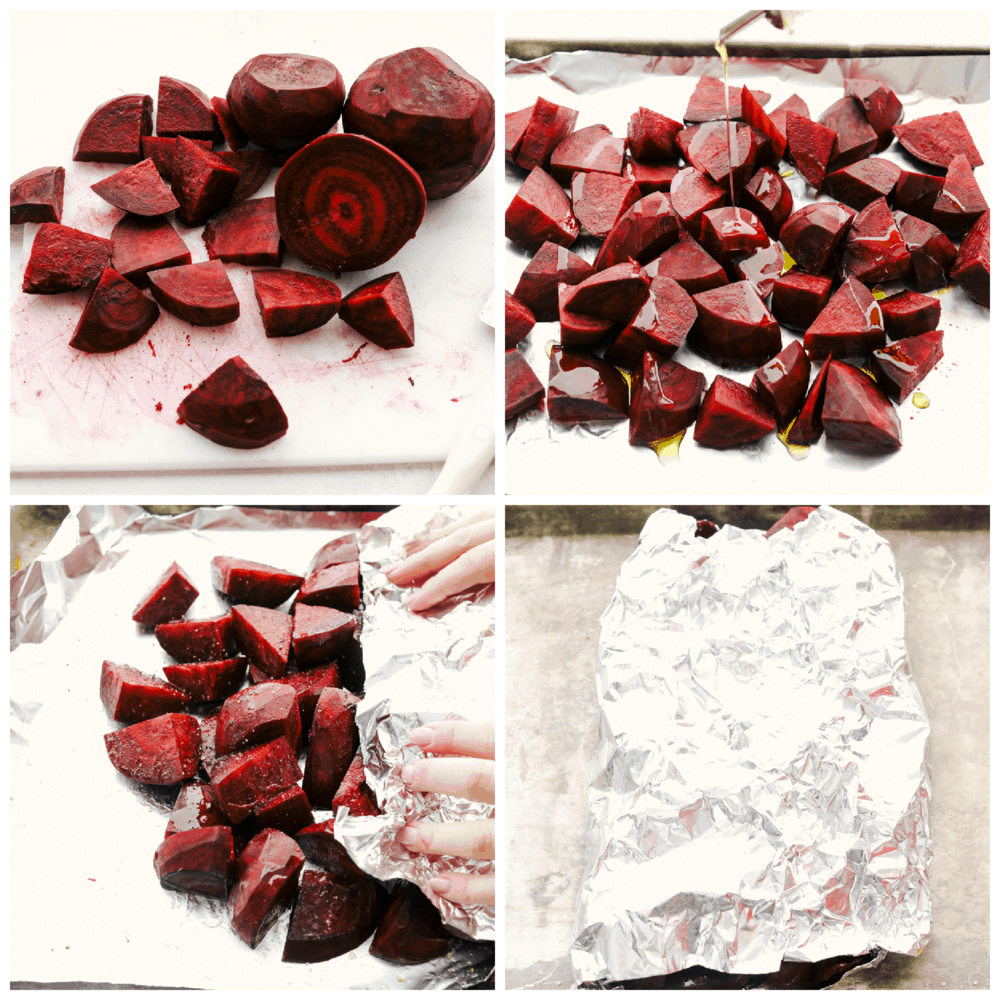 Are Beets Good For You?
Yes! Beets are extremely good for you and should be added to your diet for incredible health benefits. Roasting them is probably the best way to eat them too. These roasted beets are truly a superfood!
They are powerhouse vegetables loaded with vitamins and minerals and low in calories and fat. They also have contain pigments and nitrates which have a number of health benefits.
Nitrates have a blood pressure-lowering effect, which can lead to reduced risk of heart attacks, heart failure and stroke.
The newest scientific evidence says that eating beets may enhance athletic performance by improving oxygen use which will give you more endurance. Science says to maximize their effects you should consume beets 2-3 hours before training or competing.
Beets are also a good source of fiber, which is beneficial for digestive health. Having a great gut can reduce the risk of other chronic health conditions.
And if you're trying to shed a few pounds, they have a high water and low calorie content. Both of which are beneficial for weight loss.
Tips and Questions Answered about Roasting Beets
Now that I've persuaded you to try beets, let's talk about roasting them to perfection and tips and tricks of the trade.
Do I have to peel the beets before roasting? No, you do not. Roasting the beets will actually cause the skins to become so soft you can wipe them off with a paper towel. If you choose not to peel your beets before roasting however, I suggest leaving them in larger chunks. It makes taking the skins off easier after roasting. Then you can cut the beets to your desired size. I will say I prefer to take the peel off before I roast them. I feel like it helps the beets unlock their flavor potential. No science to back that. Just my feeling!
How do I keep beets from staining my cutting board? Like I mentioned before beets do stain, so caution is necessary. There is a trick to keep them from coloring everything it touches though. Spray your cutting board lightly with cooking spray before cutting. It will keep the color from transferring to your tools.You can also use parchment or wax paper on top of your cutting board.
Can I cut these differently? Of course! Make them the size you need, leave them whole or slice them like chips! Whatever way you wish!
How do I store beets? Store them covered in the fridge for up to 5 days. You can even freeze them and thaw as needed. They will keep for up to 3 months in the freezer. After thawing, reheat in the microwave or oven.
How do I serve beets? Any way you want! Besides serving them as a side dish, they make a great addition to salads. I love them in this Roasted Beet, Quinoa and Carrot Salad! It's so good! Add them to your protein bowl or throw frozen beets into your smoothie for extra nutrients and color! The possibilities are endless.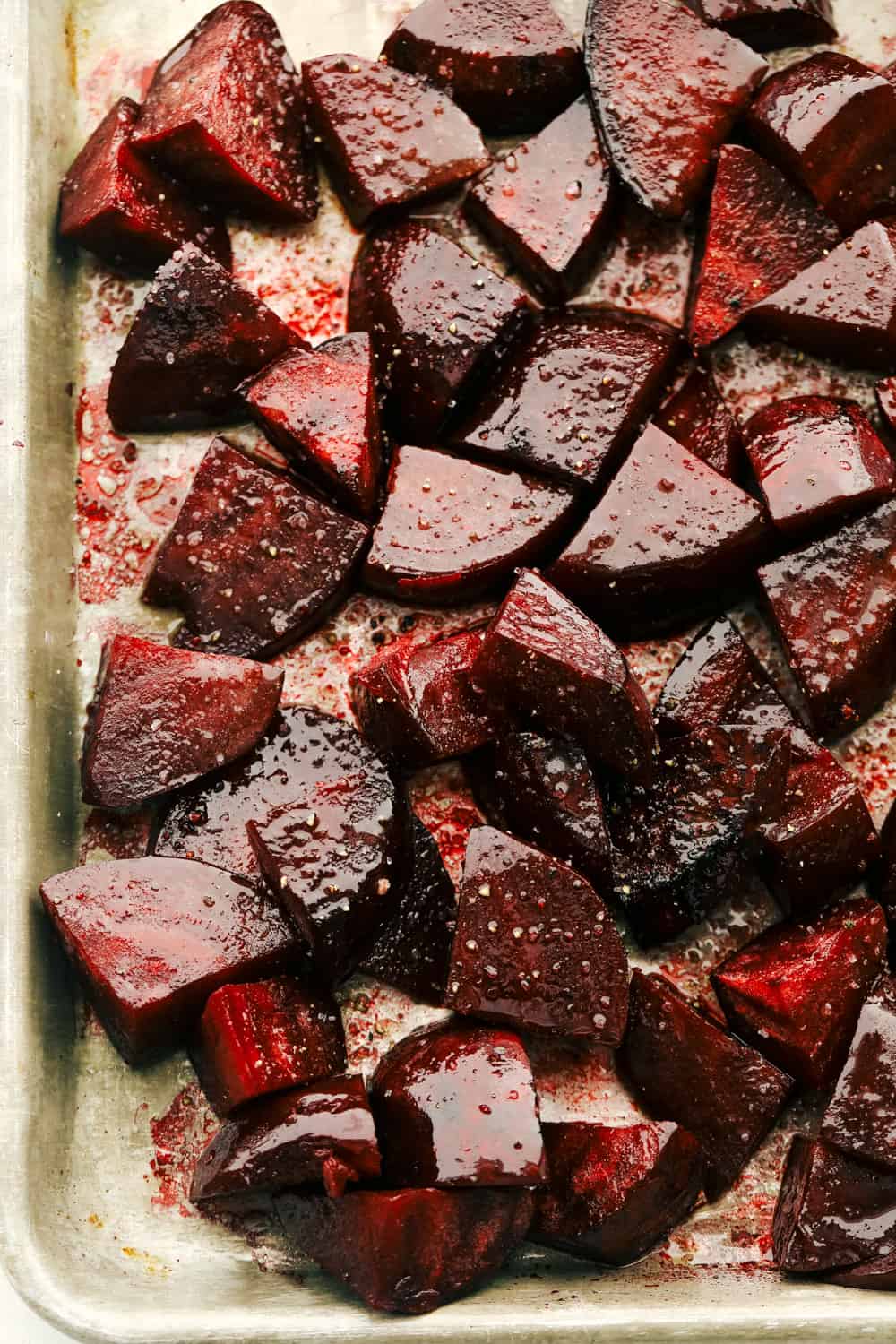 More Roasting Recipes
Roasting just brings out the best of foods. Whether it's vegetables, or protein roasting is just an incredible way to cook that's nutritious too! It helps seal in the vitamins and nutrients and add minimal fat but a ton of flavor. Give these winners a try!
Pin this now to find it later
Pin It
Roasted Beets
Perfect Roasted Beets are tender, flavorful and vibrant in color. These beets are the perfect companion to most any dish and are delish add ins to salads! Try these today!
Instructions
Preheat oven to 400 degrees. Remove the stem and tops of the beats and peel. Chop the beets to 1/2 inch thick cubes. Place on an aluminum lined baking dish. Drizzle with olive oil and salt and pepper. Fold up the edges of the foil and seal.

Roast for 40-45 minutes or until tender.
Nutrition
Calories:
97
kcal
Carbohydrates:
8
g
Protein:
1
g
Fat:
7
g
Saturated Fat:
1
g
Sodium:
64
mg
Potassium:
267
mg
Fiber:
2
g
Sugar:
6
g
Vitamin A:
27
IU
Vitamin C:
4
mg
Calcium:
13
mg
Iron:
1
mg
Nutrition information is automatically calculated, so should only be used as an approximation.