Have you dusted off your slow cookers yet?  Or do you use it year round like I do?  I absolutely love my slow cooker.  And this meal was slow cooked to perfection.  Creamy and delicious and so tender that the chicken falls apart.  This is my kind of meal!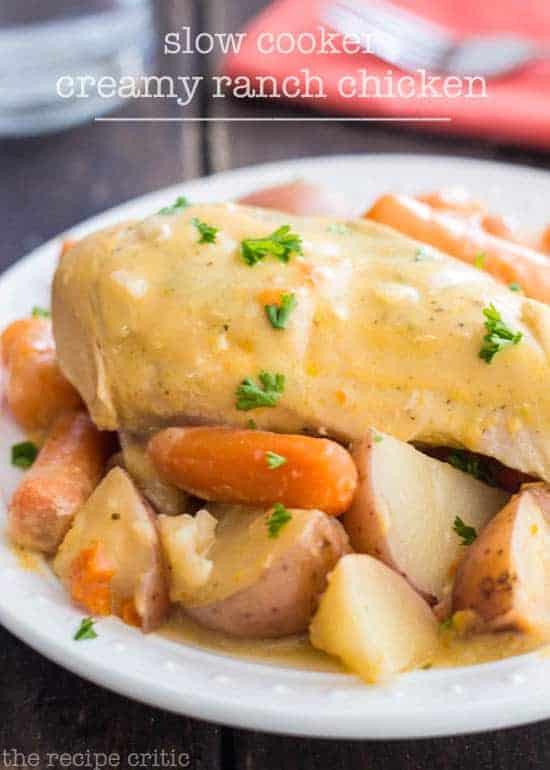 Life is just busy.  There is so much going on but it is so important for our family to sit down and eat together.  Of course we have our macaroni and cheese and Little Ceasar's nights, but I like to eat together each night.  It took me 5 minutes to throw this meal in . So easy!  It is ready right in time for dinner and it is a meal that the family will love.  Tender chicken, potatoes, and carrots in a creamy ranch sauce.  It will seem like you slaved in the kitchen all day for this delicious meal!

Slow Cooker Creamy Ranch Chicken
An easy and delicious meal that you can put into the slow cooker.
Ingredients
4 Boneless Skinless Chicken Breasts
6-8 medium potatoes, chopped into large pieces
2 cups baby carrots
1 can cream of chicken soup*
1 package dry ranch dressing mix*
¼ cup milk
parsley to sprinkle on top (optional)
Instructions
Spray your slow cooker with non stick cooking spray. Layer the potatoes and baby carrots on the bottom of the slow cooker. Lay chicken breasts on the top.
In a medium bowl, mix together the soup and dry ranch packet and milk. Pour on the top of the chicken breasts.
Cook on low for 4-5 hours. Use extra sauce as a gravy over the top of the potatoes and chicken breasts and sprinkle with parsley if desired.
Notes
*If you like extra sauce and gravy, double the soup and ranch packet.