Lemon Garlic Butter Flank Steak with Mushrooms is an incredible and easy meal that is infused with such amazing lemon garlic butter flavor!  It is cooked in a skillet to tender perfection and a meal that everyone will love!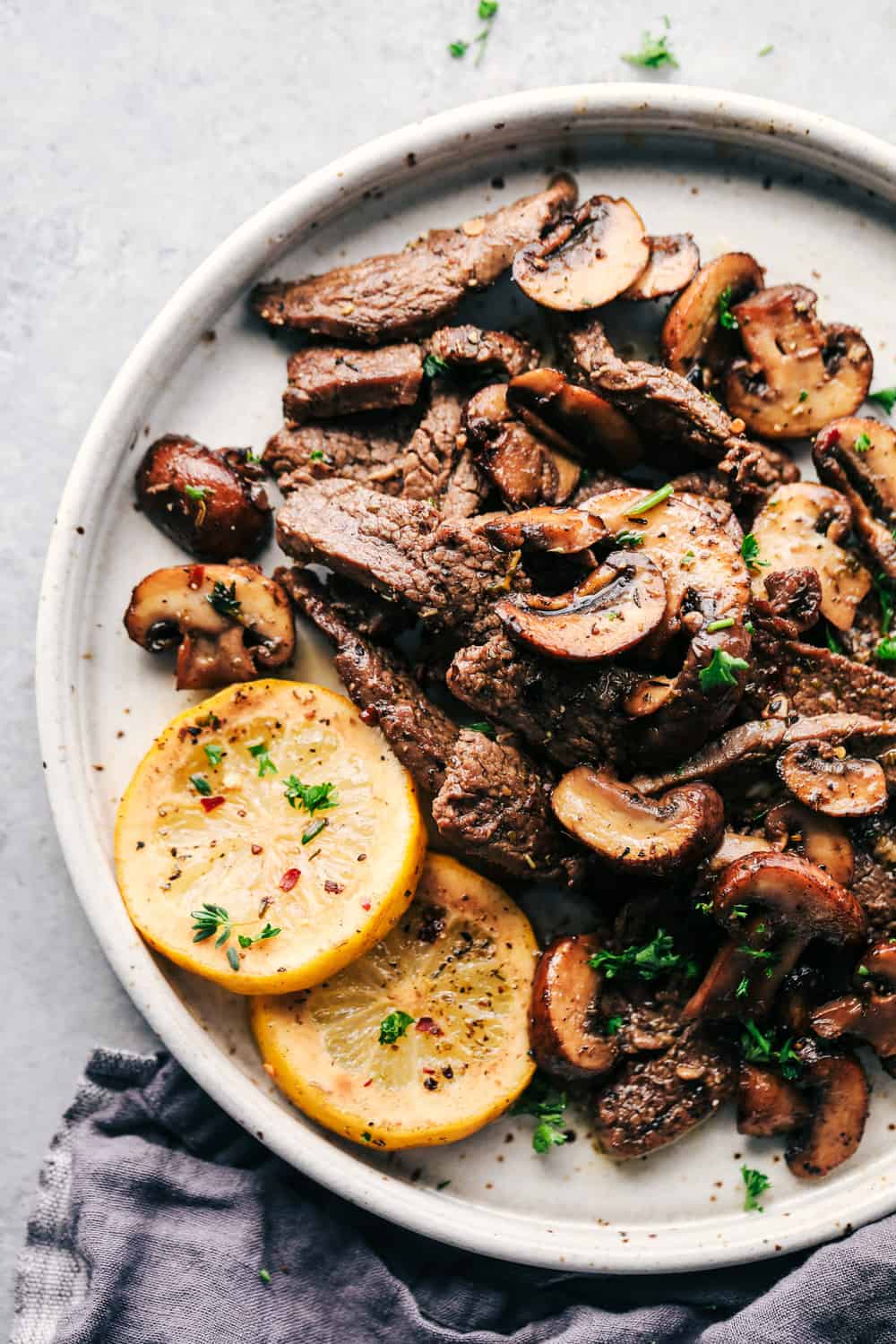 Lemon Garlic Butter Flank Steak with Mushrooms
I just got home from an amazing conference this weekend in Texas.  We had a blast while we were there and hit up all of the amazing BBQ places while we were there.  The food was so good and worth standing in line for over an hour to get.  Brisket, ribs, and all of the delicious meats were smoked to perfection.  Texas has the best BBQ and I already want to take my hubby back!
Right before I left for Texas, I made this skillet flank steak.  OH MY GOSH!  This was easily one of the most delicious steak that we have had.  The flavor was seriously off of the charts.  My keto loving husband couldn't believe how good this turned out.  So tender and the lemon garlic butter flavor is unforgettable!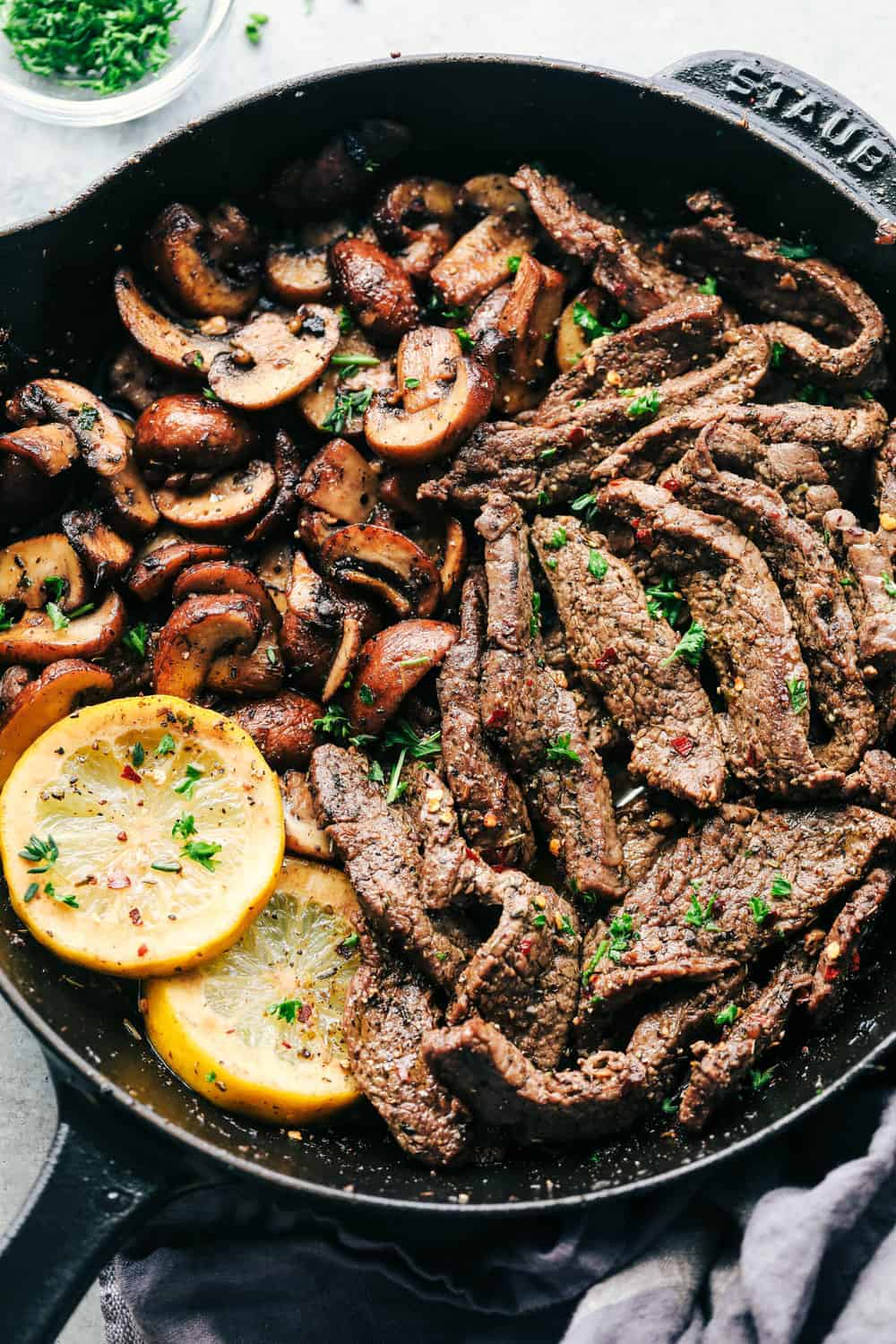 I marinade my flank steak before cooking and it is a total MUST!  It helps to infuse the steak with amazing flavor and help to tenderize it before you cook it in the skillet.
How long do you cook flank steak?
Add some olive oil to your skillet and cook on each side for 3-4 minutes.  You can cook the steak until medium rare.  (130-135 degrees.)  Let rest for 10 minutes and slice against the grain.
How do you cut against the grain?
It is not just the cut of meat that determines how tender it is, it is also how you cut it.  Find the direction of the grain (which way the muscle fibers are aligned), then slice across the grain rather than parallel with it.
This meal comes together quickly and easily and is especially amazing topped with the lemon garlic butter mushrooms.  It is the perfect pairing to this tender and juicy steak!
More delicious steak recipes:
Skillet Garlic Butter Herb Steak and Potatoes 
Slow Cooker Philly Cheesesteak
Lemon Garlic Butter Flank Steak with Mushrooms
Ingredients
2 pounds flank steak
(Recipe for steak marinade)
2 Tablespoons olive oil
3 garlic cloves, minced
16 ounce sliced mushrooms
3 Tablespoons butter
¼ cup chicken broth
juice of one lemon
pinch of red pepper flakes
fresh chopped herbs for garnish
Instructions
Add the flank steak and the steak marinade to a zip lock bag and seal and let marinade for 30 minutes. Remove the steak from the marinade and discard marinade. Slice the steak into strips against the grain.
Add the olive oil to a medium skillet and heat over medium-high heat. Add the steak strips and garlic and cook for about 2-3 minutes until the steak is cooked to desired liking. Remove the steak and set aside on a plate.
Add the mushrooms to the skillet and cook for 2-3 minutes or until tender. Remove and set on the plate with the steak.
Add the butter, chicken broth, juice of one lemon and red pepper flakes to the skillet. Allow to simmer and add the steak and mushrooms back to the skillet. Toss to warm up and garnish with fresh herbs.