This website may contain affiliate links and advertising so that we can provide recipes to you. Read my disclosure policy.
These foil pack meals are the BEST for camping and backyard cooking! Packed with protein, vegetables, and a whole lot of flavor, there is a foil pack for everyone to love!
My favorite part about foil pack meals is that there are SO many different ones to try, and you come out with a different flavor and texture every time! Try out this herb salmon, this barbecue chicken, and these perfectly cooked potatoes!
What are Foil Pack Meals?
I can't get enough foil pack meals during the summertime. They come out tasting so good because all of the flavors blend together in the foil. If you have never heard of a foil pack meal, then you are in for a treat! Foil pack meals are simply just protein and vegetables that are steamed together in foil. It's one of our favorite ways to cook meals in the summer!
My kids love putting these together because they get to choose what they put in them and then help wrap the foil up and wait for them to cook on the grill. We also prepare these ahead of time and bring them camping with us and cook them over the fire. It's so much fun, and they make such hearty meals. And cleanup doesn't get much easier than this! No plates or dishes to worry about at all!
Can You Cook These Recipes without a Grill?
Yes! If you don't have a grill, then your foil pack meal can totally be cooked in your oven! We like these so much that when our grill isn't accessible during the winter months, we can still make them inside!
In the Oven: Follow the recipe directions on assembling the foil pack. Then, place them on a baking sheet. If your recipe says to cook your foil packs on a grill on medium heat, then you can cook your foil pack in the oven at 375 degrees Fahrenheit. Cook it for about 1.5 times what the recipe calls for. So if the recipe says to cook it on the grill for 10 minutes, cook it in the oven for 25 minutes. Always check the temperature of your meat using a meat thermometer.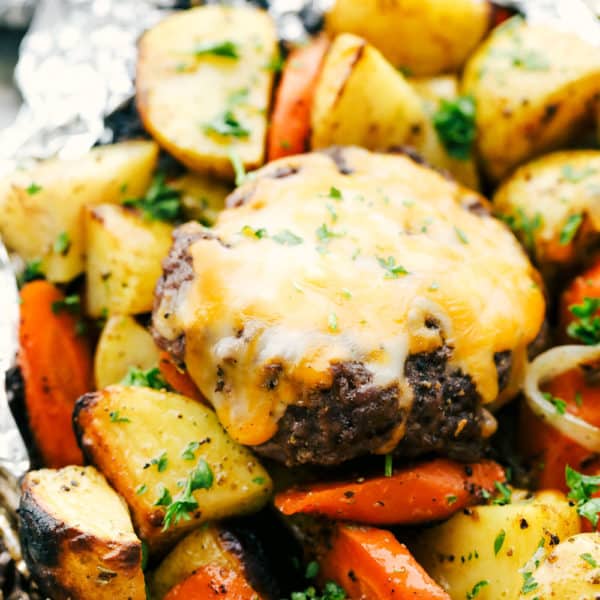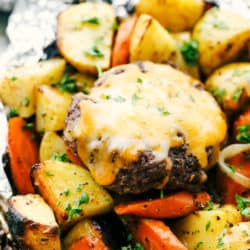 Hobo Dinner Foil Packets
These delicious filled hobo dinners are perfect for cooking a mixture of carrots, potatoes and your meat all in a foil packet. It is fun to make and an easy dinner option for the summertime! 
View Recipe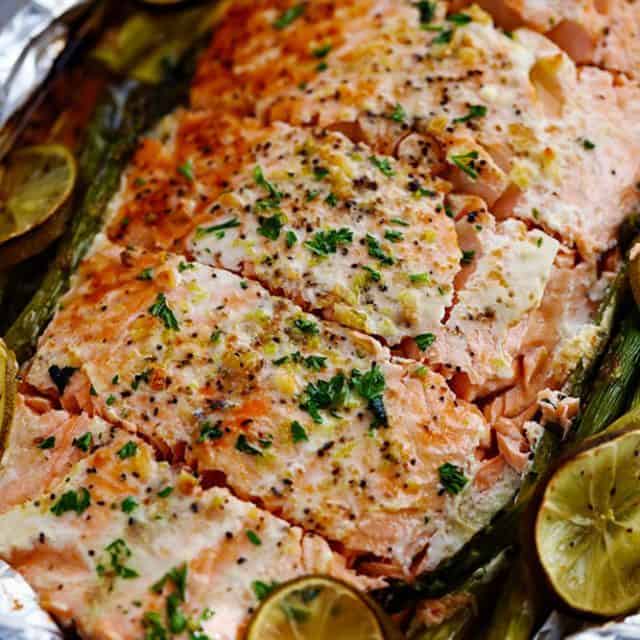 Buttery Garlic Lime Salmon with Asparagus in Foil
Buttery Garlic Lime Salmon with Asparagus in Foil is so easy to make with simple ingredients. The flavor makes this salmon absolutely incredible and it comes out the oven perfectly tender and flaky!
View Recipe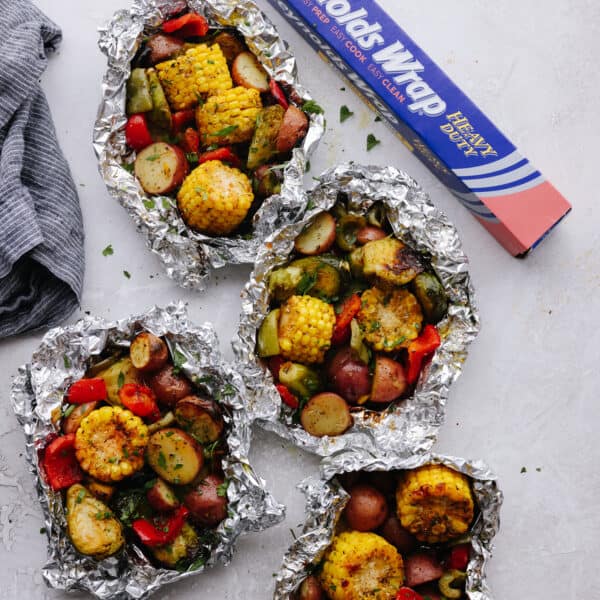 Grilled Foil Pack Vegetables
These foil pack grilled vegetables made with Reynolds Wrap® Heavy Duty Foil are perfect for BBQ season! They cook just right on your grill and come out tender and seasoned to perfection. This is one side dish that you don't want to miss!
View Recipe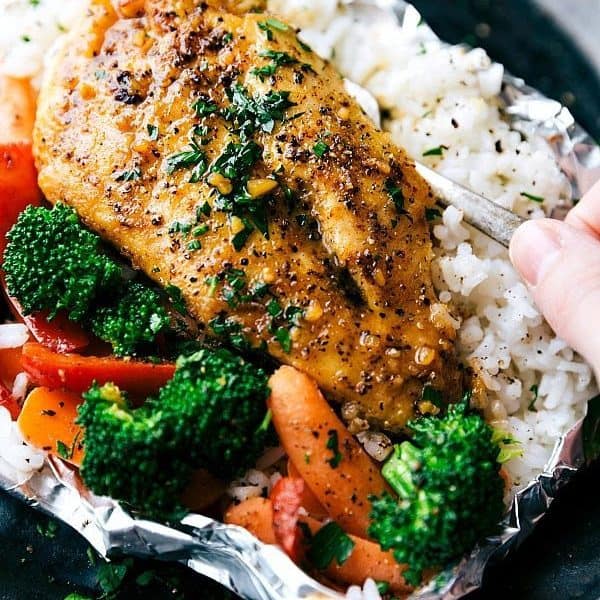 Foil Pack Honey Garlic Chicken
This delicious foil pack honey garlic chicken is packed with amazing flavors! These meals are perfect for the summer when you want to keep the heat out of the house (no oven!) and keep the messes to a minimum. Also great for camping!
View Recipe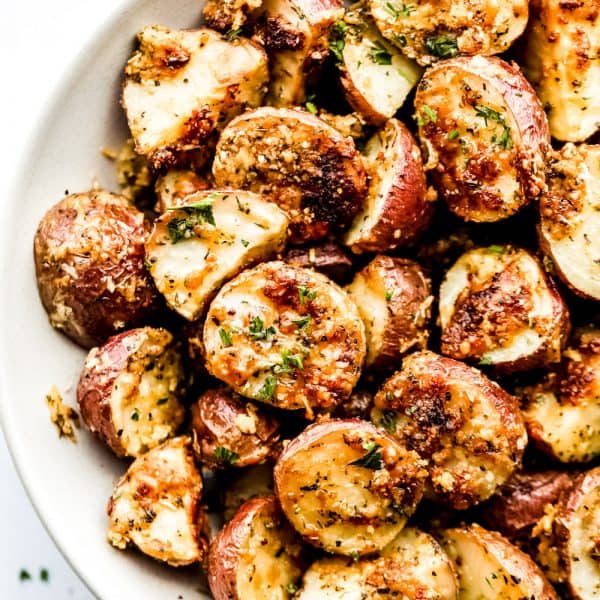 Parmesan Garlic Potato Foil Packets
Parmesan Garlic Potato Foil Packets are potatoes that get cooked to tender perfection and have the best parmesan garlic flavor! These make an amazing side dish to any meal!
View Recipe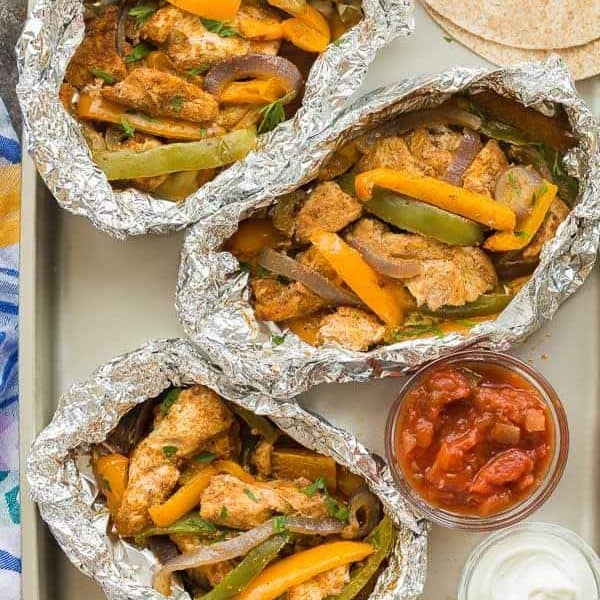 Chicken Fajita Foil Packets
These Chicken Fajita Foil Packets are an easy dinner recipe that's perfect for summer! Slices of chicken, peppers and red onions cook together with an easy homemade fajita seasoning, on the grill or in the oven. Serve them with warm tortillas for a no mess meal!
View Recipe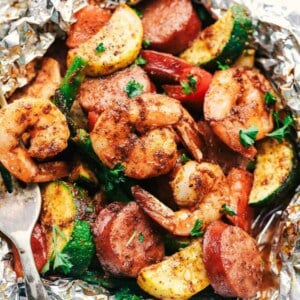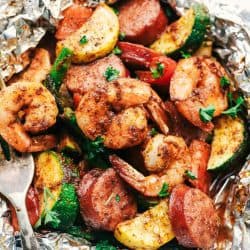 Cajun Shrimp and Sausage Vegetable Foil Packets
Cajun Shrimp and Sausage Foil Packets are loaded with shrimp, sausage, summer vegetables and tossed in cajun spices. These are quick and easy and packed with big flavor!
View Recipe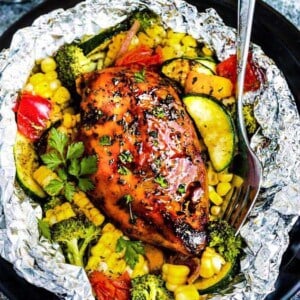 Grilled Honey Barbecue Chicken Foil Packets
Grilled Honey Barbecue Chicken Foil Packets are the easiest summer meal with practically no clean-up! The perfectly tender chicken is grilled with fresh summer veggies and coated in a delicious sweet and tangy barbecue sauce.
View Recipe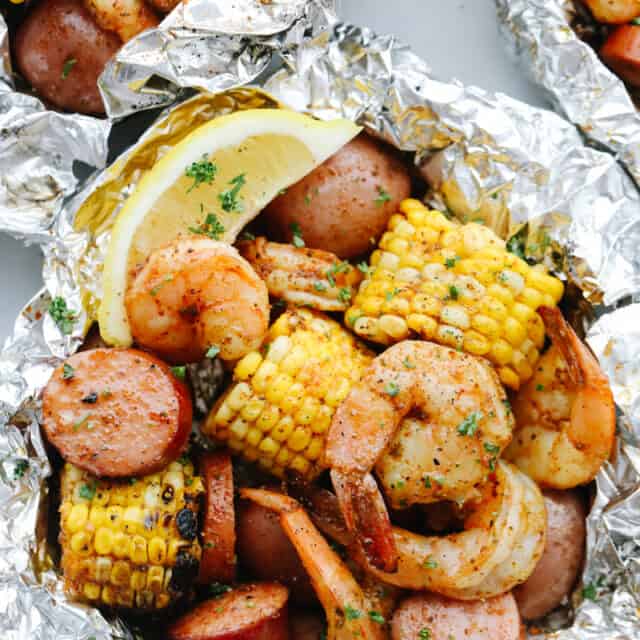 Shrimp Foil Packets
Shrimp Boil Foil Packets bring you juicy, tender shrimp and veggies tossed in Cajun spices! These pack all the kick and amazing flavor of Cajun cooking without the mess!
View Recipe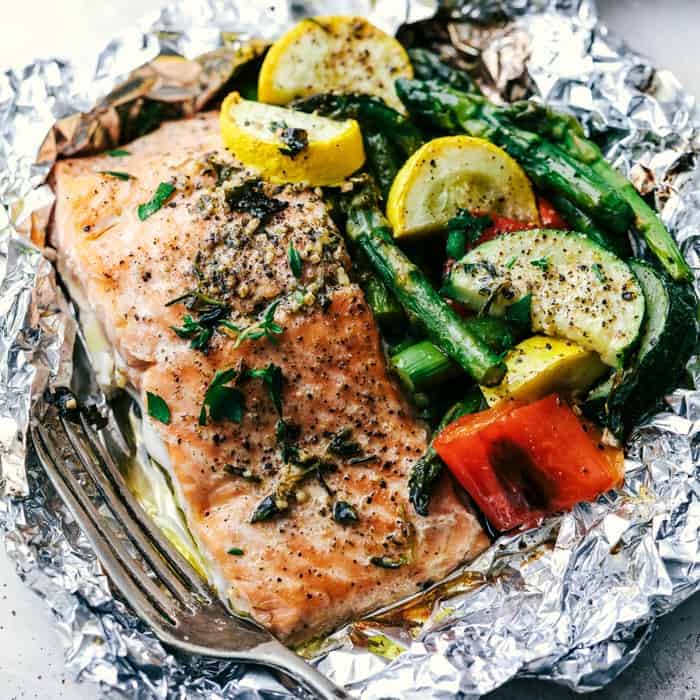 Butter Garlic Herb Salmon Foil Packets
Butter Garlic Herb Salmon Foil Packets are made with tender and flaky salmon with fresh summer veggies. They cook to perfection with the best garlic herb compound and will become a family favorite!
View Recipe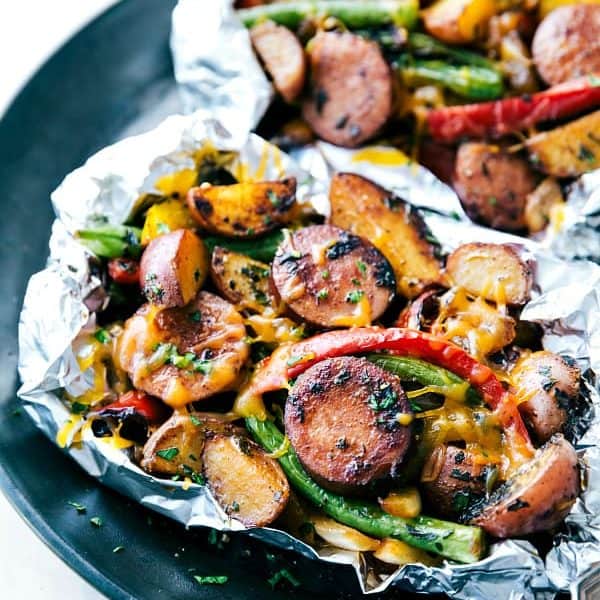 CHEESY SAUSAGE POTATO FOIL PACKETS
Cheesy Sausage Potato Foil Packets are simple to assemble and packed with sausage, potatoes, veggies and cheese. These are perfect for a camping trip or quick dinner and are sure to be a hit!
View Recipe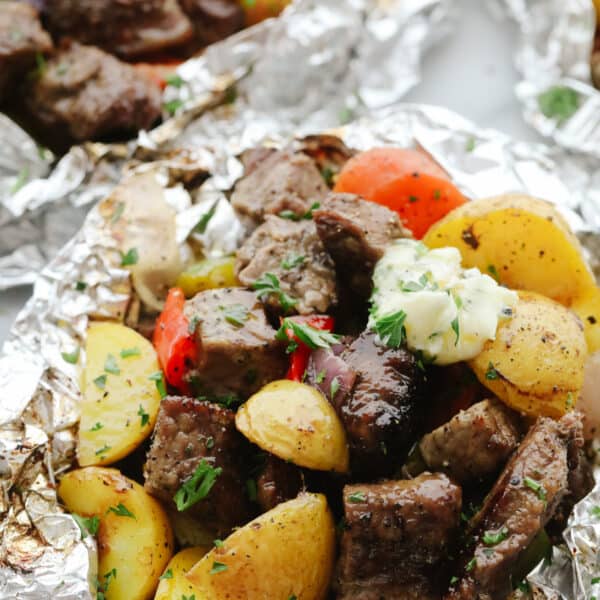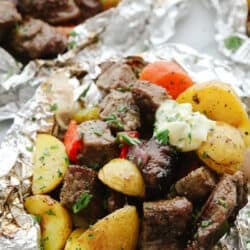 Butter Garlic Herb Steak Foil Packets
Butter Garlic Herb Steak Foil Packets have melt in your mouth beef with hearty veggies that are grilled to perfection with butter that has garlic and herbs inside. This is one amazing meal that you don't want to miss out on!
View Recipe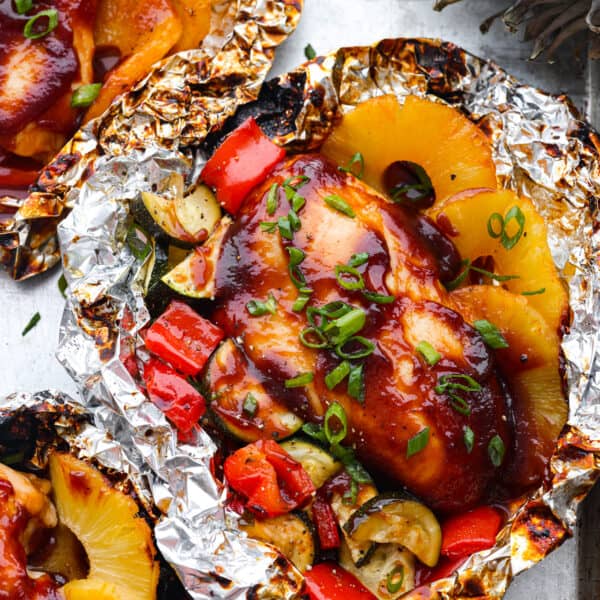 Grilled Hawaiian Barbecue Chicken in Foil
Grilled Hawaiian barbecue chicken that is made in foil has the most amazing sweet and tangy pineapple barbecue sauce! It grills to perfection with fresh pineapple and delicious summer veggies!
View Recipe
Originally Posted on June 12, 2018
Updated on July 20, 2022