A five star salmon baked with the best homemade sesame teriyaki sauce.  This is easily one of the best things that you will eat!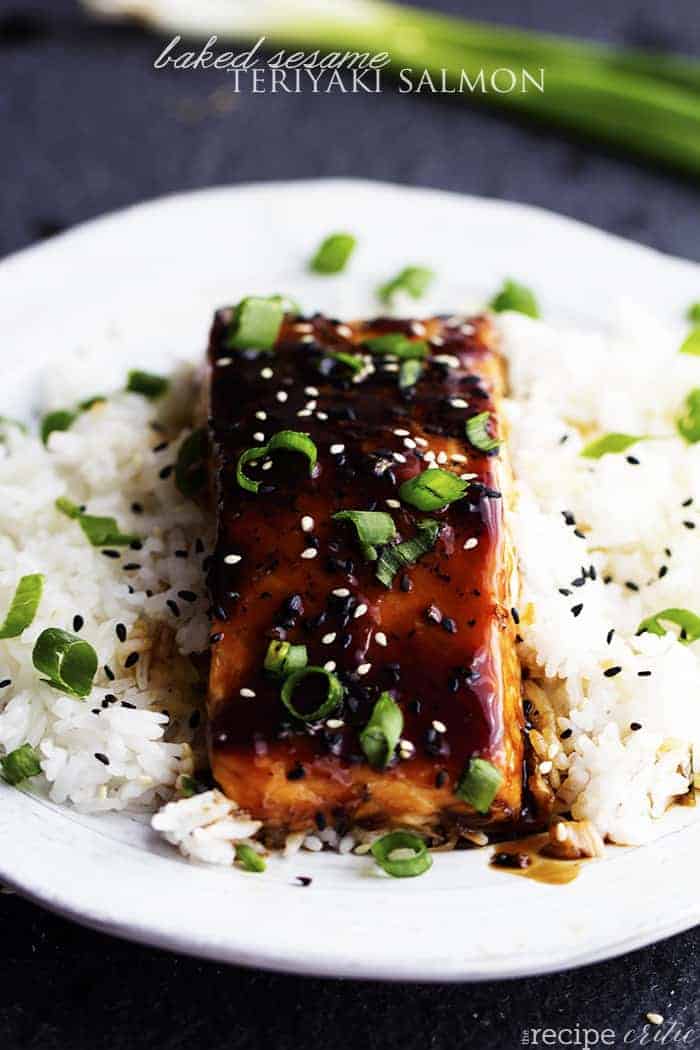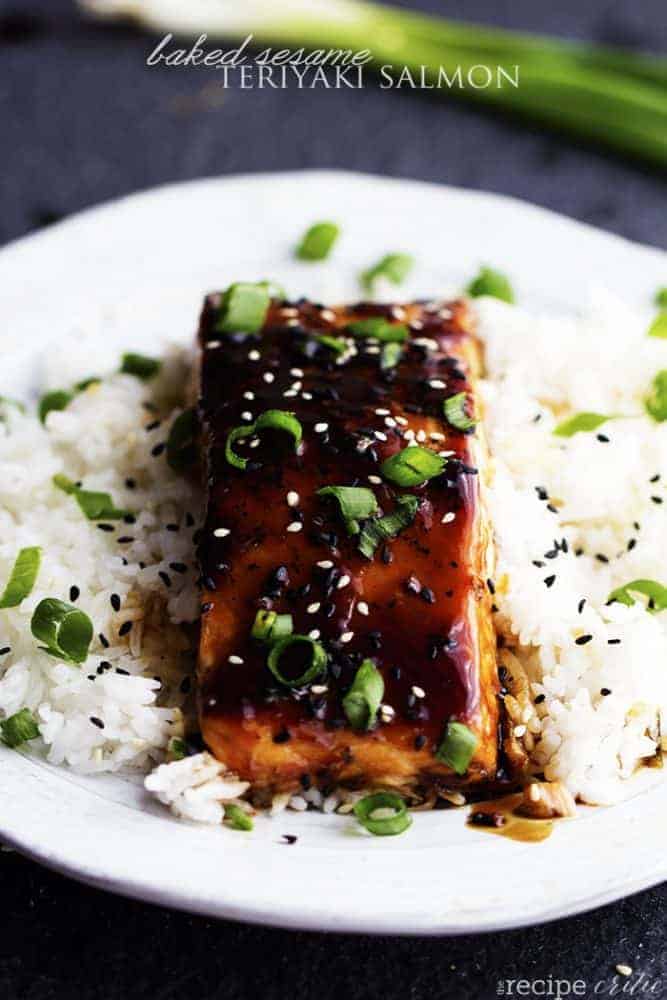 Some recipes I make and I hope that everyone tries.  This recipe is one of them.  It is so simple to throw together and it tastes like you just made a 5 star meal.  I could eat this salmon every day for the rest of my life.  Seriously.  I have already made it twice since I created this recipe.
I combined two of my favorite flavors together.  Sesame and sweet teriyaki.  The result blew my mind!
The salmon gets baked to tender flaky perfection in the oven. It is surrounded by the sweet and tangy sesame teriyaki sauce.  And just when you think that it can't get any better,  you drizzle it in some more teriyaki sauce on top as soon as it gets out of the oven!
I was in love with my first bite.   I couldn't wait to share the recipe with you!   The sesame teriyaki sauce is spot on and such a delicious homemade sauce.  I adapted it from this Baked Teriyaki Chicken Recipe here.   It thickens up  and coats the salmon perfectly.
I couldn't stop eating it.
Our entire family couldn't get enough of it!  Including the baby.  She devoured it!  So if a baby likes it…  just sayin' 😉
This is sure to be a meal that the family will love.  And if you aren't a huge salmon fan, start with this recipe!  I bet this could convert you into liking fish.  It is one amazing 5 star meal!
Baked Sesame Teriyaki Salmon
A five star salmon baked with the best homemade sesame teriyaki sauce. This is easily one of the best things that you will eat!
Ingredients
4 (6 ounce) salmon fillets
½ cup brown sugar
½ cup low sodium soy sauce (regular soy sauce will work, just reduce salt)
¼ cup cider vinegar
2 garlic cloves, minced
¼ teaspoon pepper
½ teaspoon salt
½ teaspoon sesame oil
1 Tablespoon cornstarch
1 Tablespoon water
green onions, for garnish
sesame seeds, for garnish
Instructions
Preheat oven to 400 degrees. Spray a 9x13 inch pan with non stick cooking spray and set aside.
In a small saucepan, whisk together the brown sugar, soy sauce, cider vinegar, garlic, pepper, salt, and sesame oil. In a small bowl, whisk together the water and cornstarch. Slowly whisk into the mixture.
Bring to boil and boil about 1-2 minutes until the mixture just starts to thicken. Remove from heat and reserve ¼ cup of the sauce for later.
Place the salmon in the pan and pour the sauce on top. Cover with aluminum foil and bake for 15-17 minutes until the salmon is opaque in the center. I like to remove the aluminum foil the last few minutes of baking to brown the tops. Remove from the oven.
Brush the top of the salmon with the reserved ¼ cup of the sauce. Garnish with green onion and sesame seeds. Delicious served with rice.