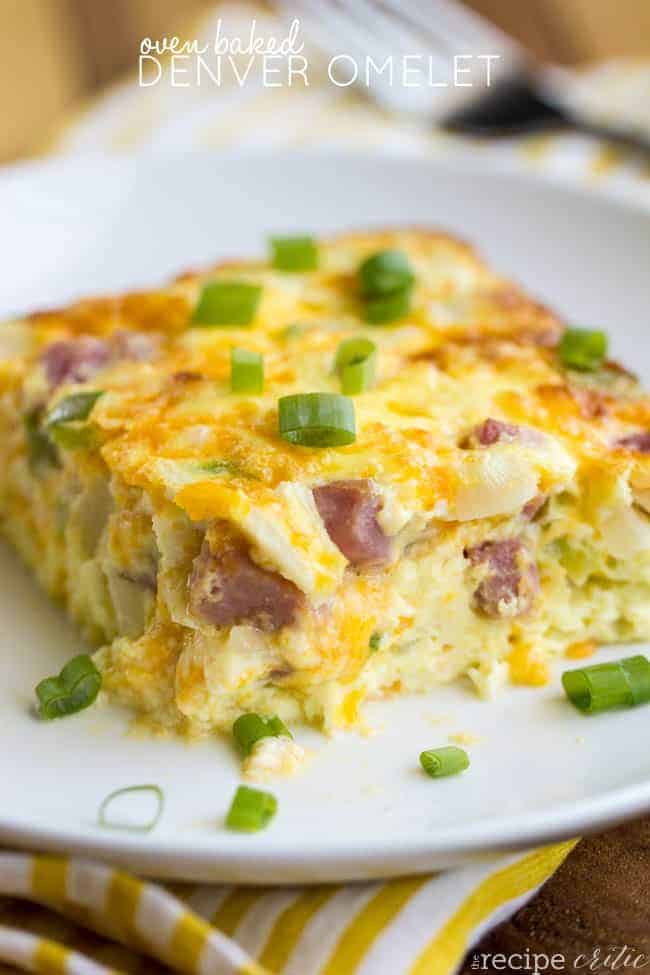 Lately I feel like I am in a breakfast rut. My boys have been eating a lot of cereal and I wanted to try something new.  They like omelets, but they can sometimes be time consuming to make.  Here is the awesome thing about this breakfast.  It comes together in a matter of minutes and is ready in no time at all!
Oh.my.goodness.  There were so many things I loved about this Denver Baked Omelet.  It makes a big pan so it was able to feed my entire family.  It was packed with so many delicious things.  Ham, onions and peppers, and gooey cheese.  The perfect omelet.  The great thing about this recipe is that you can customize it to your families likes.   Add in some bacon if you would like!  You can quickly pop this in the oven in a moments notice and have a delicious breakfast for the family!

Oven Baked Denver Omelet
A delicious omelet packed with ham, onions, peppers and cheese that you can throw into the oven in a moments notice!
Ingredients
8 eggs
½ cup half and half cream
1 cup shredded cheddar cheese
1 cup chopped fully cooked ham
½ cup onion
½ cup green pepper
Instructions
Preheat oven to 400 degrees. In a medium sized mixing bowl whisk together eggs and cream. Add in cheese, ham, onion and green pepper.
Pour into a greased 9x9 inch pan. Bake for 25 minutes or until golden brown.
Recipe from Taste of Home Cookbook