This website may contain affiliate links and advertising so that we can provide recipes to you. Read my disclosure policy.
This taco board is everything you need to have for the ultimate get together! It is the perfect combination!
This epic board has all your favorite dips, chips and tacos! Include all your favorite dips as you are creating this board like this salsa, ranch and corn salad.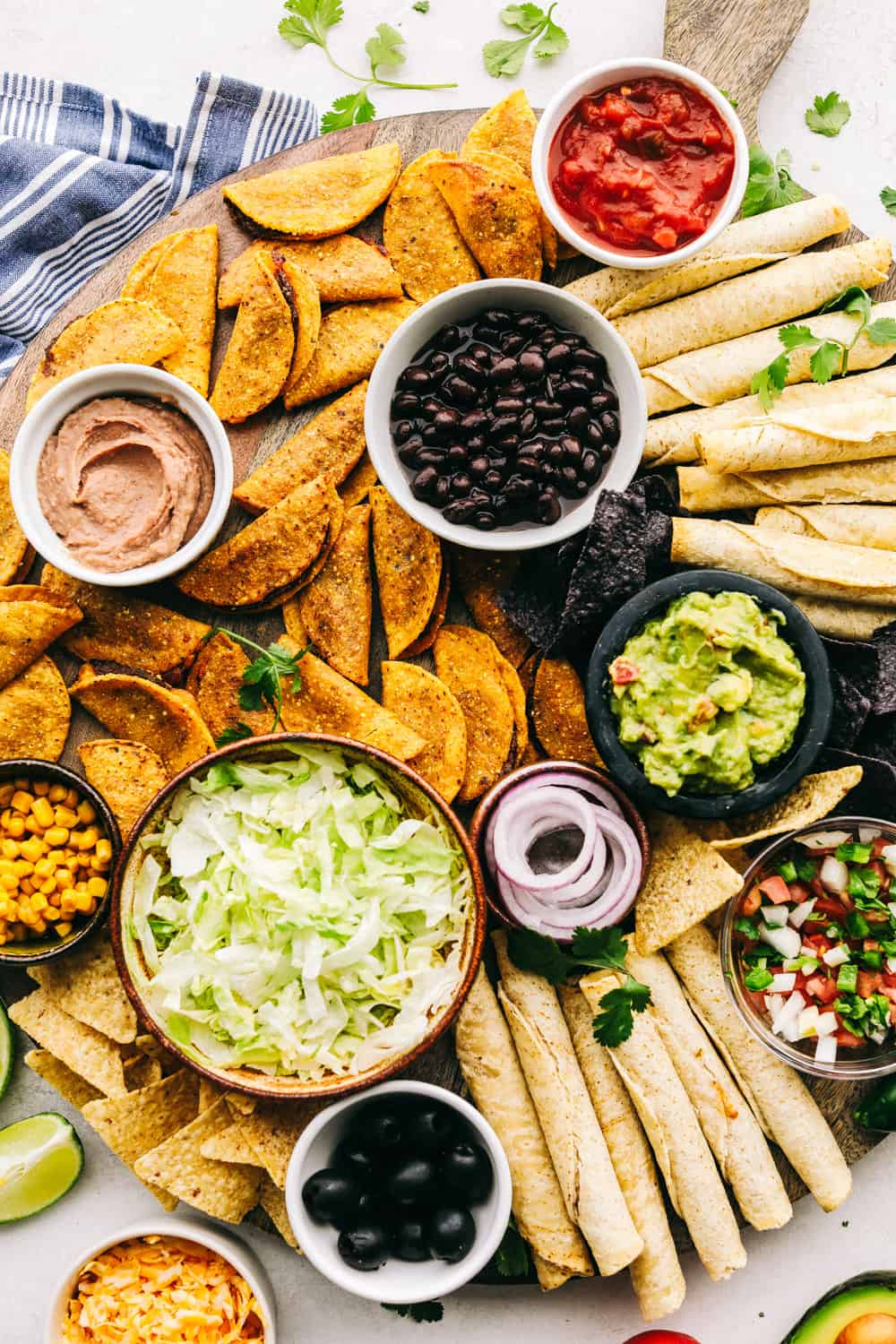 Epic Taco Board
This taco board is full of all your favorite Mexican dishes! Tacos and taquitos are so easy to make with the help of José Olé.  They are simple to microwave or bake and taste homemade right out of the oven. José Olé satisfies your craving for bold, delicious and unique Mexican flavors with quick and easy meals and snacks that the whole family loves. Tacos are so fun and everyone loves them! This is the perfect taco board for creating for Cinco de Mayo, Super Bowl, adding a twist to Taco Tuesday or just a fun game night together. It was so fun to make and I know that you will love it too!
This is the ultimate taco board that will amaze your family and friends! I love making boards like this cheese board for gathering everyone around. It is simple and brings on so many conversations and enjoyment for everyone. There is always something on the board that everyone loves! Using José Olé tacos and taquitos was the perfect combination then adding chips with my favorite dips and sliced vegetables to help create the ultimate taco board.
Who is José Olé?
I recently found out about José Olé mini tacos and taquitos at my local grocery store. These boxes are the perfect amount when hosting a party, snack time, lunch or a light dinner. It is versatile and can bring out so many fun meals!
Here are a few things that I love about José Olé:
Taste and Satisfaction: Their food is powerfully delicious and packed with crave worthy flavors that you can't find anywhere else.
Nutrition and Fulfillment: Quality Ingredients means their food is made with high quality ingredients like real cheese and white meat chicken, with no artificial preservatives, flavors or colors. They are protein packed and their products are NEVER just empty calories. They pack their products with protein to deliver a meal that leaves you feeling satisfied and happy.
Value and Convenience: Quick and easy solutions that will satisfy appetites and cravings of ALL sizes quickly. More for your money our food allows families to stock up for those moments when hunger strikes, reducing food waste and helps make meal budgets go farther.
What is On This Epic Board?
This taco board looks vibrant and delicious all the way around! With pops of color from each of the dishes, some fun colored chips and the José Olé tacos and taquitos, this is sure to be an eye catching hit!
1 Box José Olé Beef and Cheese Mini Tacos: Simply just warm up either in the microwave or in the oven on a sheet pan.
1 Box José Olé Chicken and Cheese Taquitos: These are so fun to make and easily warm up in the microwave or on the stove.
Guacamole: Store bought or homemade is just as great! This adds color and dip.
Pico de Gallo: Add some spice and red coloring to this board.
Shredded Lettuce: Perfect for smothering the tacos or taquitos on a plate.
Sour Cream: Just a dollop will add a smooth and creamy texture!
Black Beans: Perfect if you love beans and an added filling.
Corn Salad: This is sweet, spicy and savory all in one dish.
Olives: Brings a little more texture and softness onto the tacos and taquitos. Goes well when adding several toppings along with it!
Shredded Cheese: Shred your own cheese or buy already shredded and add it on the board!
Salsa: Make or buy your favorite flavor and chunkiness. This is always a MUST when making a taco board.
Tortilla Chips: Pick your favorite kind of chip and add them to the board to fill in space. Make sure they are sturdy and hard so they don't fall apart when dipping.
How to Assemble the Ultimate Taco Board
It is so easy to assemble and make a taco board. Add as much or as little as you would like. The bowls can go on first while adding the other ingredients around each of the bowls. Keep everything tight and on the board itself the best that you can. All the colors pop and add such a delicious and vibrant look to the board. Your friends and family will be impressed for sure!
Cook José Olé Snacks: Cook the mini tacos and taquitos in the oven or microwave according to package directions.
Make the board: Add the tacos and taquitos to the board. Start assembling by adding the sides in small bowls to the board. Fill the board in with chips, cilantro, and slices limes.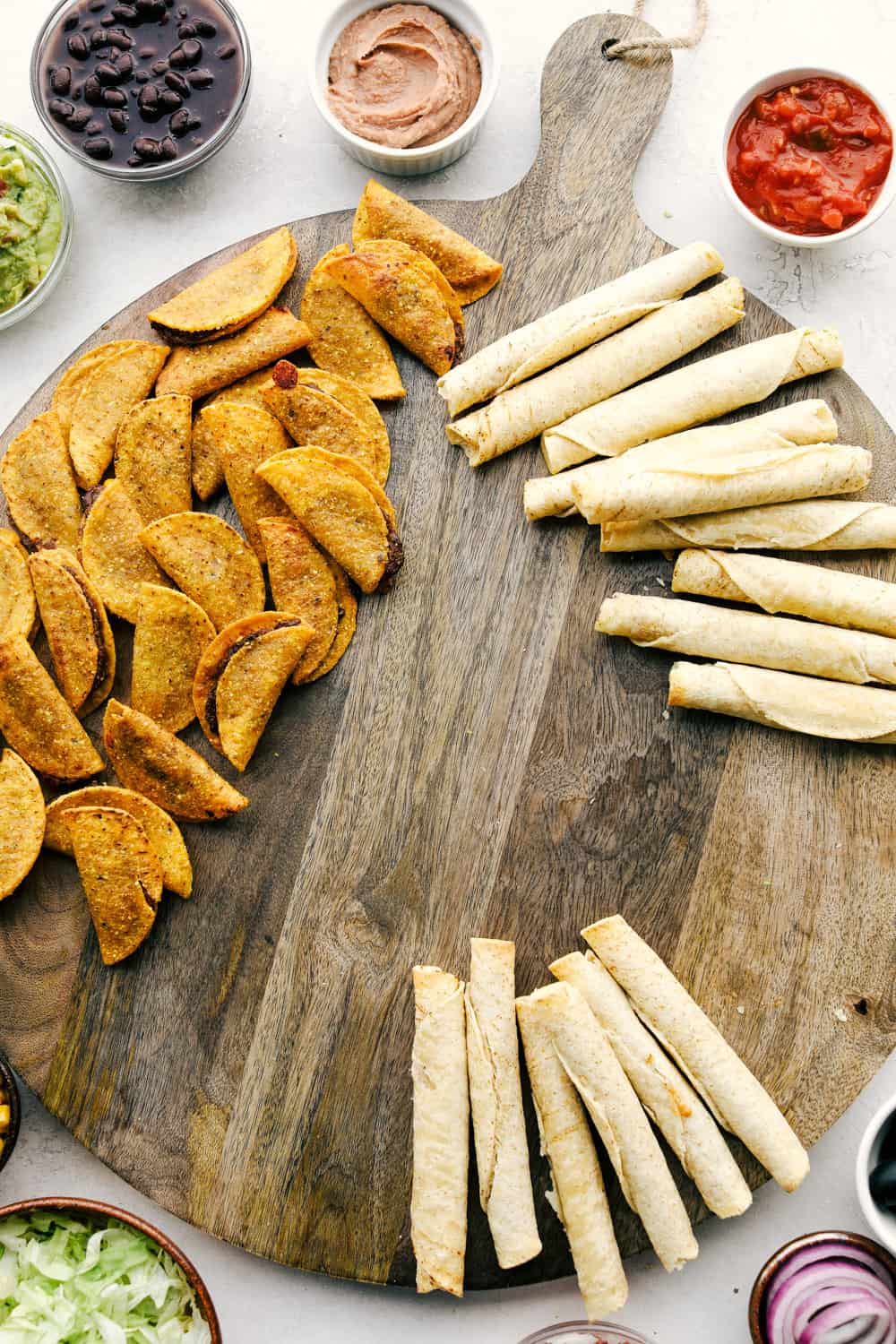 What You Need!
The first thing you need to decide on, is your board and how big you want it to be with the space that you have. Then add your favorite bowls from small, medium and large. Add your main ingredients, chips and any other things you would like to fill your board with. Mix and match side dishes and dips every time you create a taco board. The options are endless!
Bowls: all sizes, colors and shapes. Keep it simple with cereal bowls or go all out with fun colors and mixtures depending on what you are celebrating.
Tacos/Taquitos: Jose Ole tacos come in a box frozen that are easy to microwave or bake in the oven.
Chips: Chips are perfect to fill in. They are fun to dip and snack on throughout the night. Find some fun colored chips or get a variety of chips like scoop chips or ruffle chips. Just remember to have them thick and sturdy in order to hold the dip and sauces without breaking.
Board: My board is 20 inch in diameter and is round. Any size and shape of board will be great! You can even use a sheet pan, cutting board or any big platter that can fit your ingredients on.
Tips for Creating the Perfect Board
The bigger the board, the better! You can never have enough food and sides to go along with it all. When friends and family gather around the taco board they are not only experiencing a taco meal but they are having a conversation and creating more together than they would apart. I love boards because it brings everyone together during a game or special night.
Use a large cutting board or baking sheet if you have the space. Start with small bowls and add in the side dishes that need spoons or forks to assist it with. Refried beans, sour cream and shredded cheese are great examples of this. Smaller bowls will contain the mess and keeps it all in the bowl. Start by putting the larger bowls on the board first. Then build around those with the extra space that is available. At the end, add fresh cilantro, lime wedges or any other seasonings throughout the board for that extra fun!
Easy Bean Dip
Make as many dips that you can. Start with small, medium and large bowls filled with your favorite dips and sauces. Place them all around the board and then add your tacos and taquitos. Bean dip is an easy recipe to start with. Either have store bought or make your own bean dip. I love bean dip and it is so simple to make. Tacos dip perfectly in the dip and add more flavor and creamy texture to all the tacos and taquitos.
Storing a Taco Board
Make sure to have plates and forks ready for each person to create their own taco masterpiece. These tacos can be smothered, dipped or snacked on. Each person can create his or her own taco and taquito plate just the way they like. Once everyone is done with munching it is best to store the tacos and taquitos in a ziplock bag or an airtight container. They can sit in the refrigerator for 2 to 3 days. When ready to reheat, place them back in the microwave or oven until they are warm again. For best results, only reheat them one time after they have been cooked.
More Dips to Love!
Pin this now to find it later
Pin It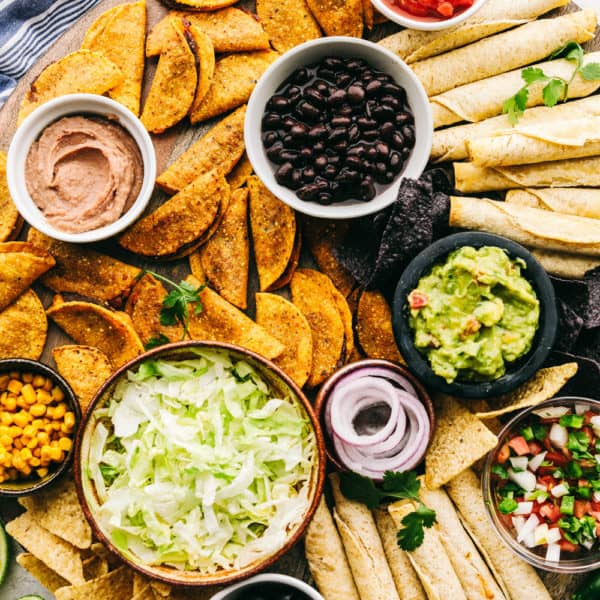 Epic Taco Board
This taco board is everything you need to have for the ultimate get together! It is the perfect combination!
Ingredients
1

Box José Olé Beef and Cheese Mini Tacos

1

Box José Olé Chicken and Cheese Taquitos
Instructions
Cook the José Olé Beef and Cheese Mini Tacos and José Olé Chicken and Cheese Taquitos in the oven or microwave according to package directions.

Add the tacos and taquitos to the board. Start assembling by adding the sides in small bowls to the board. Fill the board in with chips, cilantro, and slices limes.
Nutrition
Nutrition information is automatically calculated, so should only be used as an approximation.