This website may contain affiliate links and advertising so that we can provide recipes to you. Read my privacy policy.
Air fryer zucchini fries are a low-carb, keto-friendly snack that's ready in minutes! Crispy and cheesy on the outside, tender on the inside, this is the best way to use up your leftover summer zucchini.
The thing I love most about zucchini is the fact that it can be utilized in so many different ways. Try it grilled, in a casserole, or even in cake! For all of my fellow zucchini lovers out there, I have a full list of amazing zucchini recipes waiting for you here.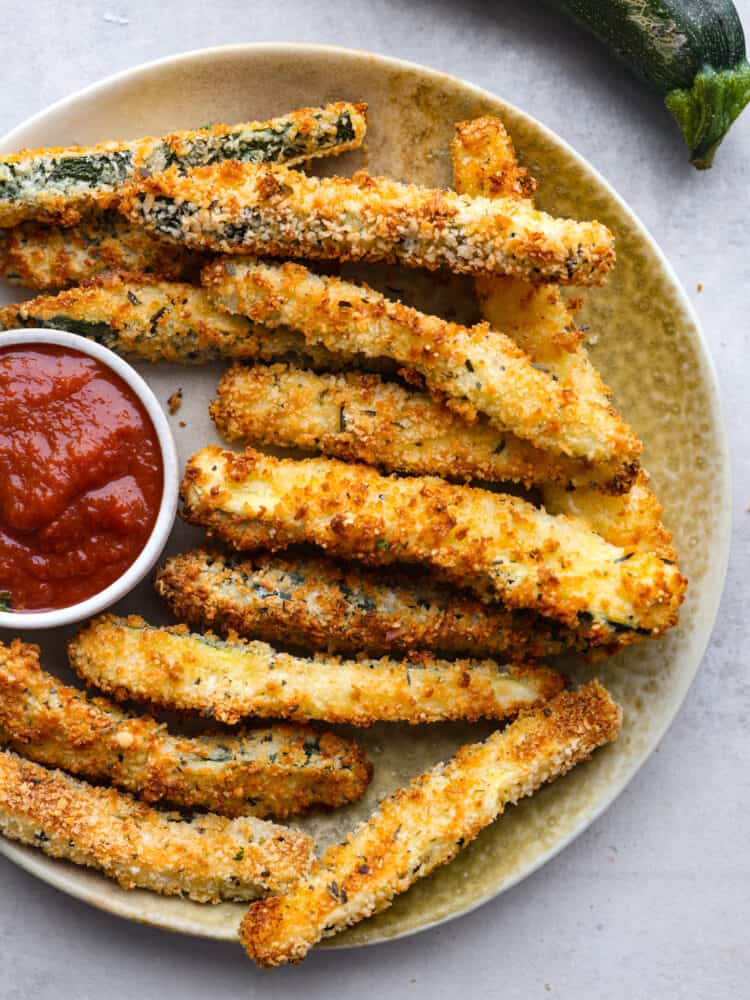 The Easiest Air Fryer Zucchini Fries
You probably know by now that I love my air fryer, and more importantly, all of the delicious appetizers you can make with it. Although I love how easy it is to throw a batch of french fries in the air fryer, it's not the best for my diet! With these air fryer zucchini fries, you get all of that crispy goodness you crave without the carbs! Plus, it's a great way to use up leftover zucchini from your garden! We always have more zucchini than we know what to do with at my house, and this is such a delicious way to utilize it.
To make your delicious batch of zucchini fries, all you need to do is prepare a simple batter made of eggs and Panko bread crumbs, then it's off to the air fryer for it to work its magic. I can't believe how golden and crispy these turn out without being deep-fried! Who knew eating healthy could be so insanely delicious? Serve your zucchini fries with your favorite dips (I used marinara!) and you have the perfect summer snack on your hands.
Ingredients You'll Need
The great part about this recipe is that you probably have all of these ingredients in your pantry right now! Aren't simple recipes the best? These zucchini fries are perfect for those times when the kids want a snack but you don't want to make a trip to the grocery store. Speaking from experience!
Zucchini: I used small zucchini here since they're less watery and have fewer seeds.
Panko Crumbs: Give these fries the most delightful crunch!
Parmesan Cheese: Adds delicious flavor and helps the outside of each fry become nice and crispy.
Italian Seasoning: Gives the breading a tasty pop of flavor. You can buy this premade or make your own blend of herbs at home!
Garlic Powder: Adds the perfect savory flavor to your air fryer zucchini fries.
Salt: Enhances overall flavor.
Flour: I used all-purpose flour, but if you want something more keto-friendly, opt for almond flour.
Eggs: Help the breadcrumbs stick to the zucchini.
Water: Added to the egg mixture to thin it out.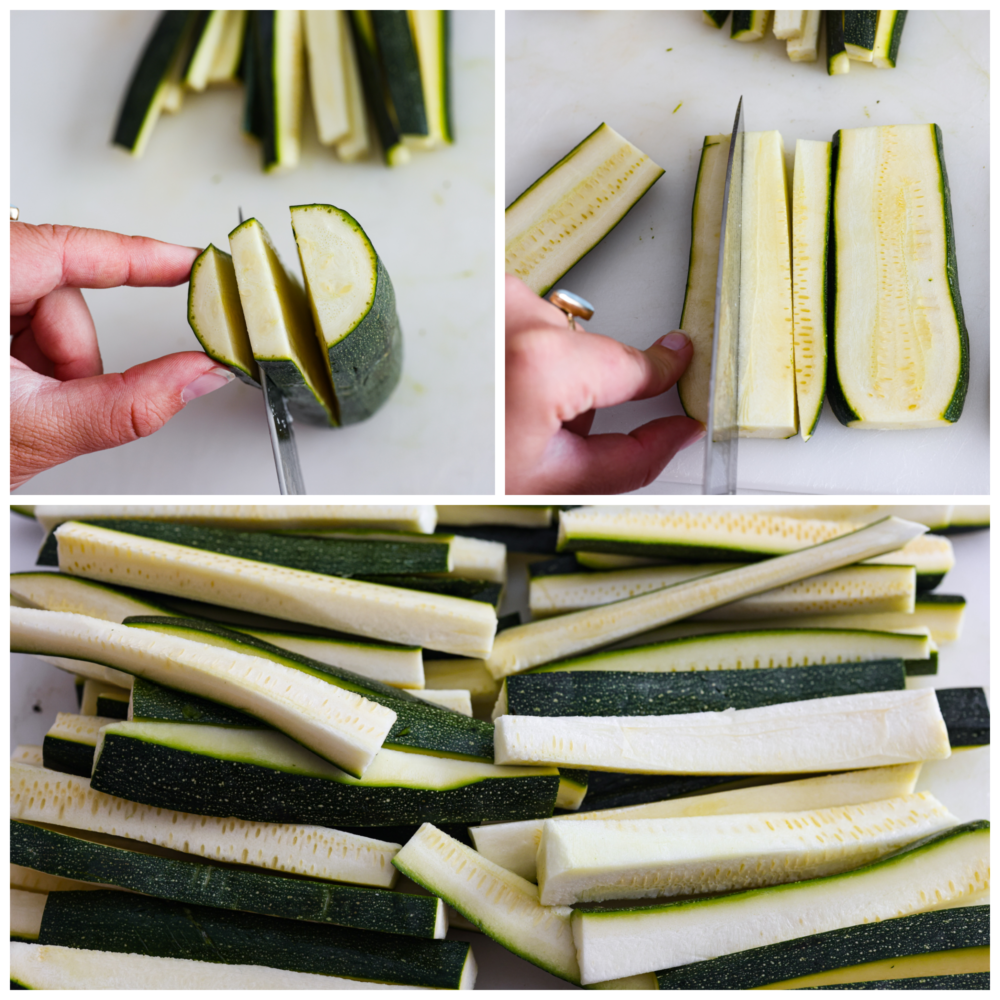 How to Make Zucchini Fries in the Air Fryer
This air fryer zucchini fries recipe is quick and easy! It just takes a few simple steps of battering, then all you have to do is toss them in your air fryer. You don't have to deal with the hassle (or mess!) of frying in oil!
Cut Zucchini: Slice the zucchini into sticks.
Coat With Flour: Add the flour to a bag with the zucchini and shake it to coat them.
Bread Crumb Mixture: In a medium bowl, stir together the Panko, parmesan, Italian seasoning, garlic powder, and salt.
Whisk Eggs: Add the eggs and water to a small bowl and whisk them together.
Coat With Batter: Remove the zucchini from the bag and dip them in the egg mixture then into the Panko.
Prep Air Fryer Basket: Spray the air fryer basket with olive oil then add zucchini.
Air-Fry: Spray the zucchini with olive oil and cook at 350 degrees F for 7-12 minutes or until golden and crispy.
Serve: Serve warm with marinara or ranch.