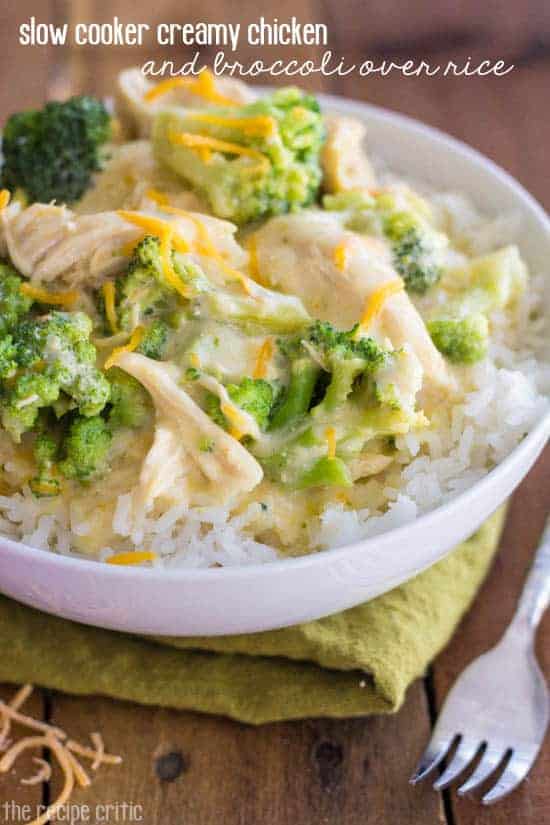 Do you ever make something in the crockpot and think, wow this has been one of the best things that I have made??  Yeah those thoughts came to my mind as I was eating this like a starving pregnant woman.   🙂
This is absolutely fantastic.  As a food blogger, you are constantly making and trying new things.  This will be made again and again at our house.  And when you make something over and over as a food blogger you know that it is good!    The cheesy cream sauce of this chicken and broccoli was the best.  The flavors maintained though out the cooking process.  Then you add in the broccoli and serve it over rice.  A delicious meal all in one!
Slow Cooker Creamy Chicken and Broccoli Over Rice
Delicious and creamy chicken and broccoli that you can easily throw into the crockpot that the entire family will love!
Ingredients
4 boneless chicken breasts
14oz can cream of chicken soup
14 oz can cheddar soup
14 oz can chicken broth
½ teaspoon salt
¼ teaspoon Cajun seasoning
¼ teaspoon garlic salt
1 Cup sour cream
1 12 oz frozen bag broccoli florets or 4 cups fresh broccoli lightly steamed
1 Cup shredded cheddar cheese
Instructions
Spray crockpot with cooking spray and put cream of chicken soup, cheddar soup, chicken broth, salt, cajun seasoning, and garlic salt into the crockpot. Stir the soups and seasonings together until smooth. Place the chicken in the bottom of the crockpot.
Cover and cook on low for 4-6 hours or high 3 hours. The last 30 minutes of cooking, shred the chicken with two forks and add the broccoli, sour cream, and cheese. Cook for about 30 more minutes until the broccoli is tender and heated through.
Serve over white rice and garnish with more shredded cheese if desired.
Recipe Source
Red Sky Food