This website may contain affiliate links and advertising so that we can provide recipes to you. Read my disclosure policy.
There isn't anything quite as refreshing as this Homemade Lemonade recipe, it's the BEST!  Summer is going to be so cool, with a glass of this by your side.
Anything with lemons in it is just fresh and energizing, it adds so much zing and flavor. Here are more lemon loving favorites, like these Scallops, Chicken Piccata and Brownies.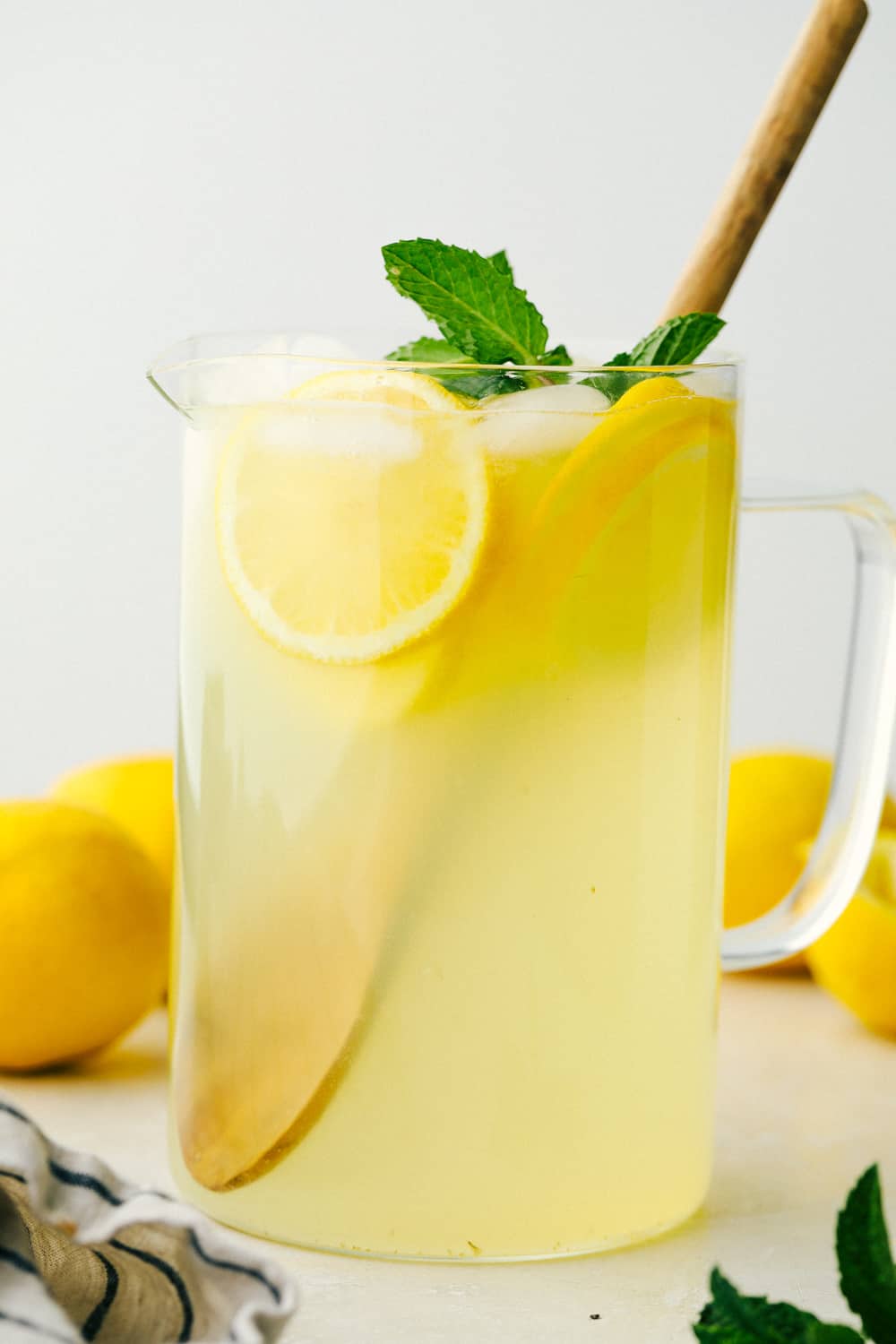 Easy Homemade Lemonade
Just thinking about this recipe makes my mouth water. Imagine a hot day and you are parched. Now reach into the fridge and pull out this pitcher of ice cold lemonade. It's perfectly balanced between the sweet and the tart. You take a gulp and the world is all better. Seriously, it's that good! And the reason it's so good is because it's so easy! You may never buy lemonade from the store again. Make a double batch, I promise it will not go to waste!
Nothing artificial, no preservatives, it is a lemonade you can serve to your friends and family in confidence. And as with all things homemade, you can control the sweet and tangy to your liking. Add more sugar syrup or more lemon juice. It's up to you! Serve this at your next big BBQ alongside Grilled Hawaiian Teriyaki Chicken Skewers, Grilled Mexican Street Corn and Grilled Coconut Lime Pineapple for a meal sure to impress.
What You Need To Make Perfect Lemonade
Making Homemade lemonade from scratch is simple, and delicious!
Sugar: You will dissolve this in the water to create a simple syrup.
Water: This separate from the rest of the water as it will be used to make the sugar syrup.
Lemon Juice: Depending on the size of your lemons will depend on how many you will need to get a cup of juice. Anywhere from 6-10 lemons
Water: This is to add it to the syrup and lemon juice to mix it all together.
Mint and Lemons: Optional for garnish. I'd give it a try if I were you. It's very yummy.
When Life Give you Lemons, Let's Make Lemonade!
Getting the best results from your lemonade will be making the sugar syrup. Do not skip this step.
Sugar Syrup: In a medium saucepan over medium high heat add the sugar and water. Let simmer until the sugar has dissolved about 4-5 minutes.
Pour: Add the syrup to the pitcher.
Lemon Juice: Add in the lemon juice.
Water: Add in 6-8 cups of water and stir.
Extra: Garnish with mint and lemon slices if desired.
Getting the Most Juice From Your Lemons
You want to get the most from your lemons when you juice them. You don't want to leave anything behind but the pulp, especially since you want a whole cup of juice. To get the most juice out of your lemons you will want to warm them. I do this in the microwave.
Cut your lemons in half and make slits along the peel all the way down to the bottom, about four of them. The cuts should go all the way through the peel and just barely into the flesh. Place the lemons on a microwave safe plate. Microwave for 30-45 seconds or till the lemons are good and warm. Then juice your lemons in your preferred method.
Tips For Fresh Homemade Lemonade
So invigorating and exhilarating, fresh homemade lemonade just hits the spot.
Picking Lemons: Getting good lemonade, all starts with the lemons. Look for lemons that are firm but yield to gentle pressure. The skin should be free from any green spots and not be overly thick. Avoid hard lemons as well. Also lemons should feel heavy for their size. The heavier the lemon the more juice they will contain. If you can find them Meyer lemons have the best flavor. They are large, so you will need less, and have a naturally sweeter flavor.
Avoid The Bottle: The ultimate lemonade is going to come from using fresh lemons. Bottled lemon juice or juice from concentrate just is not the same.
Intensify the Flavor: Add the zest of one lemon to the sugar syrup for even more of that citrus flavor without adding too much more zing.
Store It:  Since ice cubes will dilute the lemon, keep in the fridge without ice cubes and when ready to serve add the ice cubes to the glass, not the pitcher. It will keep for 4 days.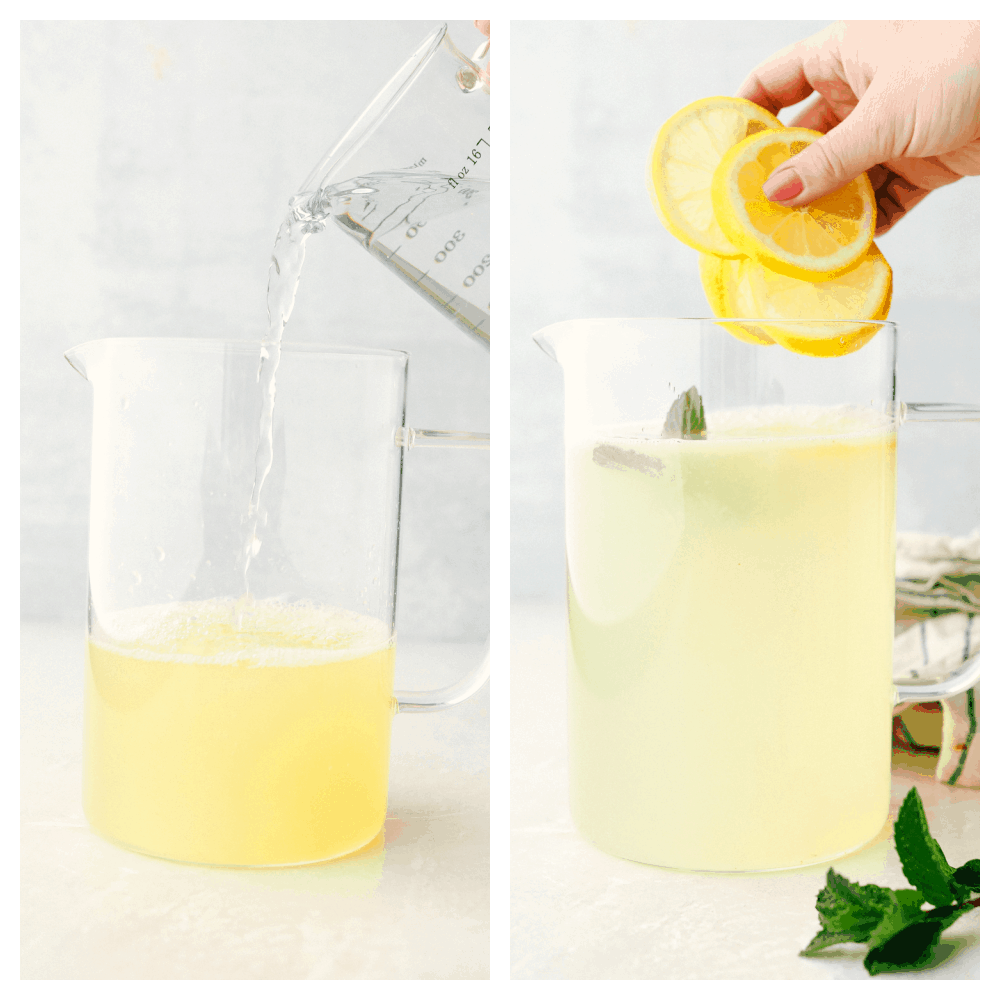 Why Do I Need to Make a Sugar Syrup?
Because it is the one of the best ways to mix sugar and lemons successfully. This way your homemade lemonade will taste amazing and mix up beautifully.
Making the sugar syrup is the key to making your homemade lemonade balanced. When you just throw the water, sugar and lemon juice together the sugar will often sink to the bottom and almost be impossible to dissolve. Most of it will, but some of it won't. This makes it very difficult to that right balance of sweet and tart. By heating the sugar with water and dissolving it into a syrup allows the sugar and lemon juice to meld together and be perfectly balanced from the first drink to the last.
Variations For Simple Homemade Lemonade
Why stop and just lemonade, when we can add lots of flavors and fun to your summer drink! Homemade lemonade is far from boring, get creative and enjoy!
Fruit: Lemons and fruit were made for each other. Try Strawberry Lemonade, Pomegranate, Blueberry, Raspberry and Watermelon Lemonades. Add lime juice for a lemon lime twist.
Fizzy:  Instead of plain water add your favorite sparkling water for a bit of bubbly. This makes a great substitute for soda in the summer. You still get that fizzy texture, but it is healthier for you.
Freeze it:  Use this to make your own Lemonade pops or a refreshing slushy drink like this Frozen Strawberry Lemonade!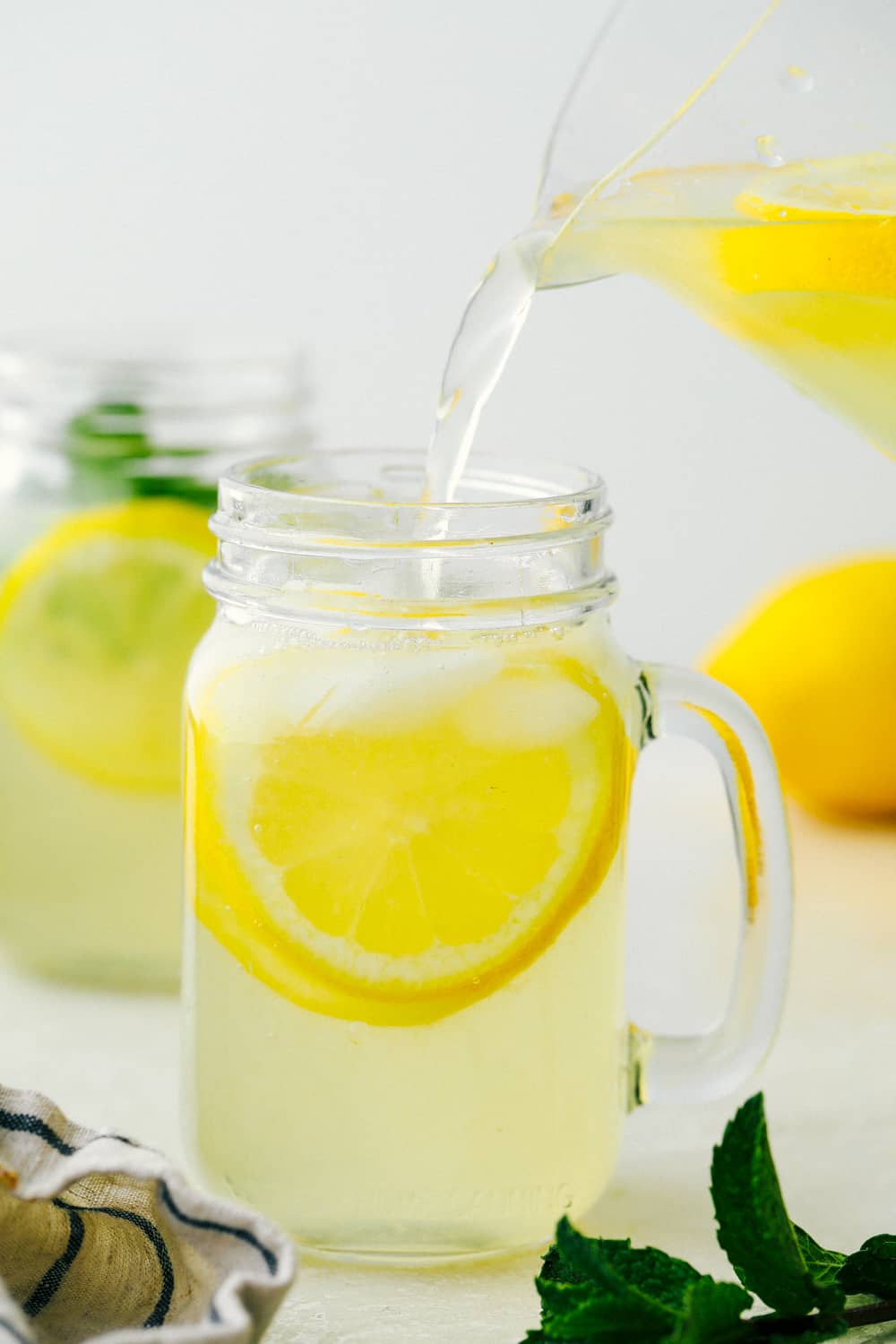 More Lemon Loving Recipes
Lemons are truly a wonderful fruit. When mixed with other ingredients it can add so much flavor and brightness to a dish. Simply squeezing a bit of lemon over a finished dish can really liven the dish and bring out the best in the flavors. Here are some more of my tried and true lemon recipes you have to try!
Pin this now to find it later
Pin It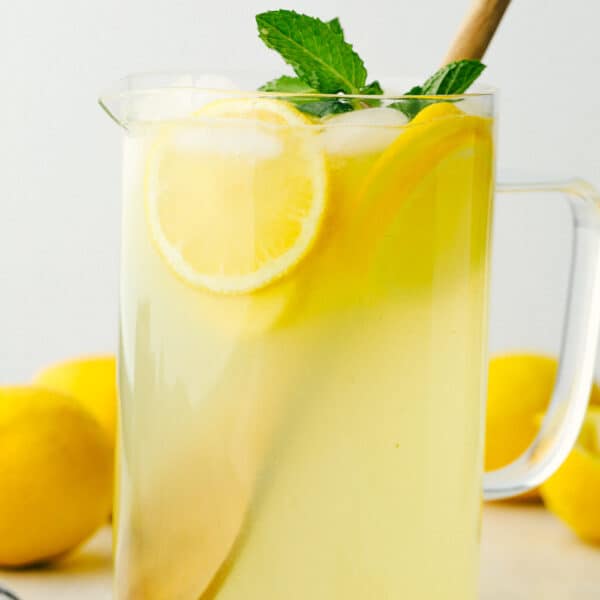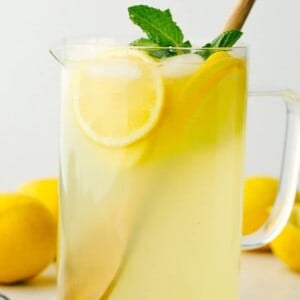 Homemade Lemonade
There isn't anything quite as refreshing as this Homemade Lemonade recipe, it's the BEST!  Summer is going to be so cool, with a glass of this by your side.
Ingredients
1

cup

sugar

1

cup

water

1/2

cup

lemon juice

6-8

cups

water

mint and lemon slices for garnish
Instructions
Nutrition
Calories:
67
kcal
Carbohydrates:
17
g
Protein:
1
g
Fat:
1
g
Saturated Fat:
1
g
Sodium:
7
mg
Potassium:
11
mg
Fiber:
1
g
Sugar:
17
g
Vitamin A:
1
IU
Vitamin C:
4
mg
Calcium:
5
mg
Iron:
1
mg
Nutrition information is automatically calculated, so should only be used as an approximation.