This website may contain affiliate links and advertising so that we can provide recipes to you. Read my privacy policy.
Chickpea tacos are a great way to get your daily protein and all the Tex-Mex flavors that you crave! These flavorful tacos are loaded with fresh veggies and topped off with a creamy cilantro drizzle!
Also known as garbanzo beans, chickpeas are a versatile superfood that can be used in a bunch of different recipes! Crispy air fryer chickpeas, hummus, and Southwest chickpea salad are just a few tasty recipes to start you out with.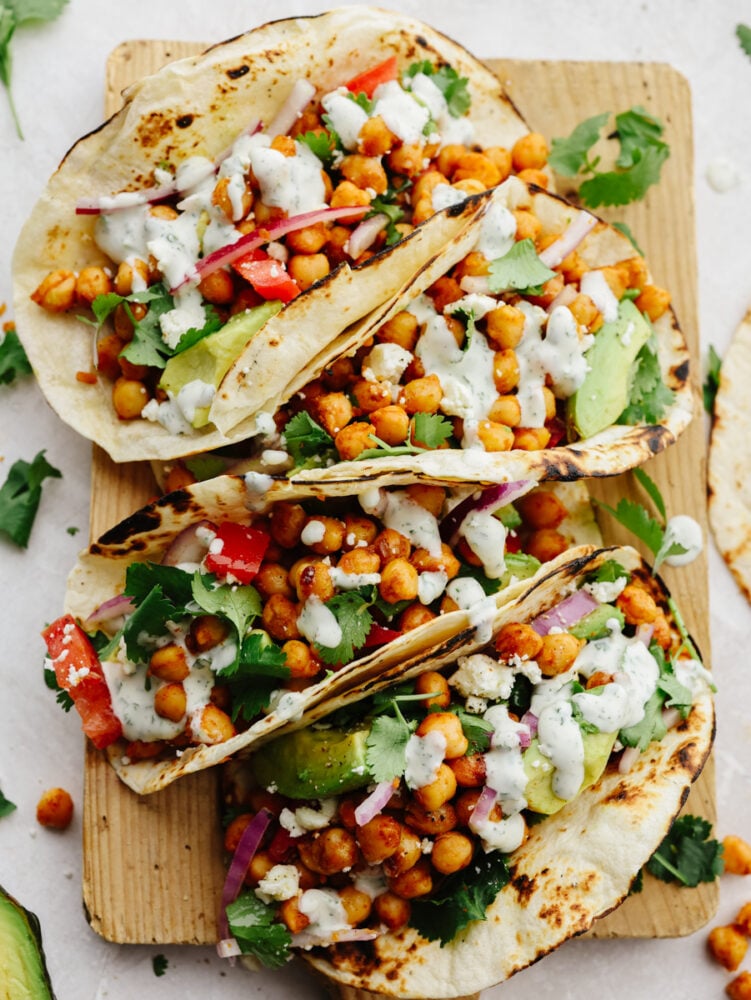 Easy and Fresh Chickpea Taco Recipe
Healthy eating can be tough! My mind says salad, but my heart says tacos! These chickpea tacos are the answer we've all been looking for. It's a way to curb that craving for street tacos while also giving your body the nutrition it needs. Each flour tortilla is topped with creamy avocado pieces, tomato, crunchy red onion, jalapenos, and cojita cheese. You can swap out any of these toppings to your liking! To top it all off, I add some homemade creamy cilantro ranch drizzle on top. It gives it the perfect punch of zesty, creamy flavor! It's so amazing! You're going to love adding this recipe to your meal rotations.
If you haven't already started incorporating chickpeas into your diet, you should definitely try! They have a super versatile, mild flavor that works in a lot of different cuisines. Not to mention, they're loaded with protein and vitamins! In fact, in a 1-cup serving of cooked chickpeas, you'll get nearly 15 grams of protein! The other great thing about these chickpea tacos is that they're super quick to throw together. Tasty tacos bursting with flavor in less than 15 minutes! It's the perfect lunch and will keep you full all day!
Ingredients for Chickpea Tacos
4 easy ingredients is all it takes to make the foundation of these tacos. From there, you just add all of your favorite toppings! These chickpea tacos are the perfect lunch. So quick and easy! If you're looking for measurements, they can all be found below!
Canned Chickpeas: You can also find these labeled as garbanzo beans.
Olive Oil: Used to add a little moisture and flavor while the chickpeas are stir-fried.
Homemade Taco Seasoning: You can use your favorite packaged taco seasoning here, or make it from scratch! It's super easy and tastes delicious. Find my full recipe here.
Small Flour Tortillas: Homemade tortillas are the key to making the most delicious tacos! You can make them from scratch with just a few simple ingredients. Find the recipe here!
Optional Toppings
Avocado: A must! Avocados are so creamy and delicious! They're also a great source of healthy fats.
Tomato: I dice mine into little pieces for bits of juicy flavor.
Red Onion: Red onion is a great way to add a little crunch to your chickpea tacos. They're loaded with sharp flavor, too!
Jalapeno: Chopped jalapenos add the perfect spice.
Cilantro: Add cilantro on top for some nice aromatics!
Cotija Cheese: Cotija is a delicious cheese that tastes savory and milky. It can sometimes be tricky to find- feta and parmesan are great substitutes!
Creamy Cilantro Ranch: This sauce, in my opinion, is what brings the tacos together! It's the perfect blend of creamy and zesty!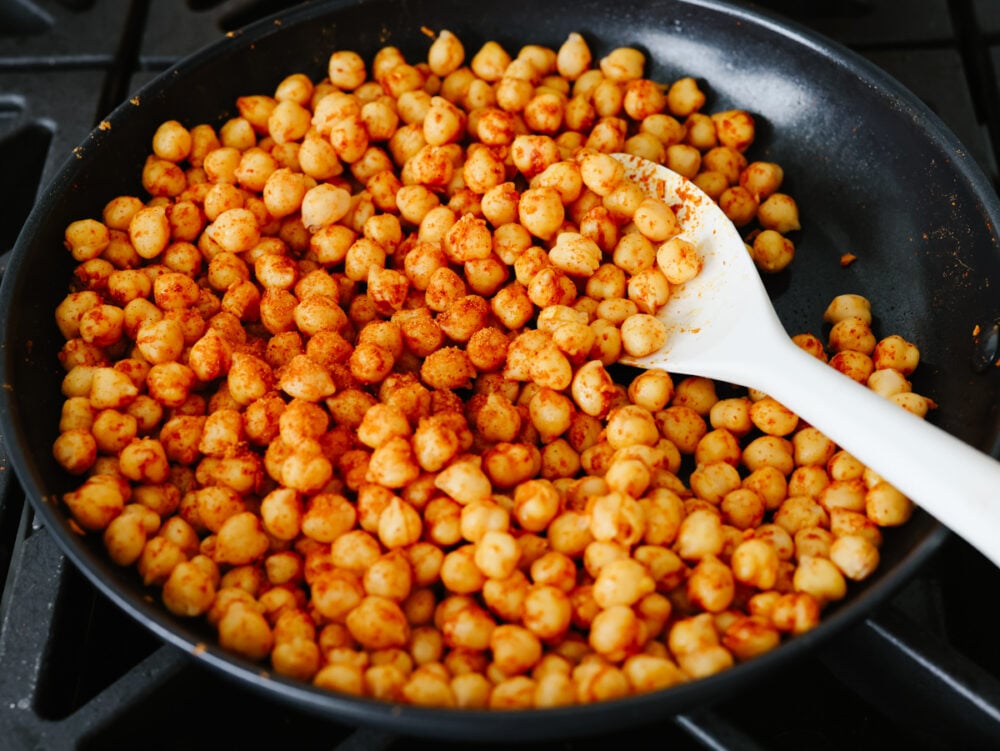 How to Make Chickpea Tacos
This healthy lunch is as easy as it gets. Tasty tacos loaded with flavor in a pinch! Looking for more healthy, quick and easy recipes? You can find my full list here!
Prepare Chickpeas: First, drain and rinse the chickpeas. Then, pat with a paper towel to dry.
Stir-Fry: In a medium-sized skillet over medium-high heat, add the chick peas, olive oil and taco seasoning. Cook for 7-10 minutes or until the chick peas are crispy.
Assemble: Next, add the chickpea mixture to the tortilla. Top with favorite toppings!