This website may contain affiliate links and advertising so that we can provide recipes to you. Read my privacy policy.
These All-Time Best Potluck recipes that will impress all your friends and family at your next gathering! You will want to be sure to bring these salads along with you.
A delicious broccoli salad with fresh strawberries, almonds, and feta cheese. The strawberries give the salad such a great and sweet taste and the creamy dressing on top is the best!
Ingredients: fresh broccoli florets, strawberries, sliced almonds, feta cheese, diced red onion, lite mayonnaise, low fat greek yogurt, lemon juice, sugar, salt, pepper, poppyseeds
California Spaghetti Salad is a delicious pasta salad filled with fresh veggies and covered in a zesty Italian dressing.  With all those flavors and colors making one beautiful and tasty side dish, there is no doubt this will be the hit of your next gathering!
Ingredients: thin spaghetti, cherry tomatoes, zucchini, cucumber, green bell pepper, red bell pepper, red onion, ripe olives, Italian salad dressing, Parmesan cheese, sesame seeds, paprika, celery seed, garlic powder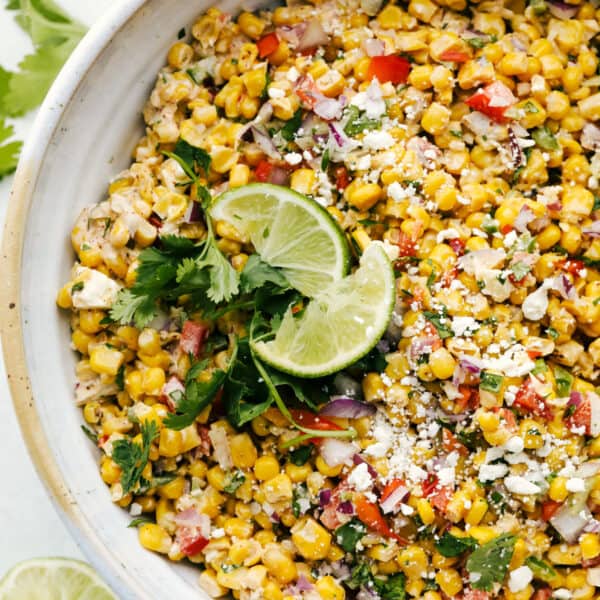 This Amazing Mexican Corn Salad is hands down an all time summer favorite. Full of fresh, bright, zingy and spicy flavors, it has something for everyone!
Ingredients: corn, red bell pepper, jalapeno, red onion, cilantro, cotija cheese, mayonnaise, chili powder, paprika, juice of half a lime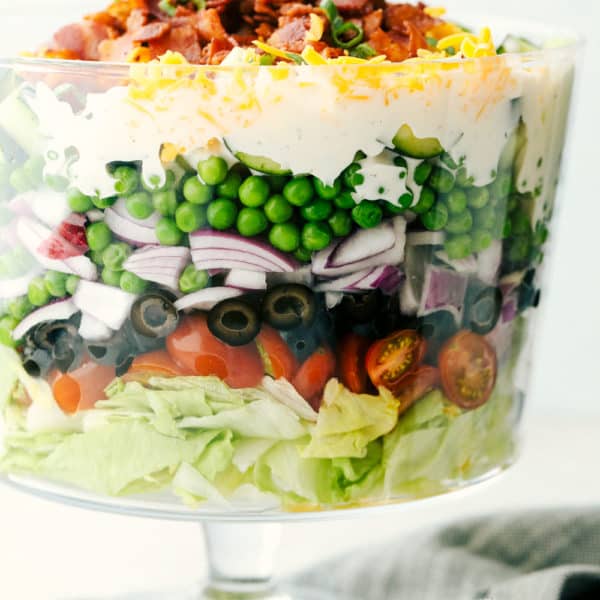 7 Layer Salad is super simple, customizable and amazingly delicious. This sensational traditional salad is a table topper as well as a scrumptious side dish.
Ingredients: iceberg lettuce, cherry tomatoes, sliced olives, red onion, peas, cucumbers, Homemade Ranch Dressing , shredded cheddar cheese, bacon, green onions for garnish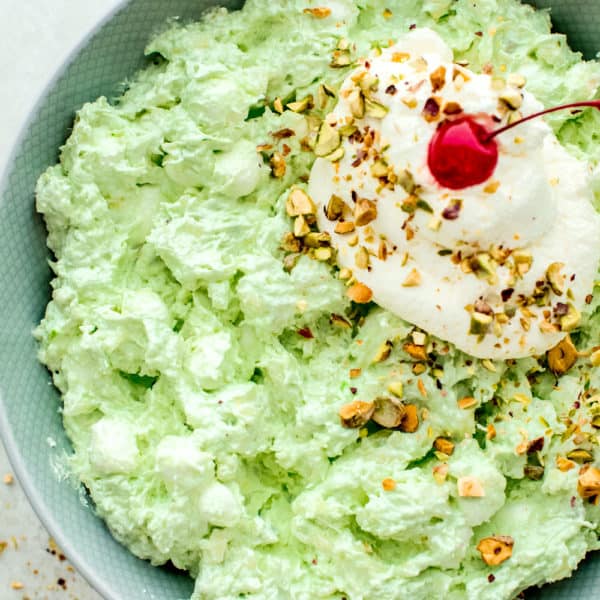 A cool and delicious pistachio dessert that will be a hit at any gathering!
Ingredients: crushed pineapple, instant pistachio pudding, whipped topping, mini marshmallows, pistachios
Delicious sweet and salty pretzel crust with a cream cheese and strawberry layer. This is perfect for summer!
Ingredients: pretzels, brown sugar, butter, box instant strawberry jello, container of fresh strawberries, package cream cheese, sugar, container of cool whip
Oreo fluff dessert salad has the perfect sweet cream and marshmallow fluff with pops of crunchy Oreo cookies throughout.  This soft and sweet mixture is a hugely popular dessert you will love at first bite!
Ingredients: instant vanilla pudding, milk, container cool whip, Oreo cookies, small marshmallows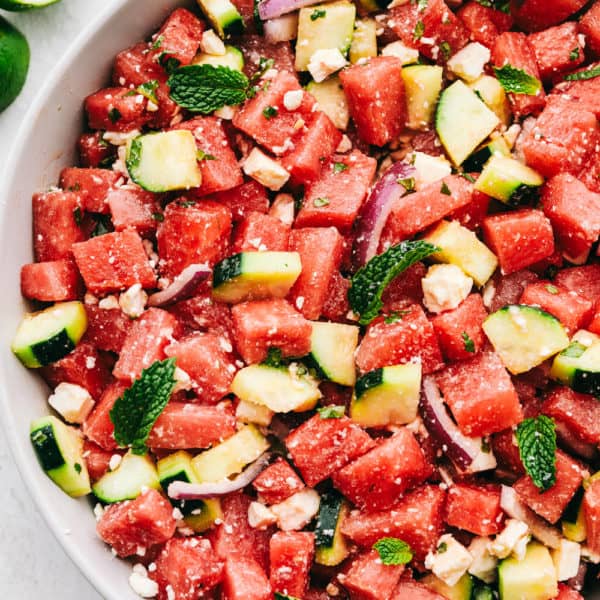 Watermelon Salad is bursting with flavors from the juicy watermelon and salty feta cheese, then topped off with hints of lime and mint.  It is the perfect fresh sweet and savory mix of flavors that just scream summer!!
Ingredients: diced watermelon, medium cucumber, red onion, mint, feta cheese, olive oil, Juice of one lime, honey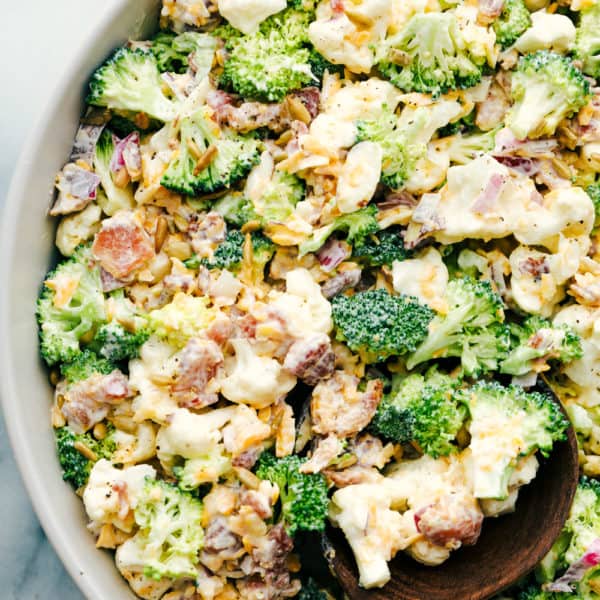 This cauliflower broccoli salad is filled with fresh florets and crunchy red onions, tender bacon pieces and chunks of cheese making this a perfect combination for any side salad. Perfect for side salad with the MOST delicious flavors blended together!
Ingredients: fresh broccoli florets, fresh cauliflower florets, red onion, bacon, Colby jack cheese, slivered almonds, sunflower seeds, lite mayonnaise, low fat greek yogurt, lemon juice, sugar, salt, pepper
Creamy Cucumber Salad is a delicious and refreshing side dish. All it takes is a handful of fresh simple ingredients and 5 minutes. This is the perfect addition to your next summer barbecue!


Ingredients: English cucumber , small red onion, plain Greek yogurt , lemon- zest & juice, fresh dill , garlic , kosher salt, Fresh cracked pepper