Slow cooker meals are hearty, delicious, and carefree! There are so many options that the hardest part will be picking out which one you will make next!
I love any meals that I can quickly put together! This round-up of slow cooker meals is all SO GOOD. In fact, the recipes that you can jump right into first should be these Slow Cooker Pork Carnitas, this Slow Cooker Beef and Broccoli, or this amazing Slow Cooker General Tso's Chicken! They are so yummy!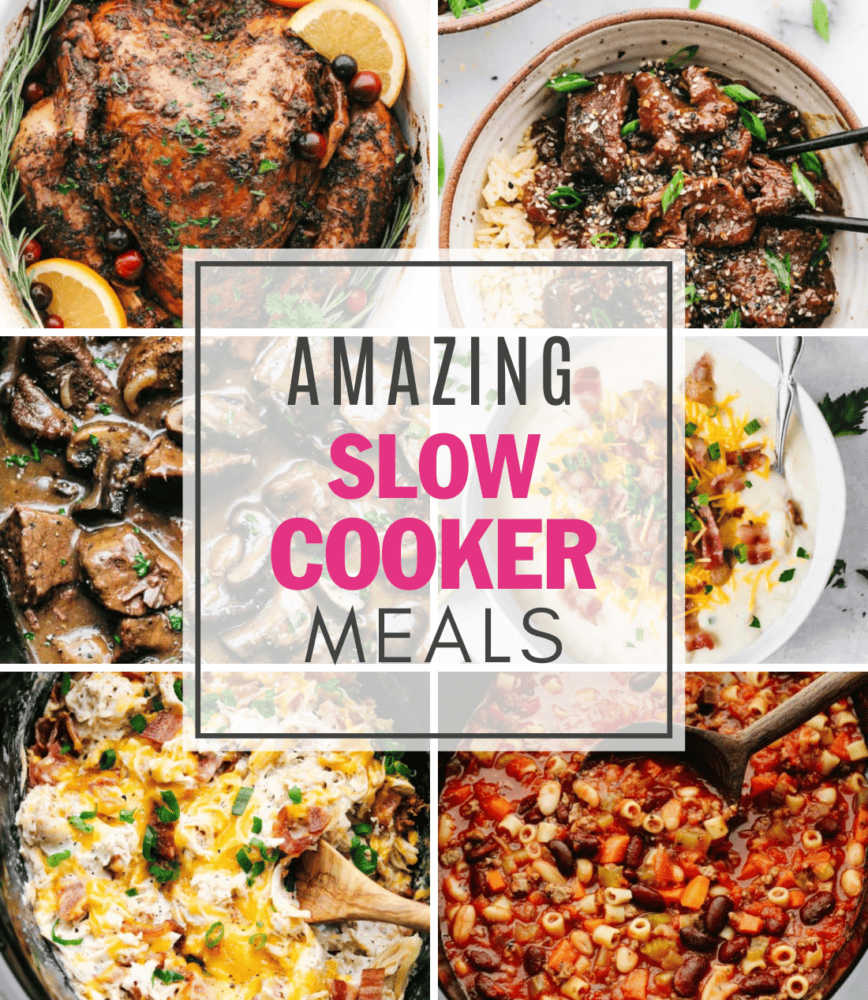 Slow Cooker Meals Roundup
If you are like me and love a good meal but sometimes are too busy to spend all day making one, then slow cooker meals are for you! Life can just get so busy, trust me, I totally get it! This is exactly why you need to start using your slow cooker! I can put these meals in my slow cooker at either breakfast or lunch and they cook for me all day! When I get home, dinner is not only ready but it is fall off the bone delicious!
I have rounded up some of my all-time favorite, tried and true, slow cooker meals. There is a wide variety here because I wanted there to be something for everyone! I love having a list put all together. Then, when I know that my day is busy, I can just pick one off of this list that I know all of them are delicious! Who has time to go searching the internet all day for a recipe that might taste good? You don't need to worry about that here! So, go ahead and try them out. I know that you will love them! I don't know if I can actually pick out a favorite… But if I had to, I would say that the Slow Cooker Lasagna and the Slow Cooker Cheesy Bacon Ranch Potatoes would be at the top of the list!
Tips and Tricks
Even though slow cooker meals are all cooked differently, there are some tips that are helpful no matter what! I always appreciate hearing what people have done to make things easier for them! So I thought I would include a few tips that I've learned for you! Then, you can make these recipes amazing!
Slow cooker size: It's important that you pick a slow cooker that isn't too small for your meal! A 5-quart or 6.5-quart slow cooker will be a great size for these meals since they all have larger portions! You can always use the extra for leftovers!
Brown the meat: When cooking a roast in the slow cooker, I like to brown it on the stove first. This seals in all of the juices and makes it extra tender as it cooks! You don't have to do this if you don't have time. But if you do, it will add some great flavor!
Don't peek!: I know that it's tempting to check in and see how your food is doing! But don't! Once you have put your food into the slow cooker, leave it alone! Every time that you open the lid, it lets out the heat.
Coat it: If you spray the inside of the slow cooker with nonstick spray, then this will help with the cleanup! There won't be as much scrubbing needed later.
High or Low: If you need to adjust the cooking time, it's important to know what the high and low settings equal! Cooking for 2 hours on low equals about 1 hour on high.